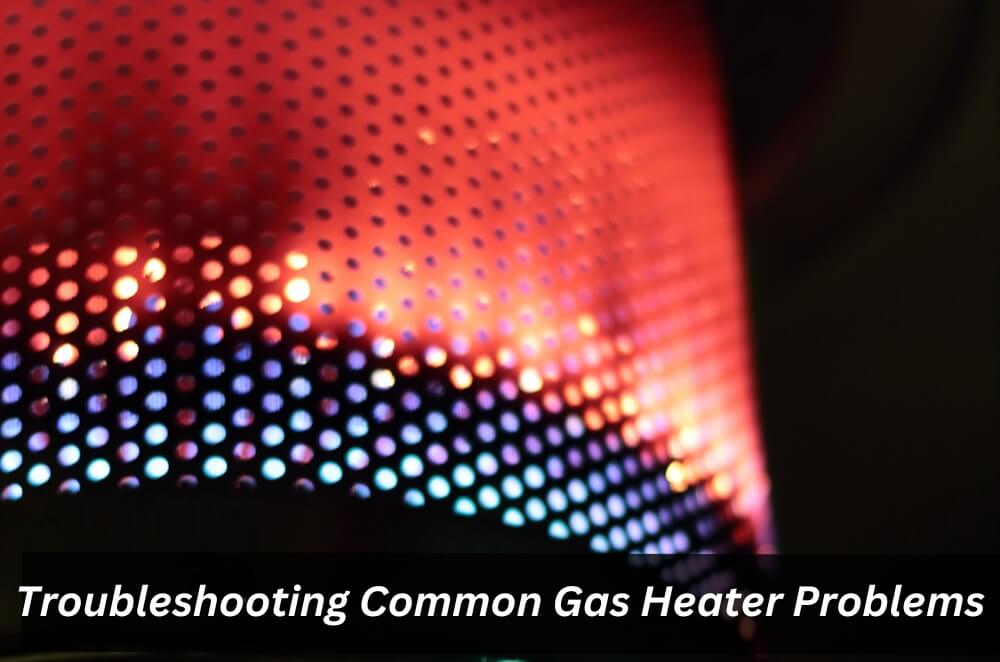 Gas heaters are a lifesaver during chilly Aussie winters, keeping our homes warm and cosy. However, like any other appliance, they can sometimes throw a spanner in the works. When your gas heater starts acting up, it's essential to troubleshoot the problems promptly to ensure you stay snug and avoid costly repairs.
In this guide, we'll walk you through the most common gas heater problems and their solutions, ensuring you stay warm without breaking a sweat. But if all else fails, don't hesitate to reach out to a reliable gas heater service for professional assistance.
What are the most common gas heater problems and their solutions?
Are you interested in understanding the most widespread challenges that your gas heater might face? In this comprehensive guide, we will delve into the prevalent issues that can affect your gas heater's performance. We'll not only identify these common problems but also equip you with practical, hands-on solutions to ensure your gas heater operates seamlessly, keeping your home warm and comfortable throughout the chilly seasons.
1. Pilot light won't stay lit:
The pilot light is a small, continuous flame that ignites the main burner when you turn on your gas heater. When it won't stay lit, it's often due to:
Dirt and debris: Over time, dust and dirt can accumulate around the pilot light, obstructing the flame. Cleaning the area around the pilot light can often resolve this issue.
Thermocouple issues: The thermocouple is a safety device that detects the presence of a flame. If it's malfunctioning or misaligned, it can cause the pilot light to go out. Ensure it's properly positioned and in good condition.
Gas valve problems: A faulty gas valve can also lead to a pilot light that won't stay lit. Checking the gas valve for obstructions or malfunctions is essential.
2. Heater won't turn on:
When your gas heater refuses to start, it can be frustrating. Here are some common reasons why this happens:
Thermostat settings: Sometimes, the issue is as simple as an incorrectly set thermostat. Double-check that the thermostat is set to the desired temperature.
Circuit breaker tripped: If the circuit breaker that powers your heater has tripped, it will cut off electricity to the unit. Resetting the breaker can often resolve this problem.
Gas valve troubles: Similar to the pilot light issue, a malfunctioning gas valve can prevent the heater from turning on. Ensure the gas valve is functioning correctly.
3. Heater is blowing cold air:
Feeling a sudden chill from your gas heater when you're anticipating warmth can be quite disheartening. This problem could be caused by various factors, and it's essential to address them promptly while keeping in mind safety tips for gas plumbing. This issue may arise from:
Clogged or dirty filter: A clogged or dirty air filter can restrict the airflow, causing the heater to blow cold air. Regularly cleaning or replacing the filter can help maintain proper airflow.
Blocked vents: Ensure no obstructions are obstructing the vents, as this can disrupt the flow of warm air. Clearing any blockages in the vents can improve the heater's performance.
Gas pressure issues: Low gas pressure can lead to insufficient heating. If you suspect gas pressure problems, it's best to consult a professional gas fitter who can assess and adjust the gas pressure as needed.
4. Heater is making strange noises:
Unusual sounds coming from your gas heater can be a cause for concern. These noises may be due to:
Blower fan problems: A loose or damaged blower fan can generate rattling or scraping noises. Tightening or replacing the fan can often eliminate the noise.
Worn-out bearings: Worn-out bearings within the heater's components can lead to squeaking or squealing sounds. Lubricating or replacing these bearings is typically the solution.
Heat exchanger damage: A damaged heat exchanger can result in loud banging or popping sounds. If this is the cause of the noise, it's advisable to contact a professional technician for repair or replacement.
Identifying and addressing these common gas heater problems promptly can help ensure that your heater continues to operate efficiently, keeping you warm and comfortable during those chilly Aussie winters.
Tips for troubleshooting gas heater problems
Prior to delving into troubleshooting your gas heater, it's imperative to remember these vital tips, including safe gas heating practices, as they play a pivotal role in ensuring both your safety and the efficiency of the troubleshooting procedure:

Start with the basics: When faced with a malfunctioning gas heater, always begin with the simplest checks. This includes verifying the status of your thermostat and inspecting the circuit breaker. Surprisingly, many heating issues stem from minor problems that are easily rectified. By starting with these basics, you might discover that the solution is more straightforward than initially anticipated.
Call a qualified gas fitter: If you find yourself unable to pinpoint the problem or feel uncomfortable with the troubleshooting process, do not hesitate to contact a certified and experienced gas fitter. Safety should always be the foremost concern when dealing with gas heaters. These professionals possess the necessary expertise to diagnose and repair issues safely, preventing any potential hazards.
Prioritise safety: Gas heaters involve the use of flammable gases and intricate electrical components. As such, it is imperative to adhere to all recommended safety precautions when troubleshooting or maintaining your gas heater. If, at any point, you detect the presence of a gas odour, it is critical to immediately turn off the heater and refrain from any further attempts at troubleshooting. Instead, get in touch with a qualified professional to address the issue promptly, as gas leaks can be extremely dangerous.
By adhering to these guidelines, you can ensure a safer and more effective troubleshooting process for your gas heater, ultimately safeguarding both your well-being and the functionality of your heating system.
Conclusion
A properly operating gas heater is essential for enduring the cold Australian winters. By adhering to the provided tips, you can effectively address typical gas heater issues and restore warmth and comfort to your home. Always prioritise safety, and if your efforts prove unsuccessful, don't hesitate to contact a dependable gas heater service to ensure your home remains cosy. Keep warm, everyone!
The Energy-Efficiency Advantages of Vinyl Window Replacement

Windows are more than just portals to the outside world; they play a significant role in determining the comfort and energy efficiency of your home. If you're looking to improve your home's energy efficiency, consider the advantages of vinyl window replacement. In this article, we'll... The post The Energy-Efficiency Advantages of Vinyl Window Replacement appeared […]