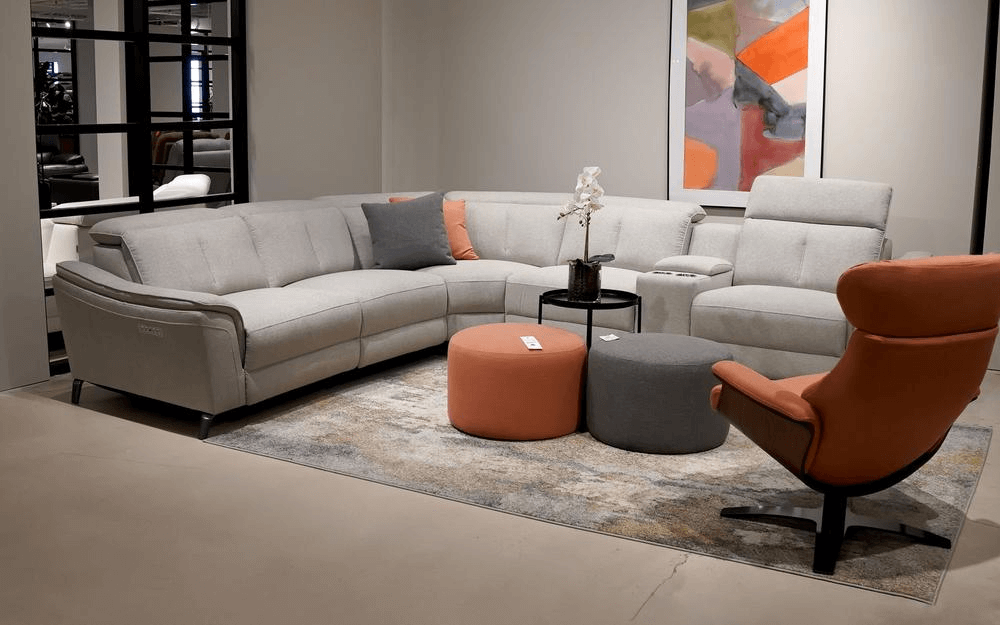 Are you searching for innovative options to renovate your living room? Then you have reached the right place. Investing in a fabric reclining sectional is exactly what you need to complete your living room.
Before you decide and order one online, though, it's essential to know about some of the different trends in how fabric reclining sectionals are designed and made.
Read through this article to make sure that you understand both current design options and upcoming trends before ordering yours today to watch your favorite movies with a relaxed setup.
Traditional vs. Modern Designs
You can get options for both traditional and modern designs in fabric reclining sectional sofas. They have similar modes of construction but differ slightly in what makes them unique enough for customers to want to purchase them.
If you don't need an overly modern design, but don't want to choose a traditional look, consider a transitional one. It'll fall somewhere between the two and can easily fit into most spaces.
Upholstery
The upholstered furniture market in the US is forecasted to reach a value of over $20 billion by 2023.
Proper fabric reclining sectional sofas come with different types of upholstery depending on what you're looking for and where it's going in your space. For example, microsuede is softer than other types; however, it isn't as durable as top-grain leather.
So, if you're pet-friendly or have small children who like to crawl all over couches, this might not be a suitable option for your living room.
Pull-Out Beds
Some fabric reclining sectionals with built-in pull-out beds are only large enough to fit a single person. If you're searching for something with a little more room, consider one that has a built-in pull-out bed big enough to sleep 2 or 3 people.
You'll have more than enough room and can invite friends over when needed.
Heat and Massage
Not all fabric reclining sectionals come with heat and massage options, but some do.
Those with this type of functionality typically cost around $200–$500 more than those without; however, it's worth the investment if you live in an area where it gets cold or if you get headaches often from sitting at your desk too long. This way, you don't need to buy an additional recliner.
Power Recline
It is one of the most popular features of fabric reclining sectionals, but not all are created equal. You must make sure you pay attention to how many motors there are before purchasing one. Some models with power recline have multiple motors that allow you to do more than lean back and forth.
They also let you sit up almost instantly or even lay flat with no trouble at all. It's a great feature that allows homeowners to turn their living room into a bedroom when needed without moving any furniture around first.
Tabling Options
If you're looking for extra storage space in your living room, consider buying a fabric reclining sofa with built-in tables.
Some models also come with USB ports that allow you to charge your smartphone or tablet while watching TV, which is an excellent feature for those who use their electronic devices frequently!
Wood Trim
Most fabric reclining sectionals have wood trim on the outside of the sofa around the sides and legs.
However, some manufacturers take it a step further and add actual hardwood construction beneath this veneer and metal reinforcement bars to increase the overall longevity of the frame. If you're searching for a more high-end piece of furniture like sliding or sofas, consider one like this.
Warranty
You must make sure to invest in a good warranty when buying any piece of furniture from a manufacturer that isn't well known. It will protect you against significant damage or defects that could be found in some models.
Budget
A fabric reclining sectional typically costs between $1,000 and $4,000. If you're looking to spend under $1,000, stick to fabric; however, if you have the budget for leather or top-grain leather fabric reclining sectionals that go up over $2,000 in price, they'll last a lot longer and look much nicer.
Delivery Options
Depending on where your new sofa is being delivered from, it could either be sent with a delivery service or brought right into your home for a minimal fee.
Ensure you know what options are available before making your final buying decision, so you don't have any unnecessary surprises!
Residential sectionals are just one of the most popular items on this list, but there are others, including dining room chairs and barstools which you can add to your decor.
It is essential to buy this expensive furniture from a trusted and reputed dealer in your locality or online. You will get the best deals for innovative sofas that suit your interiors and taste.
The Energy-Efficiency Advantages of Vinyl Window Replacement

Windows are more than just portals to the outside world; they play a significant role in determining the comfort and energy efficiency of your home. If you're looking to improve your home's energy efficiency, consider the advantages of vinyl window replacement. In this article, we'll... The post The Energy-Efficiency Advantages of Vinyl Window Replacement appeared […]