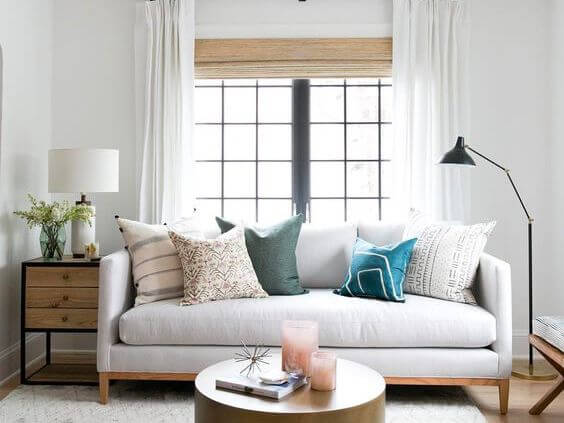 For all your love for whites, you may desire a classic look for your windows with plain white custom curtains but also want to perk them up a bit for a more uplifting look. If that's the goal, be assured that this article is meant just for you. We bring you three simple ways to jazz up plain white curtains to let you satisfy your deepest design aspiration.
If you have an opportunity to ensure a customized look for your drapery, never let it go. Zhuzhing up your white curtains is worth all the trouble because store-bought white curtains will look just the same otherwise. So, when you order your white custom curtains, consider choosing at least one of these techniques to customize them for a premium look. Here, we go to the three top ways to render a dramatic look to your favorite white curtains.
1. Color-block
This technique involves stitching another fabric – plain or patterned – in the form of a band on your white curtains. The band can be in the form of a simple border on the edges or a block on top or bottom of your curtains. The band can be as narrow as a few inches or as wide as to cover almost a third of the drape.
Use a plain fabric in the accent color of your decor for a classic look. Since white can be paired with any color, there is no end to the possibilities. Choose subtle pastels for a soft cozy feel or bold colors to make a statement piece. This is an easy technique to make your plain white drape a two-toned drape.
If you want your drape to have a still more attractive look, use a patterned fabric to color block the top or bottom. The mixing of solids and patterns is a no-fail recipe for eye-catching decor.
You can also bring textural variety to your drape by mixing two kinds of fabrics. Color-blocking your white linen curtains with a tactile material like velvet renders it a plush aura besides a new tone.
2. Add trimmings
If you want to enliven your pristine white curtains but lose not even an inch to another fabric, trimming the borders can be a great option for you. Whether used on borders of a modern flat-panel curtain or hanging from the bottom hems of soft relaxed roman shades, trims spell out the bespoke character as well as soften the stiff finishes off the edges, making them look cozier. If your walls are white and you don't want your white curtains to disappear into the background as if they were a part of the architecture itself, trimming the borders is a fantastic idea.
The lush playful pom pom trims have an informal air about them. These cheery trinkets are great to finish a casual lounge or children's room curtains. To lend your sophisticated white curtains a traditional twist, handmade tassels and fringes are a great option. Baubles, gimps, filaments, and braids add a classic touch of elegance. For a pared-down but no less classy option which does not disturb the clean lines of the edges, use solid or patterned ribbons either on the borders or in the inset position.
3. Layer up the window treatment
If you're not happy about making any additions at all to the white curtains or want to keep it simple for easier upkeep, then this third option may be right for you. Layering blackout window treatments has many benefits, including, adding depth and dimension to the room. They provide better insulation to the home which is a great relief during extreme summers and winters. The extra layer also handles the light leaks from the sides and top, if any.
You can top the curtains with a valance in a different color or pattern. It hides the hardware and makes the white drapes look more elegant. If you have used various types of window treatments in varied color schemes in the house, keeping valances of the same type can help to synchronize them together.
A second option is to mount roman shades in the recess of the window. Being closest to the window, they prove to be excellent insulators as they deal with the heat and cold at the very entrance of the window. Pick a pattern or an accent color to strike a contrast with the plain white of your curtains. White-based patterns will serve to further accentuate the beauty of your white drapes.
A third option is to add panels on both sides in a contrasting or complementing hue to frame your plain white curtains hanging in the middle. This way, the fullness of the drapery will be enhanced and the benefit of adding one more hue is ensured and then utilize your swiggy money to order food.
On to your imagination…
These top tips don't just make your white drapes more attractive but also let your favorite color be anchored more firmly and highlighted more efficiently in your decor. There are endless possibilities in terms of varied permutations and combinations within these top three ways. Give wings to your imaginations, let them fly free, and fix that one impressive idea that gets your nerves excited the most. On to you…
Are Marble Kitchen Countertops a Good Idea?

When it comes to kitchen countertops, nothing exudes elegance quite like marble. Its natural beauty and timeless appeal have made it a popular choice among homeowners. But is it a good idea to have marble countertops in your kitchen? Let's explore the advantages and disadvantages.... The post Are Marble Kitchen Countertops a Good Idea? appeared […]