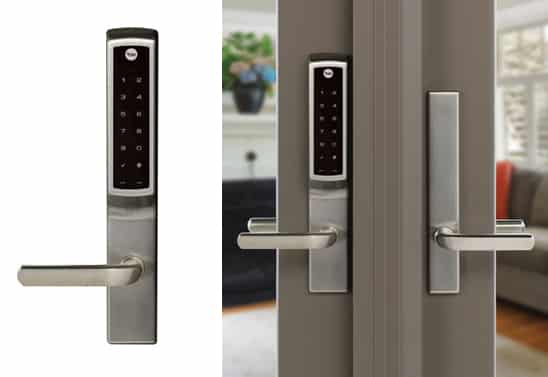 Smart Lock for Sliding Doors: My Favourite 3
Andres Walsh, 3 years ago
0
8 min

read
1374
Our homes are our safe place. One takes every measure to make sure that the family members are secure. But having an unwatched sliding door at home with just a latch lock mechanism is like having a sealed treasure box but with a hole.
An experienced burglar will pick the lock like a cakewalk and pass through the glass door unnoticed. These sliding doors become the most significant loophole in security and safety considerations of the family. Also, the assets and reserves are very much at risk of being stolen, especially when your place is ghosted.
But even with such a significant security crack, there are very few steps taken towards fixing this bug. There is almost no universal answer to this problem, just some inappreciable solutions that may work for one but not for another. A smart lock for a sliding door could be a great come back.
A smart lock is an electromechanical lock that executes the authorization process with a cryptographic key and also sends alerts and updates on the status of the door. These locks piggyback the existing standard lock and, kind of, upgrade them.
But no big company has taken significant action in the direction of designing a smart lock for a glass door. Several lock manufacturers make smart locks for simple flush doors but not for sliding patio glass doors.   
So, this discussion leads to a single query; why are the companies not willing to manufacture a smart lock for sliding glass doors? Let us discuss this in detail.
Why Companies Refrain from Making Smart Kock's for Sliding Doors?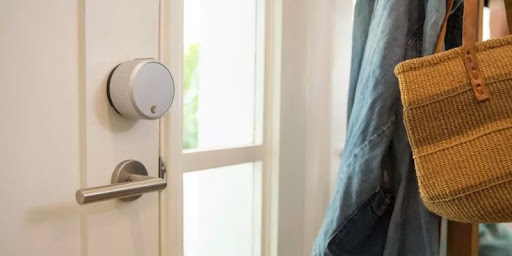 There are multiple reasons why there has not been a smart lock developed for the patios glass doors, and some are obvious.
Variable Design of Sliding Doors
Most of the smart locks manufactured are mounted on deadbolts, which is the locking mechanism present in all the doors. These smart locks can be installed on any door because manufacturers of deadbolts follow standards in designing and production.
There is not much variance between the basic structure of smart locks that fit on deadbolts, and the companies only change the outer look or pattern. Most of the time, you won't be able to make out the difference between two of the smart locks from separate companies.
On the other hand, the locks on the sliding doors of individual companies are designed differently. There is no uniformity in the basic structure of the sliding doors, and thus smart lock companies must make significant changes in the blueprint of the lock to fit different sliding glass doors. There is so much at stake with little demand in the market.
Not everyone has Glass Sliding Doors
Almost every other home has deadbolts of some kind, even multiple, as there can be an extra back door. But not every home has a glass door. Glass doors look elegant, but they come with the cost of security risk and high maintenance. That's why only a minority lay sliding doors at their homes.
Until now, there has been no company that agreed on taking matters into their hands and making smart locks for every patio sliding door. Few have tried but not on a massive scale. Maybe if someday the sliding doors companies start to follow a standard design for all the doors, then the future of smart locks for sliding doors could be a bright one.
Smart locks will not make much of a difference
The primary issue with a glass door is "it is made of glass." One blow and the whole door shatters into pieces. So, if your home is a bit far from the crowd, then a thief would instead break the glass than waste time on guessing the code of the smart lock.
All these arguments, more or little, contributes to the fact that smart lock manufacturing for a sliding door is not a very profitable business. Thus we don't have many competitors in this category. Although there are some smart options and we are going to tell you about our top three picks.
Best Three Smart Locks for Sliding Doors
The Lockey 2500 is a fully mechanical keyless lock that can be mounted on the sliding door for extra security. The lock does not need a battery or wired connection to work. The device is water-resistant, as it is made of zinc and steel with a satin finish, and the interior components are made of Teflon coated stainless steel. This smart lock can be mounted on a glass door that has a hook bolt style mechanism of operation.
Since the lock is keyless, one doesn't require a key to open the door, but a pin code instead. Install the lock, set up a number code that you can remember easily, share it with your family and close friends, and you are done. But the company still provides two keys to open the door in case of an emergency.
The thickness of the door must be between 1.3-2 inches for the lock to fit. Extension kits are available for thicker glasses, up to 5 inches. The smart lock is self-installable and only takes a few minutes to an hour to set it up. It can be installed on both right and left-handed doors.
The cherry on the cake is the lifetime warranty that comes with the product.
No products found.
The auto slide is a smart device for automatic door operation without manual efforts. The lock is compatible with pocket doors and sliding doors. It comes with two push-button systems that are fixed on the wall on both sides of the door. So it's a hands-free technology, and the door becomes fully automated, i.e., the door opens at a push of a button.  The lock can take a total weight of 132 lbs.
The tech consists of a motor, electronic controller, and a DC power supply. The starter pack also includes voltage plug-in power packs, two assembly kits, installation screws, and a hex key along with the drive system and wireless push buttons. Optional purchase of infrared motion sensors is also available. A DVD with step by step guide for DIY installation and a two-year warranty card comes with the product.
The best feature of the Auto slide is the RFIF tag provided for your pet. This tag is attached to the collar of the dog so that whenever the dog comes near the glass door, it will slide and open automatically.
No products found.
The heavy-duty CAL bolt lock is not a smart lock really but more of a smart choice for ensuring safety. This lock not only helps with intruders but also prevents your kids from wandering outside without your permission. The lock can hold up to 1000 lbs weight and prevent the thieves from being able to lift the glass door from its tracks.
The simple design of the lock allows easy installation, and anyone with a little guidance can do it. The heavy-duty lock easily fits in the space between the frame and the door panel and virtually disappears, maintaining the classic transparent look of the glass door.
No products found.
Other precautions you should take along with installing a smart lock:
There is always some risk with relatively delicate glass doors. Extra security is a must so that you can sleep with no worries.
CCTV Camera – Install a surveillance camera so that if someone breaks into your house through the glass door, you'll know who. Make sure your CCTV supports IR night vision as to get a clear image when the field of view is relatively darker.
Motion Sensors – These are motion-sensitive devices that have an in-built alarm. This alarm goes off whenever the sensors catch any movement happening in the surrounding. Motion sensors are handy in intercepting any intrusion and breaking off any robbery before any loss occurs.
Impact Sensors – One can also install impact sensors on the glass door, which are just like motion sensors, but they sense any impact or a loud thump on the door and alert you that someone is messing with it.
Double Bolt Sliding Door Locks – These are not smart locks but have very high resistance capacity. The lock has two pins that bind the door together and can take the force of around a thousand lbs.
Conclusion
Glass doors will dispense a graceful and classic look to your dream house and provide a beautiful morning view. But to balance furnishing and security, you need to take extra measures to guard the vulnerable zones like the glass doors. A smart lock is a good alternative if you can find the best fit. We have mentioned some of the top choices above. Along with a smart lock, also take extra precautions like CCTV and motion sensors.
Write for us
HeckHome does not necessarily share views expressed by opinion writers and advertisers. HeckHome regularly invites Bloggers across the World to home blog write for us in order to present their creative ideas.
Andres Walsh
My name is Andres Walsh and as far as I can recall, I have had only one passion in my life – a love of fixing things! Growing up, my friends and even my family members called me "wrench." The nickname has somehow stuck even through to my adult life.
Related posts
Benefits of a Moving Company

Moving can be an exciting yet daunting task, and if you've ever relocated to a new home or office, you know that it involves more than just packing your belongings into boxes. It's a process that requires careful planning, organization, and physical effort. This is... The post Benefits of a Moving Company appeared first on […]