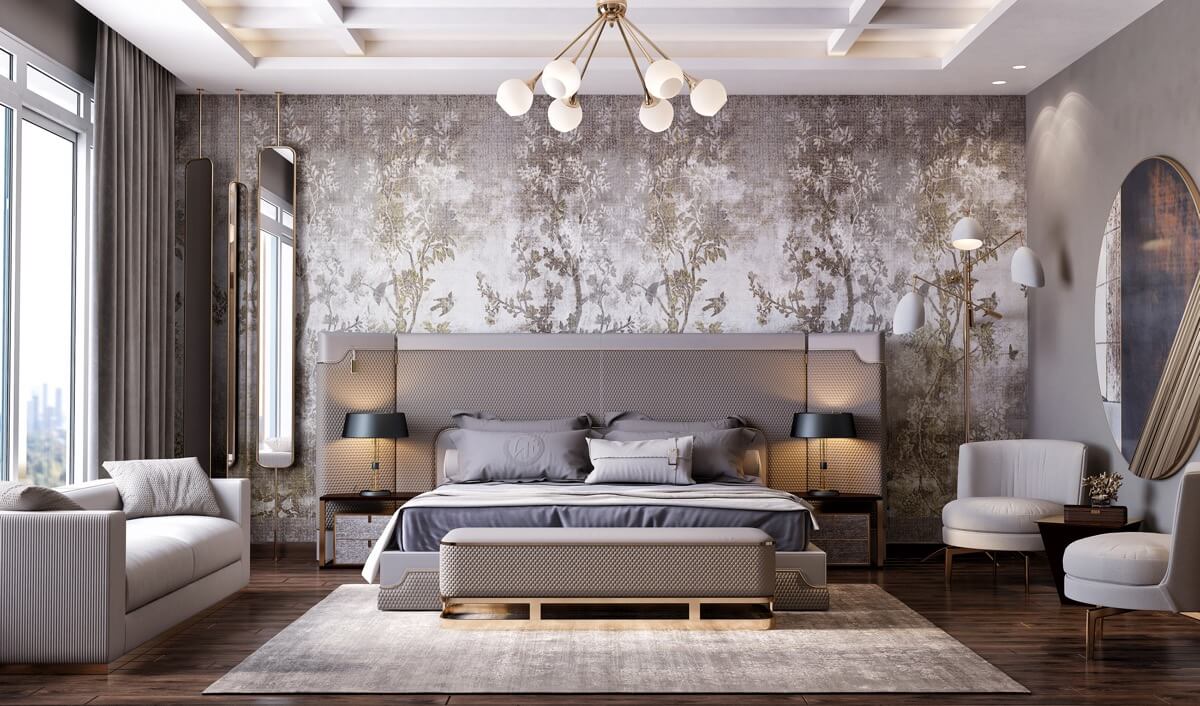 In today's fast-paced world, everybody needs a cozy corner to curl up in and relax – and what better way to do that than having your very own luxurious bedroom?
With a touch of high-end furniture and a few clever design tricks, you can transform your bedroom into a dreamy retreat that'll make you practically forget the outside world.
So, let's dive into how to create a luxurious bedroom with high-end furniture.
1. Start with a Statement Piece
One of the best ways to make your bedroom feel luxurious is by investing in a statement piece that's both functional and stylish.
Consider a tufted leather headboard, a sleek vanity, or a patterned accent chair. By choosing something that ties in with the overall design of your room, you're sure to create an inviting and luxurious space.
2. Focus on Quality Over Quantity
When it comes to high-end bedroom furniture, it's all about quality over quantity. Instead of overcrowding your room with several pieces of furniture, choose a few polished pieces that scream sophistication. Go for durable, well-made furniture that's built to last and will remain timeless.
3. Pay Attention to Bedding
To create a luxurious bedroom, you need to pay attention to your bedding. Invest in high-quality sheets, a plush comforter, and decorative pillows that will add a sense of comfort and opulence to your space.
Crisp, clean white bedding is always a good idea, but if you're feeling a little more adventurous, incorporate bold patterns and textures to bring in some fun.
4. Mix Textures and Patterns
To make your bedroom visually appealing, experiment with different textures and patterns. Feel free to mix and match silk, velvet, and fur textiles. To maintain balance, try to stick to a monochromatic color scheme, or mix neutrals, like gray, white, and beige. The trick is to play around with different colors and textures but keeping it simple and cohesive.
5. Add Mood Lighting
Lighting plays a crucial role in setting the ambiance for a bedroom, and it's the perfect way to make your bedroom feel luxurious. To add a touch of glamor, consider a beautiful chandelier or a statement bedside lamp.
For a cozier atmosphere, opt for soft, warm lighting that'll create a relaxing and romantic mood.
6. Invest in a High-Quality Bed Frame:
The bed is undoubtedly the centerpiece of your bedroom. It is where you spend most of your time, and it deserves to be the focus of your design. A high-quality bed frame not only adds aesthetic value to your room but also ensures a good night's sleep.
Look for materials such as solid wood, metal, or brass. Avoid low-quality materials that are prone to warping or damage. Invest in a bed that has a timeless design that will look stylish for years to come.
7. Create a Focal Point with a Statement Piece:
Whether it's a chandelier, a beautiful painting, or an accent chair, adding a statement piece in your bedroom creates a focal point that draws the eye.
A statement piece can add a touch of elegance to your room without being too overpowering. It will give your room an added layer of interest and create a luxurious ambiance.
Glam Up Your Sleeping Quarters With Finds From 1StopBedrooms
While having luxury furniture can add style and elegance to your space, it's important to remember that there are plenty of ways to create a cozy and inviting atmosphere.
With a few simple changes, you can turn any space into a room that embodies luxury and sophistication.
So if you're in the market for some stylish new pieces to enhance your living space, why not choose 1StopBedrooms? We have top-quality furniture at amazing prices, plus reviews from real people who use our products on a daily basis.
Don't miss out on the next big opportunity to upgrade your space – read up on the latest 1StopBedrooms reviews now, and get ready to transform your bedroom into the perfect oasis!
Homeowners Guide to Black Mold Removal in Toronto

Learning that you may need black mold removal can be outright scary for many homeowners. Black mold is also known as toxic mold, which has been portrayed in the media as a threat to people, animals, and children. The truth about black mold is a... The post Homeowners Guide to Black Mold Removal in Toronto […]