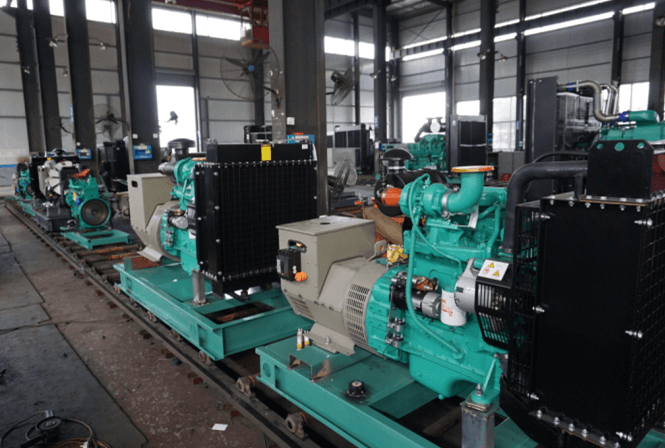 You've made the all-important choice to purchase a generator and you've chosen a diesel model. Or maybe, you haven't, and you're interested in finding out how much it'll cost you to keep it running. Diesel is already the cheaper fuel choice when comparing it with alternatives but if you're planning to use your industrial generator often, it'll cost a pretty penny to make sure you never run out. Here's a tip from the experienced generator technicians at Reactive Generators – make sure that your diesel never runs out because it can cause air to creep into your system and that will make it jam. Here's another top tip: invest in regular generator servicing in Brisbane. It's called an airlock and it can prevent your generator from starting up when you need it most. Letting your generator run dry, therefore, is a big no-no if you want it to maintain reliability. Now that we've established a reason why you need to stay stocked up on fuel, you'll need to work out fuel consumption costs based on how much energy you need it to produce.
Industrial generators are available in a range of sizes, but they usually start from around 20kilowatts (kW) to well over 3megawatts (MW). Larger businesses and industrial property owners will naturally require more capacity. Properties of industrial electrical size are office buildings, manufacturing facilities, data centres, and building complexes such as shopping malls, educational institutions, and living centres all require larger-capacity generators. These are all the types of properties that need industrial generators, specialized industrial generator technicians and industrial level power supply. This is the case whether you need your generator to operate as a primary power source or an emergency back-up power machine.
Calculating each part of the equation
We've compiled a diesel generator fuel consumption table below. It should give you an approximate estimation of the amount of diesel fuel you'll need for your generator based on three things: the size of your generator and the load. Size is easy and you'll know about it at installation, but the load isn't common knowledge. The load on a diesel generator is the power being consumed from the unit based on how much electrical support you need. Industrial generators have load capacity to power heaters, lighting, chillers, fans, or other motors. Depending on how many of these things you need powered all at the same time, it'll change the load capacity from between a quarter load to full load.
The total sum of all the power requirements for all the things you need powered is the total load. If you have a 20kW sized generator and it needs to supply half of that total power requirement, you're functioning your generator on half load. The generator needs to be able to cope with the load as it is applied and that's why it's important that you purchase and install the right size for your industrial property requirements. So, the final figure of fuel consumption, and how much it will cost you, is dependent on the size (power capacity) and the total amount of power your generator will need to produce (how much of that total capacity is used).
Industrial generator sizes
Estimated diesel fuel consumption
¼ Load (litres/hr)
½ Load (litres/hr)
¾ Load (litres/hr)
Full Load (litres/hr)
20kW / 25kVA
1.8
3.1
4.5
6.0
24kW / 30kVA
2.2
3.7
5.4
7.2
32kW / 40kVA
2.9
5.0
7.2
9.6
40kW / 50kVA
3.6
6.2
9.0
12.0
60kW / 75kVA
5.4
9.4
13.5
18.0
80kW / 100kVA
7.2
12.5
18.0
24.0
120kW / 150kVA
10.8
18.8
27.0
36.0
160kW / 200kVA
14.4
25.0
36.0
48.0
200kW / 250kVA
18.0
31.2
45.0
60.0
280kW / 350kVA
25.2
43.7
63.0
84.0
400kW / 500kVA
36.0
62.4
90.0
120.0
**Please note that we've drafted this diesel generator fuel consumption table as an estimate guide to assist industrial property owners and managers to get a better sense of how much fuel a generator will IDEALLY use during operation, in perfect conditions. It is not an exact representation due to varying factors that can increase or decrease the amount of fuel consumed based on your unique industrial generator needs.
We can help you with all your diesel generator needs and worries…
Having been in the business for over 50 years as a locally bred primary and backup power solutions company to hundreds of industrial clients, here are a few of the reasons why you should always consider Reactive Generators as your first stop for all your industrial generator needs
Our generating servicing in Brisbane is unmatched
All of our technicians are experienced and FULLY insured and can be extended to protecting your expensive appliances like thermostats or television on which you watch your favorite movie
We service Brisbane, Gold Coast, Sunshine Coast, and Ipswich
Reactive Generators is the sole contractor for Kennards Hire Pump and power in the state
We always stock a range of parts and replacement components on-site
The Energy-Efficiency Advantages of Vinyl Window Replacement

Windows are more than just portals to the outside world; they play a significant role in determining the comfort and energy efficiency of your home. If you're looking to improve your home's energy efficiency, consider the advantages of vinyl window replacement. In this article, we'll... The post The Energy-Efficiency Advantages of Vinyl Window Replacement appeared […]