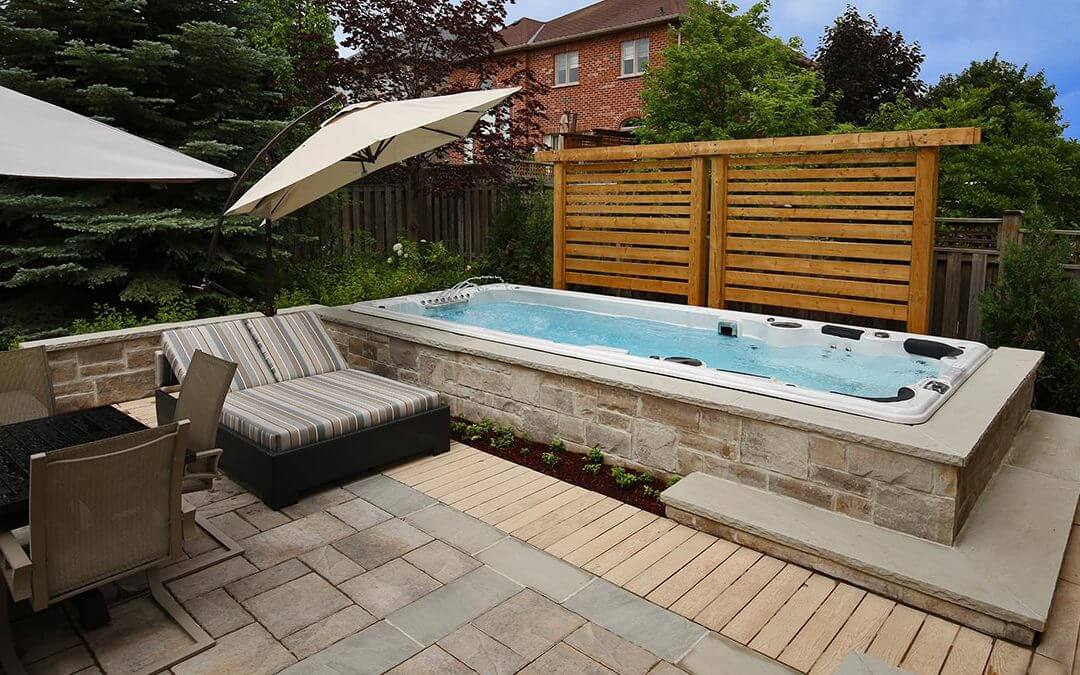 Looking for a cost-effective way to relax and stay active? An above ground swim spa might be the perfect solution for you. Swim spas can provide hours of fun and relaxation, all while taking up a minimal amount of space. If you're considering adding a swim spa to your home, read on for more information on what to consider when making your purchase.
Swim spas are becoming an increasingly popular option, as they offer a great way to stay active and relax. Above ground models are particularly appealing, as they take up very little space and are often more affordable than in-ground models. If you're thinking about adding one to your home, here are some things to keep in mind:
1) Size – Be sure to choose a model that's the right size for your needs. Think about how often you'll use it and how many people will be using it at once.
2) Features – Consider the features that are important to you, such as heating options, wave patterns, and seating arrangements.
3) Budget – Swim spas can vary significantly in price, so be sure to set a budget that's comfortable for you.
4) Location – Make sure you have enough room on your property for the swim spa to fit comfortably.
Once you've considered these factors, it's time to start shopping!
Above ground swim spa and its benefits
An above ground swim spa offers many benefits, making it an ideal choice for those who want to swim and exercise in the comfort of their own home. Unlike a traditional above ground pool, above ground swim spas are deeper, much more feature-packed, and offer a powerful current that allows swimmers to move continuously against the water flow in a gentle yet challenging way. Not only do above ground swim spas provide generous space for exercising and swimming laps, but there is also ample room for relaxing with family and friends. With adjustable speed levels and integrated therapy seats designed for comfort, above ground swim spas can offer an enjoyable environment for people of all ages and fitness levels.
Cost of an above ground swim spa to a traditional in-ground pool
When it comes to cost, above ground swim spas offer an economical alternative to traditional in-ground pools. Traditional in-ground pools require a substantial amount of money and time for construction and plumbing work. Above ground swim spas save time and money since they do not need extensive installation processes.
They're also easier to maintain than in-ground pools, and can be installed in a fraction of the time without any digging or excavation work. Though above ground swim spas are more compact and cost effective than their in-ground counterparts, they still offer robust features like adjustable speed pumps and counter current jets that provide an optimal swimming experience with more control over buoyancy levels.
Install an above ground swim spa
Installing an above ground swim spa is surprisingly easy and can be done in a matter of hours. Above ground swim spas have the same features as an in-ground pool, but require far less time and effort to install. All you need is a flat, solid surface like an existing patio, deck, or even grass to act as the base for your above ground swim spa.
Installation time will vary depending on the size of your above ground swim spa and its accessories, but most are installed in under 8 hours with minimal disruption to your yard. Having an above ground swim spa could bring long-term value to your home and provide you with endless hours of fun and relaxation.
How to get the most out of an above ground swim spa
Above ground swim spas can be a great way to transform your backyard into a private oasis that allows for year-round swimming and fun. To get the most out of your above ground swim spa, make sure to select one with enough water circulation power to create the perfect environment for use – whether that is to relax, exercise or simply enjoy.
Additionally, utilizing hydrotherapy features like massage jets and temperature controls can help you turn swimming in your above ground swim spa into a luxurious experience. Finally, don't underestimate the importance of proper maintenance as cleanliness and safety should always be top of mind when it comes to above ground swim spas. With these tips, you can have peace of mind knowing you're getting the most out of your above ground swim spa setup!
Health benefits associated with swimming
Swimming is an ideal way to stay physically fit and healthy. Not only is it an effective yet low-impact full body workout, swimming also offers a number of other health benefits. In addition to helping strengthen muscles, it can also help build endurance and reduce stress while improving your overall mood and well-being.
Installing one of these above ground swim spas in your backyard lets you enjoy the many health benefits of recreational swimming at any time – with no commute to a gym or pool necessary! The best part? You can even enjoy swimming year round as above ground spas are designed for both indoor and outdoor use.
Above ground swim spas offer a relaxing and enjoyable way to get exercise, relax, and enjoy some quality time with loved ones. Not only do they provide the same benefits as a traditional pool with a much more economical price tag, but they are also far easier to install than an in-ground pool. With some simple maintenance tips and recommended intensity levels for swimming in an above ground swim spa, you can be sure that your investment is well spent.
Benefits of a Moving Company

Moving can be an exciting yet daunting task, and if you've ever relocated to a new home or office, you know that it involves more than just packing your belongings into boxes. It's a process that requires careful planning, organization, and physical effort. This is... The post Benefits of a Moving Company appeared first on […]