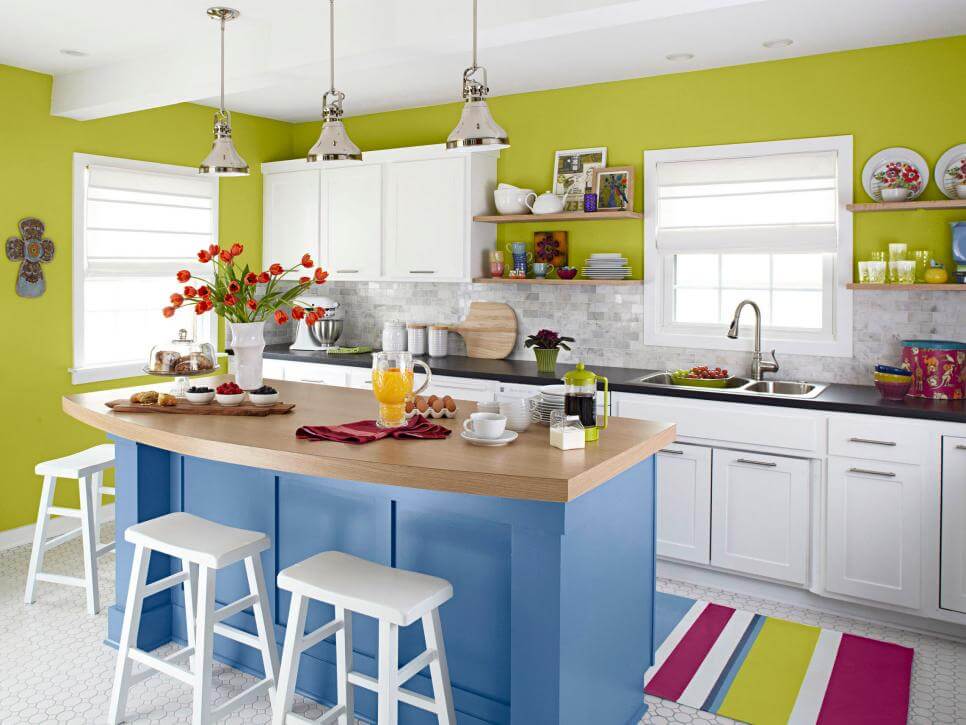 Are you looking to remodel your small kitchen in Cleveland but struggling to find design ideas that work with limited space? Don't worry, you're not alone. Small kitchens can be challenging to design and decorate, but with a little creativity and careful planning, you can create a functional and stylish space that meets your needs and exceeds your expectations. In this blog, we will share five clever kitchen remodeling ideas for small spaces in Cleveland.
These ideas are practical, stylish, and tailored to maximize every inch of space in your small kitchen. Whether you're a professional chef or a casual cook, these design solutions will help you create a beautiful and functional kitchen that you'll love to spend time in. So without further ado, let's dive into these clever kitchen remodeling ideas and transform your small kitchen into a space we know you will love!
Using Light Colors
When it comes to small kitchen remodeling, choosing the right color scheme can make a world of difference. Light colors, such as white and pastels are an excellent choice for small kitchens. By reflecting natural light, light colors can create an illusion of a larger and more open space.
By using light-colored cabinets, countertops, backsplashes, and walls, you can make your kitchen appear brighter, more spacious, and more inviting. If you love bold colors and would want to incorporate them into your kitchen, consider using them as accents to help the main color stick out more. For example, you can choose a brightly colored kitchen island or colorful decorative items, which would add color and make your kitchen more visually appealing.
Get More Open Shelving
If you're looking for ways to maximize storage and create a sense of openness in your small kitchen, open shelving would be the perfect option for you! Open shelves can provide a beautiful backdrop for displaying your favorite kitchenware and adding a decorative touch to your kitchen.
For a cohesive look, consider matching your open shelves with your cabinets, or you can mix and match materials and textures to add a bit of interest. By displaying your kitchenware on open shelves, you can free up space in your cabinets, making them less cluttered and more organized.
Install a Pull-Out Pantry
A pullout pantry is an excellent space-saving solution that can provide ample storage for food and cooking supplies. By installing a pullout pantry in a narrow cabinet or adjacent wall, you can keep your small kitchen organized and clutter-free. Moreover, choosing a pullout pantry with adjustable shelves can help you customize the storage space to your needs. This way, you can efficiently use your space and make the most out of every inch of your kitchen.
Utilize Vertical Space
When it comes to small kitchens, utilizing vertical space is one of the smartest ways to create extra storage and make the most of your space. By installing tall cabinets that reach the ceiling, you can increase storage space and create an illusion of height in your kitchen. In addition, you can use your vertical space for hanging pots and pans, utensils, and even a spice rack. With this smart storage solution, you can have easy access to your kitchen tools and cookware, while keeping your kitchen counter space clear and clutter-free.
Incorporate Multi-Functional Furniture
If the previous four ideas aren't what you are looking for, then this last idea is perfect for you. Another way to save space in your small kitchen is by choosing multi-functional furniture to create extra space for you.
A kitchen island with built-in storage can serve as a prep station and a dining table, while a breakfast nook with hidden storage can provide additional seating and storage for your kitchen. A drop-leaf table that can be expanded or tucked away when not in use is another clever design solution that allows you to use your small kitchen for multiple purposes without sacrificing functionality or style.
Closing Thoughts
If you are like many people, you may not know where to start, who to call, or how much it would cost to remodel your small kitchen. But we are here to make life easier. Here at SemBro Design & Supply in Cleveland, we remodel kitchens of all sizes and turn them into kitchens that you can only dream of. From our amazing process where we talk to you to figure out your wants and needs, to remodeling your kitchen, SemBro will handle everything. Contact us today and let us know how we can help you!
So in closing thoughts, these five clever kitchen remodeling ideas for small spaces in Cleveland can help you transform your small kitchen into a functional and stylish space that meets your needs and exceeds your expectations. By using light colors, open shelving, pullout pantries, vertical space, and multi-functional furniture, you can create a beautiful and practical kitchen that is tailored to your unique style and needs. With some creativity and strategic planning, you can make the most out of every inch of space in your small kitchen and enjoy cooking and entertaining in a space that you'll love.
Benefits of a Moving Company

Moving can be an exciting yet daunting task, and if you've ever relocated to a new home or office, you know that it involves more than just packing your belongings into boxes. It's a process that requires careful planning, organization, and physical effort. This is... The post Benefits of a Moving Company appeared first on […]