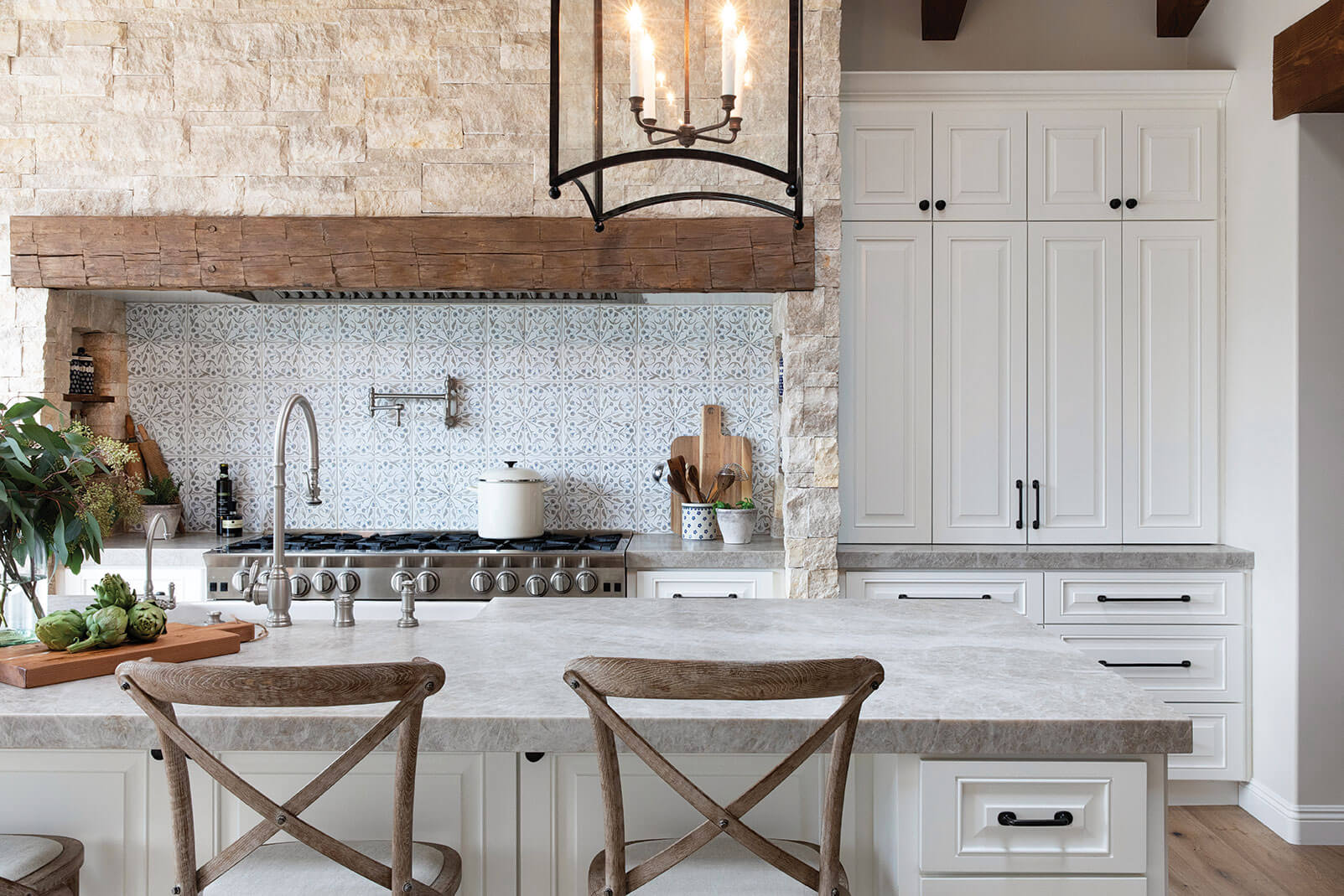 If you're planning to renovate or remodel your kitchen, you'll need to think carefully about what new features and materials might fit your space. If you're overhauling your entire kitchen layout, you may also want to consider speaking with a team of modern kitchen designers or visiting your local kitchen design showroom. Regardless of what your plans are, you'll need to identify the features that define your ideal space so that your dream kitchen becomes a reality.
If you want to make your kitchen a more high-end experience, you'll need to integrate features that boost the space's functionality and visual appeal. While plenty of kitchen design trends out there can make your space look cutting edge, it's often the more practical features that matter most for a redesign or renovation project.
You'll need to select the building materials and spacial arrangements that promote positive workflow within the room and emphasize the possibility of the kitchen double as a living room, dining area, and gathering space. Looking for timeless, natural aesthetics that elevate your space? Here are a few of the best additions to your kitchen that make it more of a luxury experience.
Modernized Island Lighting
The island has become a staple of the modern and contemporary architecture of the kitchen because it opens up the room to the other central areas of the home. The surrounding living rooms and hallways are integrated with the kitchen but still feature borders that define them as separate zones of the house.
To make your kitchen island more luxurious, you may want to consider adding a new set of lighting fixtures overhead. These lights can add unique design elements that give your kitchen modernized design flair and shining metalwork that matches the hardware. Remember, your lights should also double as task lights, so that your island remains a functional food prep space.
Kitchen Skylights
Natural light goes a long way toward making your kitchen feel more spacious. Larger windows, however, aren't always a practical option when you're redesigning your kitchen. A skylight can fit any size kitchen and bring in more light from above. Natural lighting also complements your brighter design colors and ensures that your space looks and feels relaxed.
Custom Range Hood
A custom range hood is a centerpiece of the contemporary kitchen. It offers a unique design, ornate metalwork, and a fixed focal point that's sure to impress your guests. The larger architecture of the contemporary range hood means it's also significantly more practical than other mid-century stainless steel looks. By working with a professional kitchen design, you can also customize the color of this installation to complement your existing or planned kitchen designs.
Multi-Functional Sinks
There are many appliances and fixtures for your kitchen sink that allow it to become so much more than a cleaning area. Products such as the Galley sink transform this key corner of your kitchen workspace triangle so that it serves a range of practical purposes. Sliding boards allow the sink to become a cutting board, food serving area, or drink cooler. A touchless faucet is another upgrade you may want to consider for your kitchen. These fixtures are more energy-efficient and make food preparation significantly easier, particularly when handling raw meat or fish.
Pantry Space
One of the primary reasons homeowners will overhaul their entire kitchen design is to get more storage space for their cooking equipment and food items. When you're thinking about new kitchen designs, you may want to consider building a new pantry closet or cabinet in addition to overhauling your central kitchen workspace. More storage means your space accumulates less clutter and a smaller amount of your appliances live on the countertop. In some situations, you might be able to build a kitchen pantry yourself!
Quartzite Countertops
Ready to make the ultimate upgrade for your kitchen countertops? Quartzite might be the right material for your space. Quartzite is a natural material, but it comes with a variety of texture, graining, and color options so that no two slabs are quite the same. The durability of these countertops is also significantly higher than other popular luxury materials, such as marble. You won't need to seal the countertop every year, as you might have to with granite.
Trash-Bin Cabinet
A dedicated cabinet for your kitchen that's open with your foot frees up space under your sink, reduces potential food prep smells, and makes the entire space look and feel cleaner. While this might seem like a small item to add on, it can sometimes take up quite a bit of space. The cabinet should be centrally located and shouldn't require a handle to open.
Cabinetry That Hides Appliances
If you're planning to integrate more of a modern aesthetic into your space, you might want to look into cabinetry solutions that hide your major appliances, such as your microwave or dishwasher. New cabinetry can quickly add up in cost- think about what kind of square footage you'd need to get before you start shopping. Some high-end appliance providers, such as Cove and Sub-Zero Wolf, also offer a customized cabinetry appearance for the front of their products.
A New Contemporary or Modern Design
To ensure your kitchen becomes a truly luxurious experience, reach out to a kitchen design firm, or visit your local kitchen design showroom. The expertise and craftsmanship of these professionals ensure you'll get the best materials, optimal flow in terms of the arrangement, and appealing yet timeless aesthetics throughout. You can customize your space's architecture, select colors, and create the kitchen of your dreams.
Conclusion
Ready to create the kitchen of your dreams? Speak with a professional kitchen designer, schedule an appointment at a showroom, and assemble a list of features that you'd like to see in your ideal kitchen space. There are so many options available when it comes to creating a luxurious kitchen experience and many avenues for upgrading your space.
The Energy-Efficiency Advantages of Vinyl Window Replacement

Windows are more than just portals to the outside world; they play a significant role in determining the comfort and energy efficiency of your home. If you're looking to improve your home's energy efficiency, consider the advantages of vinyl window replacement. In this article, we'll... The post The Energy-Efficiency Advantages of Vinyl Window Replacement appeared […]