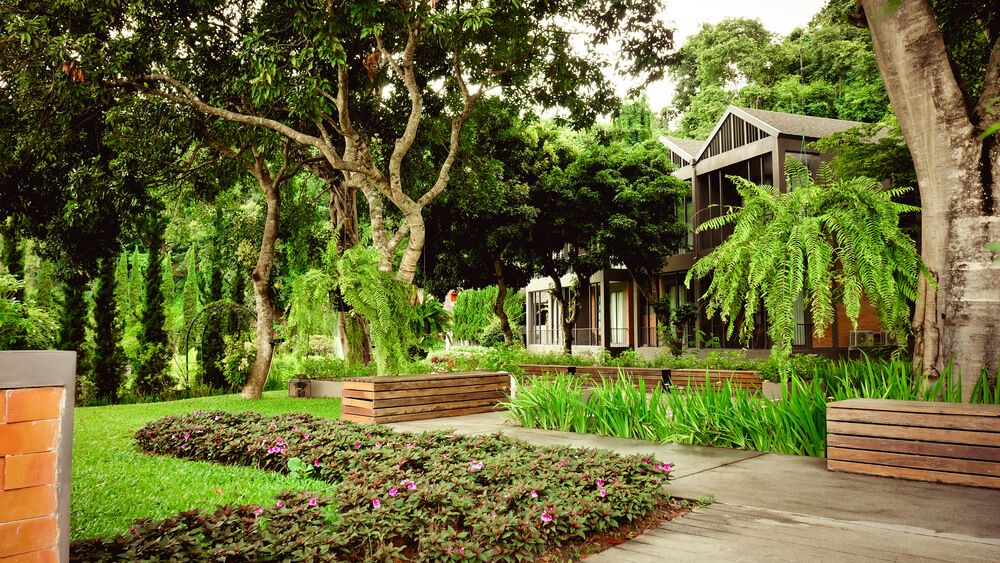 Much like your home, your yard has to function in many different capacities. It needs to accommodate all of them in an organized and logical way. In your home, there are clearly delineated areas that define the purpose of each space. Living space for relaxing, and also used for entertaining by watching movies on Yesmovies. But are Yesmovies safe to use? The kitchen space is used for food storage and preparation. A dining area is used for enjoying meals. While each area has a function, they also overlap each other. The kids may be doing homework at the dining table while Mom and Dad are preparing the main meal of the day. Your guests may leave the living room to join you in the kitchen. Your outdoor living is much the same. Maybe you have a pool that for Mom is a means to get exercise and for the kids is entertainment, but for Dad, it's a place to relax. Your patio can be a dining area, an entertaining area and a relaxation area. The difference outdoors is each area is generally open to the others. It doesn't have to stay that way. With strategically placed trees and shrubs and even some fencing, you will be able to define each area based on its function.
1. Start by making a wish list of how you want to use your yard. Maybe you have young children who would love a play area of their own. If your family likes to play lawn games, an open area of lawn away from the garden beds and the dining area could be desirable. No one appreciates a volleyball landing in the potato salad. Perhaps you want a romantic evening outdoor space, or you want to entertain more and need better seating. Knowing how you want to use the space will help you decide how to divide the space.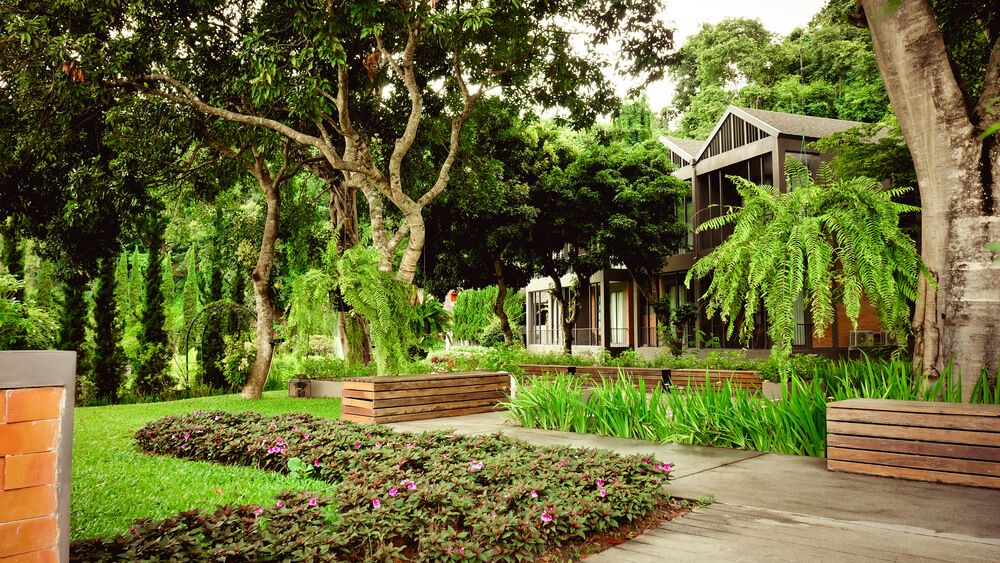 Source: TaTae THAILAND/Shutterstock.com
2. Establish your hardscape. Once you know what you want, start with the hardscape. This includes your patio or deck, paths connecting the various areas, the kids' playset and fencing. Depending on the age of your children, you may want fencing to prevent young children from wandering out of the yard or from chasing a ball into the street. The same is true if you have a dog. A perimeter fence will allow you to let your dog outside without having to worry that he could wander.
3. Expand your deck or patio. You may want to increase the size of your deck or patio. If your wish list included the ability to entertain more frequently or with larger groups, an addition to your patio or deck may be necessary. Perhaps an outdoor kitchen is part of the addition. This could be as small as a built-in grill with a prep counter to a complete kitchen. Another option is to add specialty items like a wood-fired pizza oven or a deep fryer. You may also check at rtaoutdoorliving.com to see more opportunities for your outdoor kitchen layouts and designs and help you put up the best grill & appliances to make it more elegant and luxurious.
4. Make a quiet retreat. If you want a quiet retreat, you could section off a part of your yard by adding flowering shrubs to form a secret garden in your yard. Add a water feature to attract birds and butterflies as well as to provide the soothing sound of running water. Flowering shrubs will provide a scent for this area. Comfortable seating is all you need to complete your restful retreat to meditate or read a book.
5. Create Color Zones Never underestimate the power of color placement and garden arrangement to neatly divide an outdoor space into zones that have both functional uses and aesthetic appeal. Varying the coloring of your shrubs, flowers, and plants and segmenting off certain sections for each domain of the color wheel will help you create a space that transitions seamlessly between the cool, quiet retreat, in which shrubs and plants with cooling and calming colors can set the tone for relaxation, to the areas devoted to warm, intense and bright colors, which can help make a space for creative contemplation and focus, outdoor study and work or you can go to Folsom arborists for tree planting advice as it is better to let the professionals do the work when you are not sure about it.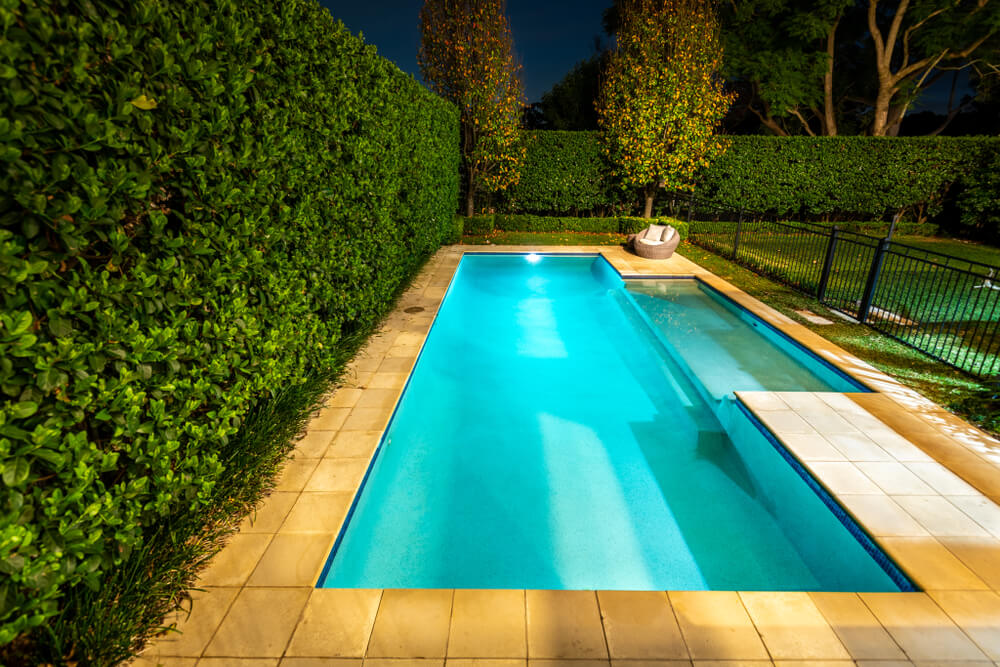 Source: Andrew Atkinson/Shutterstock.com
6. Keep your side yards in mind. Don't forget the side yards. The side yard especially is often an ignored wasteland. With a little creativity, it could become the favorite area in your yard. This is the area you could use for your restful retreat or it may be large enough for a Bocce ball court or even a lap pool. Plant a hedge for privacy from the neighbor's yard. A side yard can be used to make peace with your mind, not even the ring doorbells should be able to disturb you.
7. Think about your front yard. With some creative landscaping, you could expand your entry to a courtyard entrance with a covered area to be used for dining. Or maybe your quiet restful space could be in the front yard, away from the noise and activity of the back yard. Lots of trees and shrubs will provide shade, block sound and provide privacy. If your front yard is extensive, consider locating a tennis court or volleyball court in the front yard. In some situations, it makes sense to reverse traditional roles of the front and back yard and locate the activities in the front and reserve the back yard for secluded quiet.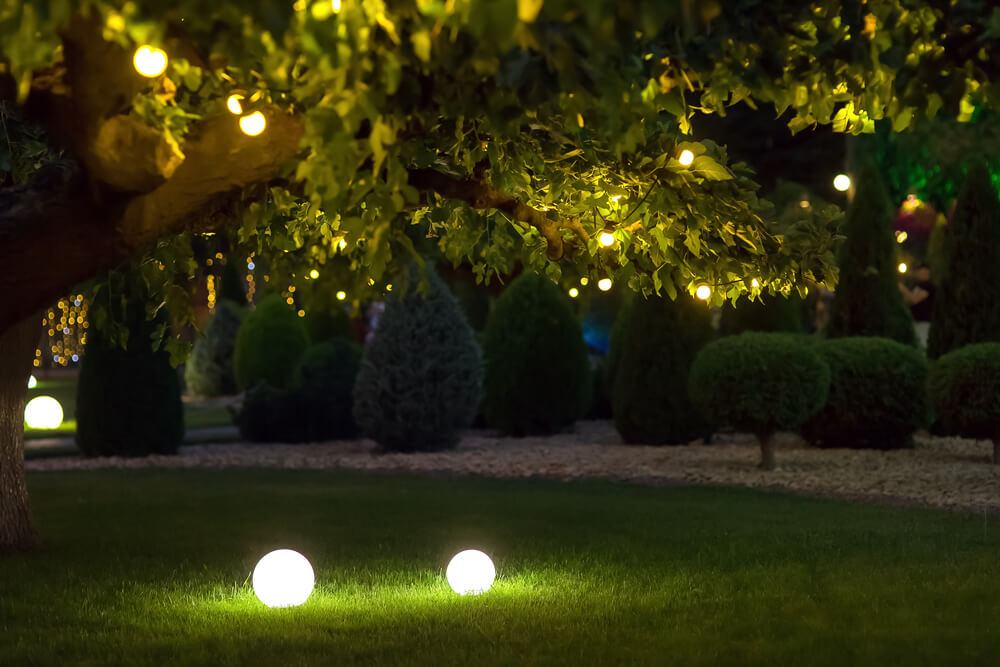 Source: Bespaliy/Shutterstock.com
8. Extend outdoor time with outdoor lighting. Extend the time you can use your yard by adding heat and outdoor lighting. There are lots of options for heat, including a full fireplace, heat lamps similar to what outdoor restaurants use or a fire table. If you have a heat source, you can start using your patio or deck earlier in the spring and later in the fall. It also allows you to use your outdoor space during the cool summer evenings. The same is true of lighting. In spring and fall, the days are shorter and it is dark outside relatively early. Extend the use of your outdoor space by hanging lights on the pergola or using stand-alone lights in the yard. Today, there are many lighting options that are solar-powered so you may not need to incur the expense of hiring an electrician to run electric lines in your outdoor space. Add a roof over your patio or deck to keep the weather from sending you indoors. You may need more shade when on your deck. Add a pergola to provide the shade. Even better, grow a flowering vine to cover the pergola–adding not only shade but beauty. Add shrubs to provide privacy and to make your areas special. If you choose flowering shrubs, you and your guests will enjoy the beauty of the flowers and possibly the fragrance. Plant lots of flowers in the ground and in containers to give the finishing decorative touch.
With a little planning, your yard can serve many functions for the entire family.
Homeowners Guide to Black Mold Removal in Toronto

Learning that you may need black mold removal can be outright scary for many homeowners. Black mold is also known as toxic mold, which has been portrayed in the media as a threat to people, animals, and children. The truth about black mold is a... The post Homeowners Guide to Black Mold Removal in Toronto […]