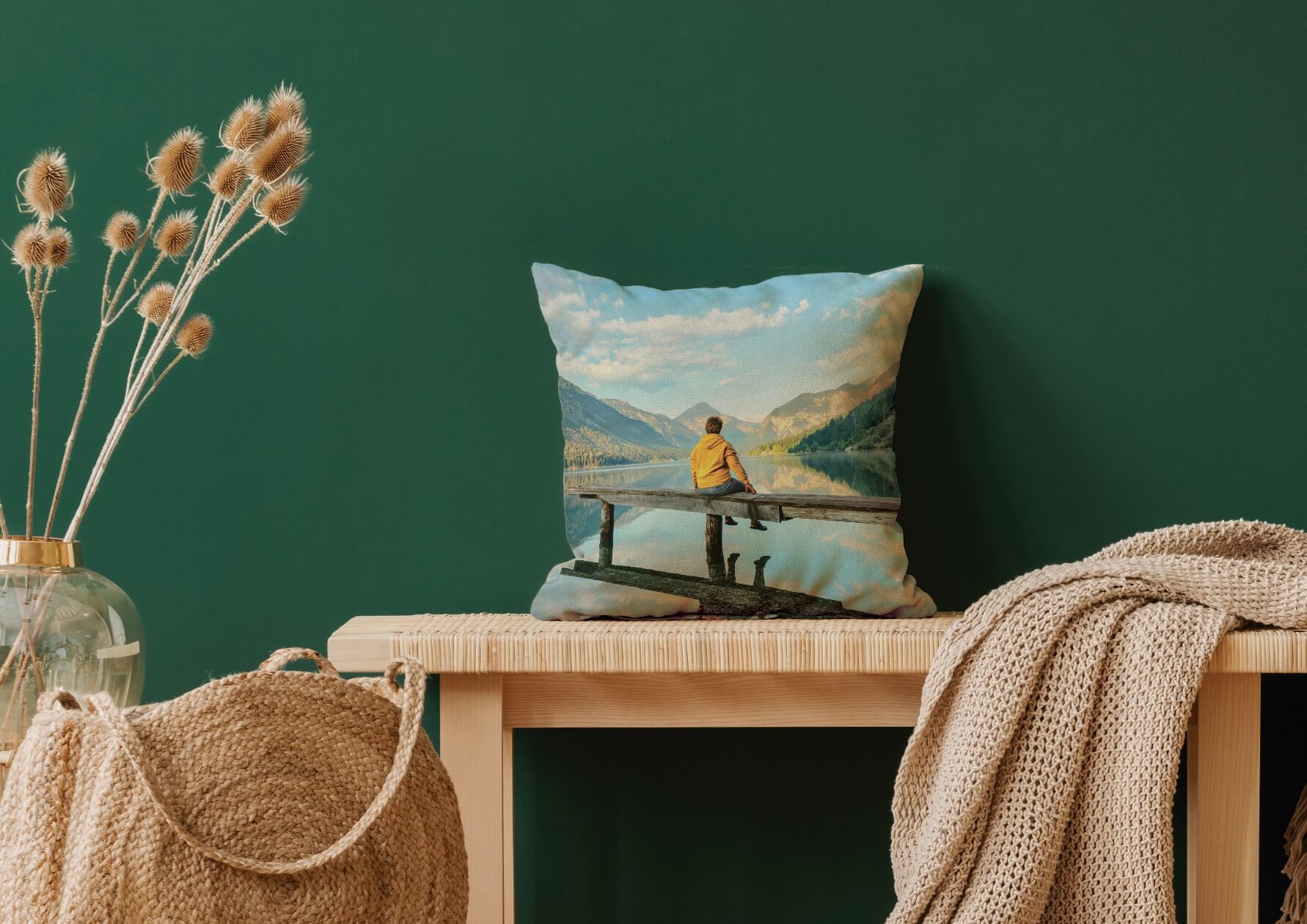 Bringing your living room up to date typically involves replacing dated furniture and design features with newer styles. So it goes without saying that a full-scale redesign project can really take its toll on your budget, with the cost of new furniture alone amounting to thousands of dollars.
Fortunately, just as a couple of new accessories can be enough to transform an old outfit, there are ways to give your living room a whole new feel with a few small changes – and these don't have to be too demanding on your budget. Using a couple of the tips below should be enough to make you feel you've got a whole new living room!
1. Update Old Textiles
Replacing old, faded curtains is a great place to start. And you may be surprised by how swapping your old throw pillows with new ones can change the mood of your entire living room. While you're at it, why not get a personalized pillow printed with one of your own photos, and bring some personal style and personality into the mix? Custom textiles are increasing in popularity, and there are budget providers out there offering great quality at pretty amazing prices.
You can also try fitting older sofas or armchairs with new slipcovers in the same color palette as your curtains – just a few touches like this can really bring a room together.
2. Freshen Up Old Paint
A new coat of paint can tie together the different elements of a room – playing off the shades of your furniture etc to create a whole new palette. Fresh paint looks wonderfully clean, so it has a real impact even if you stick to the exact same color. In fact it's worth trying a fresh lick of paint before you make any changes – as you could end up deciding this is all you need to give your room a lift.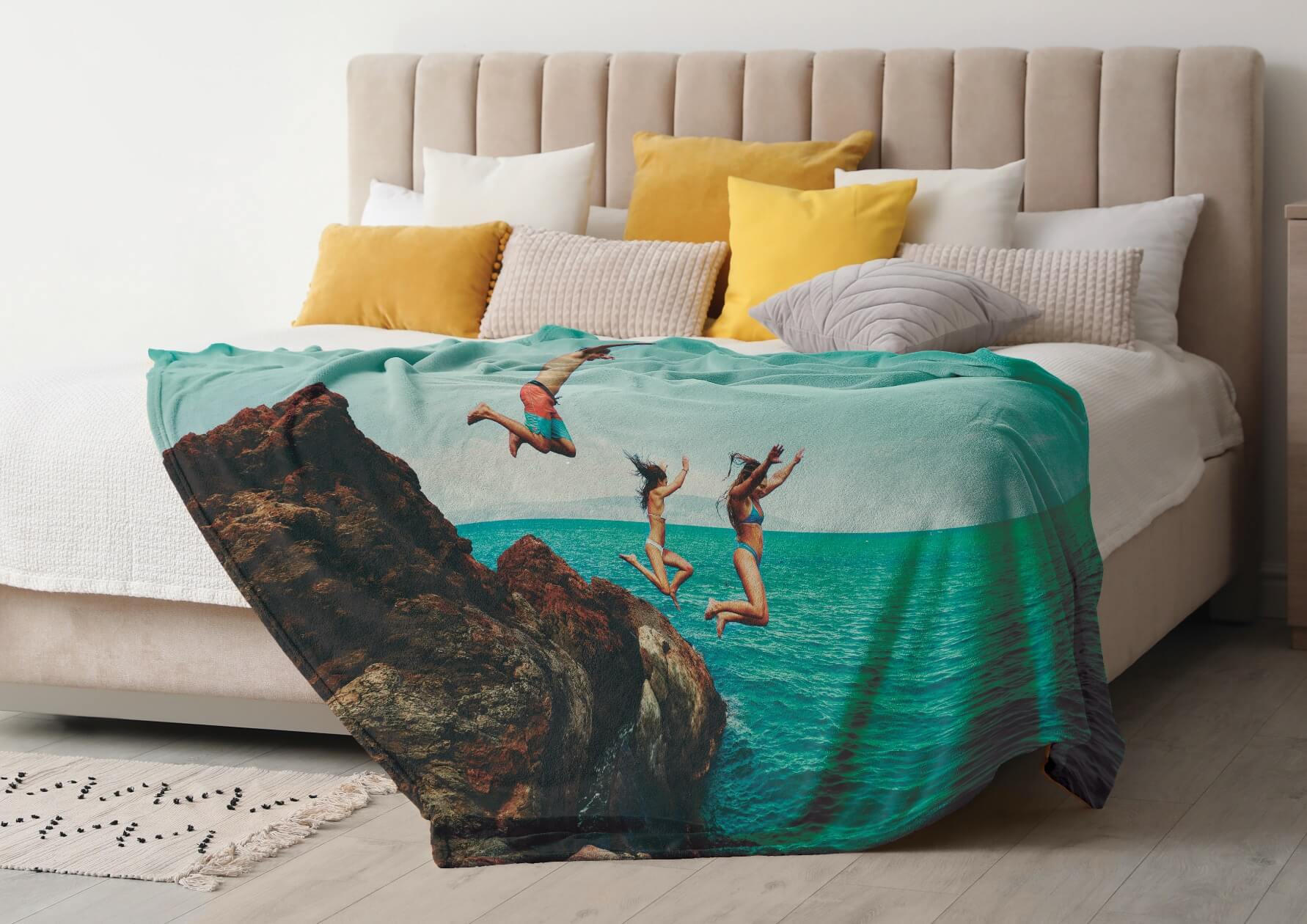 3. Cozy Up with a Photo Blanket
A snug blanket will add an extra layer of warmth during chilly evenings when you're binge-watching your favorite TV shows or chatting with friends. Order a custom photo blanket and the choice of print is entirely yours – it could be a picture of your family or pets, a scene from nature, or even your own designs. So there's no need to choose between cozy and chic – blankets can keep you warm while also working as a striking design feature for your living room.
4. Create an Accent Wall
An accent wall is a low-effort, cost-effective way to bring some bold style to your living room decor. Paint it in a bold contrasting color like plum or ginger and then customize it with framed photos and unique souvenirs or add a timeless canvas for a gallery feel. Whether left bare to provide a pure pop of color or hung with matching decor with neon lights features, an accent wall is a fun afternoon project that will make your living room feel more alive and welcoming.
5. Add Houseplants
Indoor plants don't just complement both classic and contemporary decor schemes – they have genuine wellness benefits too. We recommend a snake plant or spider plant if your room gets limited sunlight – both popular choices that offer maximum benefit for minimum effort. While bird of paradise flower is a gorgeous option for living rooms with a lot of natural light. Don't be afraid to make a statement with your plant pot either – a well-chosen pot can kick your living style statement up to a whole new level.
Few people regret bringing some greenery into their living rooms. Regular watering is a small price to pay for the free source of fresh air alone, not to mention the positive impact plants can have on your mental well-being.
6. Switch to Warm Lights
Warm lighting can instantly make your space feel more intimate and cozy. Swapping out cold light bulbs for low-wattage Edison bulbs will set the mood for family game nights and provide a more welcoming atmosphere for your guests.
If you want an even warmer feel, you can add string lights and floor lamps. There are plenty of lights on the market that are designed to replicate candlelight with its calming effects. And of course, you can feel free to buy actual candles if you want that extra touch of authenticity.
Endnote
You don't need a professional designer to pull off a successful home improvement project. Use just one or two of the tips above and you'll be able to transform your living room decor without breaking the bank. As long as the changes are in harmony with the overall scheme you've got now, a small outlay should be enough to get results that will make you happy for years to come.
The Energy-Efficiency Advantages of Vinyl Window Replacement

Windows are more than just portals to the outside world; they play a significant role in determining the comfort and energy efficiency of your home. If you're looking to improve your home's energy efficiency, consider the advantages of vinyl window replacement. In this article, we'll... The post The Energy-Efficiency Advantages of Vinyl Window Replacement appeared […]