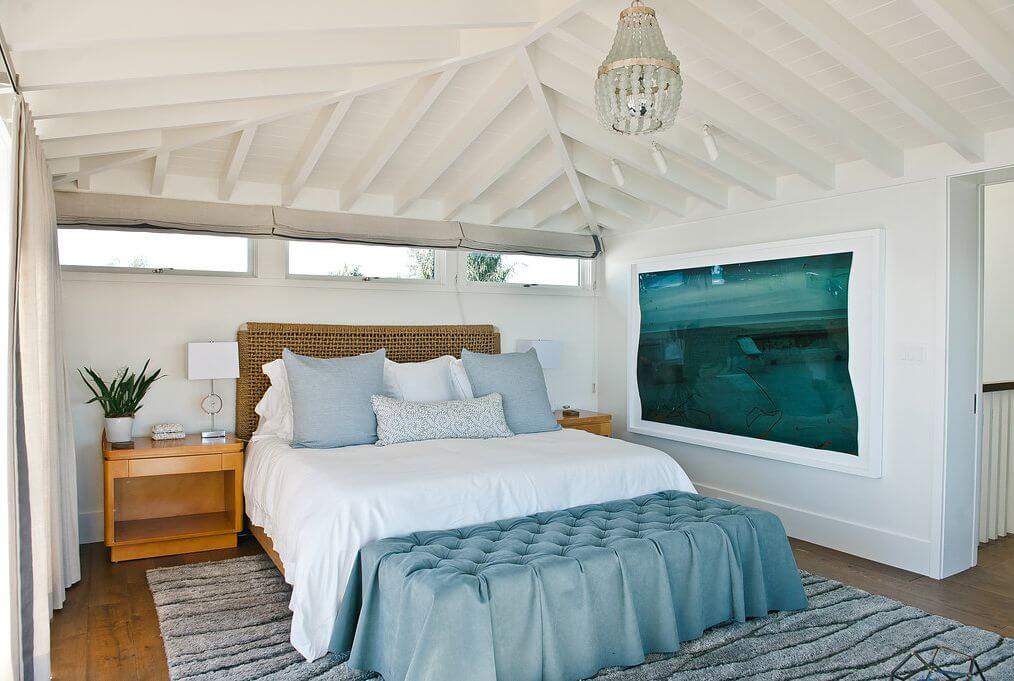 Our homes are where we retreat to at the end of a long day working, learning at school, or parenting, so it makes sense that we want our bedrooms to be a place of peace and tranquility. When creating a calming bedroom, there are several easy ways to achieve your desired aesthetic without breaking the bank, but this article isn't about that. This is about pulling out all the stops to feel like you are truly living in the lap of luxury every time you enter your bedroom. Many people choose to renovate their homes piecemeal, and the bedroom is the perfect place to start, as you use it every day. Keep reading for ways to elevate your bedroom to a calming and beautiful space that feels like Cloud Nine.
Hire a Muralist
While wallpaper is a timeless way to add color and design to a bedroom, for a truly luxurious statement wall, why not hire a muralist? Many people hire a muralist to add a touch of whimsy to their children's nurseries and bedrooms, but who says kids are the only ones that get to have fun? You can opt for an abstract modern mural or something more realistic, but statement walls like this turn your beautiful bedroom into a museum experience.
Add a Fireplace
Adding a fireplace to a room is no small undertaking, but it can make all the difference and take your bedroom from blah to Chalet status. Opt for a modern matte black paint or crisp and clean white brick fireplace with marble detailing. You can further elevate the fireplace with beautiful gold or brass sculptures and your favorite painting above. While candles can make a bedroom tranquil, they don't turn your room into the Ritz.
High End Art
Art is one of the strongest investments you can make in your lifetime, so investing in a piece for your bedroom will take your aesthetic to the next level, not to mention add to your portfolio. High end art for sale isn't something you'll find in traditional stores, but auctions, dealers, and websites are a fantastic place to start. Not every piece needs to be from a blue-chip artist, but educating yourself and working with dealers you trust is paramount when it comes to art investments for your bedroom and home.
Layer Fabrics and Textures
Working with an interior designer to use different fabrics, patterns, and textures within your bedroom is a beautiful way to create a more luxurious sleeping space. You want your bedroom to feel cozy, but you also want it to look modern and beautiful; that's why it's best to hire professional designers with a trained eye to ensure all your fabrics and textures complement each other. One of the best things about this upgrade is how quickly you can accomplish it, which makes it appealing to everyone.
Antique Pieces
Decorating with antiques is a surefire way to make your bedroom feel timeless as well as luxurious. Older pieces naturally have a feeling of decadence to them, not to mention they complement even the most modern aesthetics. Whether you want to go true antique or with a more vintage mid-century feel, these pieces can become the heart of your bedroom. A copper or clawfoot bathtub is an excellent addition to adjoining bathrooms of any primary suite.
Storage but Stylized
There's a reason why all-black outfits are the most flattering and timeless and a reason why hotels look so clean and luxurious; it's the same tone and stylish storage in hotel rooms. Creating a streamlined look and color scheme for your storage furniture, closet, and dressing table is a beautiful way to elevate your bedroom. Bespoke storage solutions give a cohesive and highly stylized look to your room. Make sure you and your design team stay with the same color scheme as the other fabrics and patterns throughout the space.
We spend one-third of our lives sleeping, so we deserve to have opulent as well as calming bedrooms. By incorporating the above ways to upgrade your bedroom, you're guaranteed to have sweet dreams. Happy decorating!
Are Marble Kitchen Countertops a Good Idea?

When it comes to kitchen countertops, nothing exudes elegance quite like marble. Its natural beauty and timeless appeal have made it a popular choice among homeowners. But is it a good idea to have marble countertops in your kitchen? Let's explore the advantages and disadvantages.... The post Are Marble Kitchen Countertops a Good Idea? appeared […]