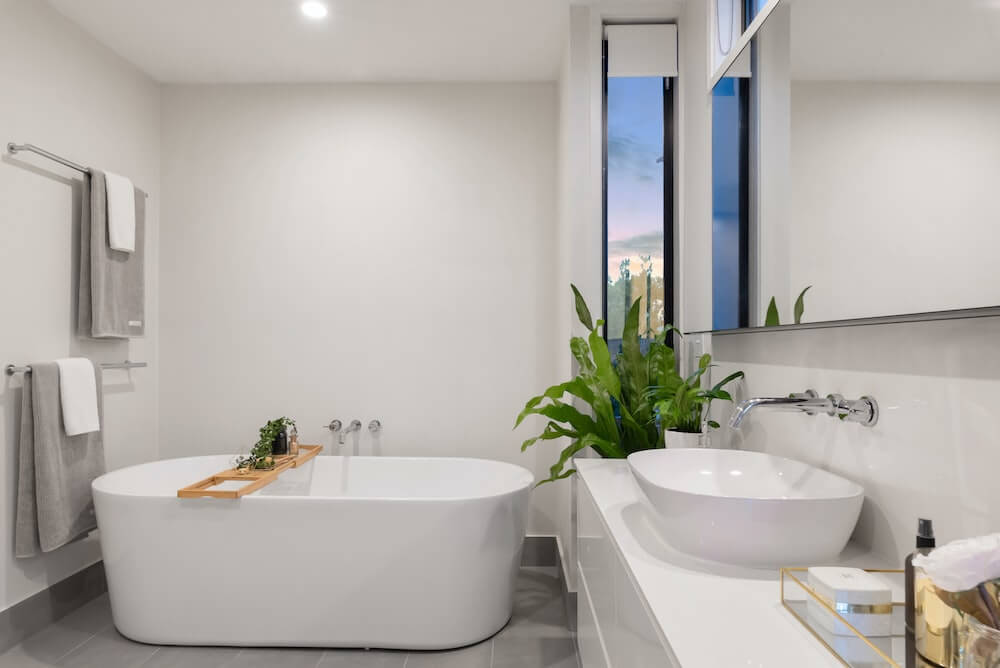 Renovating anything is not easy, and when you decide to renovate your bathroom, it is much more tricky than anything.
It's crucial to balance your necessity for functionality and your desire for creativity and aesthetics. Therefore, remodeling them increases the value of your home.
If you also wish to remodel your bathroom, the following ideas will be a great addition to your knowledge, and you can do it with any external help.
To view it for yourself, scroll down!
1. Install Proper Ventilation
When you decide to remodel the bathroom, you should ensure to get proper ventilation. There are many examples that people neglect the fact that their bathroom lacks ventilation, which is one of the most important facts
Without enough ventilation, even the most luxurious bathroom fails. If you don't install a fan, you can experience high humidity, mold, and moisture problems. Furthermore, bathrooms must have an exterior window or a fan that exhausts to the outside in order to comply with requirements.
Installing a fan with an attic exhaust. You are only transferring the moisture in this situation and the potential for mold from the bathroom to another area. The answer is simple, Put in a fan with an outdoor exhaust.
2. Create Ease Of Equipment
The tools you put in your bathroom must be easy to use and provide you with convenience. For example, if you are taking a shower, you would definitely like the ease as you are here to get fresh.
Taps and showers fixed on the walls are not enough for extended use. Then why not install a faucet extension for bathroom? It will provide you with water at the exact place where you want it. The simplicity of use, pressure flow and homogeneity, appearance, and feel all have the power to improve or degrade mood.
Such small developments are necessary for your bathroom.
3. Keep Your Accessories On A Comfortable Heights
How will it feel when you sit on the toilet seat and can't reach out for your toilet roll?
It can be the most awkward thing you may experience. How high towel bars and robe hooks should be hung is not subject to strict regulations. However, it would be best if you fix everything according to the dimensions which are best suited to you.
Early planning will allow you to install additional blocking before finishing the walls. If possible, indicate probable trouble places using painter's tape before making any adjustments.
4. Put Emphasis On Flooring
The floor of your bathroom is the most crucial part. As the water falls on it, it is important to ensure that the floor remains in its best condition. It should be strong enough not to crack and not too slick so that someone could fall and get wounded.
Ceramic and porcelain tile, luxury vinyl plank, vinyl tiles, and sheet vinyl flooring all come in a variety of styles that are suitable for bathroom flooring.
Also, ensure to have a slope while you make the floor. It will make it easy for the water to go for drainage.
5. Ensure To Have Correct Measurements
You must be sure about the measurement available. It will allow you to get the right things for the bathroom.
For example, if your wish to install a bathtub, but the space doesn't allow then you should drop the idea. Instead, you may go for a bath cabin. It can be equally suitable for your requirements.
Also, ensure the equipment is installed on the right side according to the dimensions. Therefore, when you go to the store, make sure you have the appropriate measurements and requirements. Trying to purchase without dimensions is difficult enough. The worst part is when you buy something that doesn't fit.
6. Put Appropriate Lighting
One more essential thing you should do is to ensure visibility. So proper lighting is a must thing that becomes part of your bathroom.
Even if you have sunlight coming into your room, you should still fix the lights in the bathroom.
For instance, if you have to shave your face at night time, what would you do?
Lighting up the torch of your id is not a good idea!
Therefore, to avoid such inconvenience, you must arrange light which gives you clear vision. These initiatives will give you the things you want precisely.
Final Thought
A clean and well-maintained bathroom is the best thing for your room. Therefore, when you decide to remodel your bathroom, you must gather all the important information and start doing it.
There can be a chance that you might malfunction the settings and go out of budget while doing all this work. Therefore, implement the tips mentioned above and get the results of what you thought of.
The Energy-Efficiency Advantages of Vinyl Window Replacement

Windows are more than just portals to the outside world; they play a significant role in determining the comfort and energy efficiency of your home. If you're looking to improve your home's energy efficiency, consider the advantages of vinyl window replacement. In this article, we'll... The post The Energy-Efficiency Advantages of Vinyl Window Replacement appeared […]