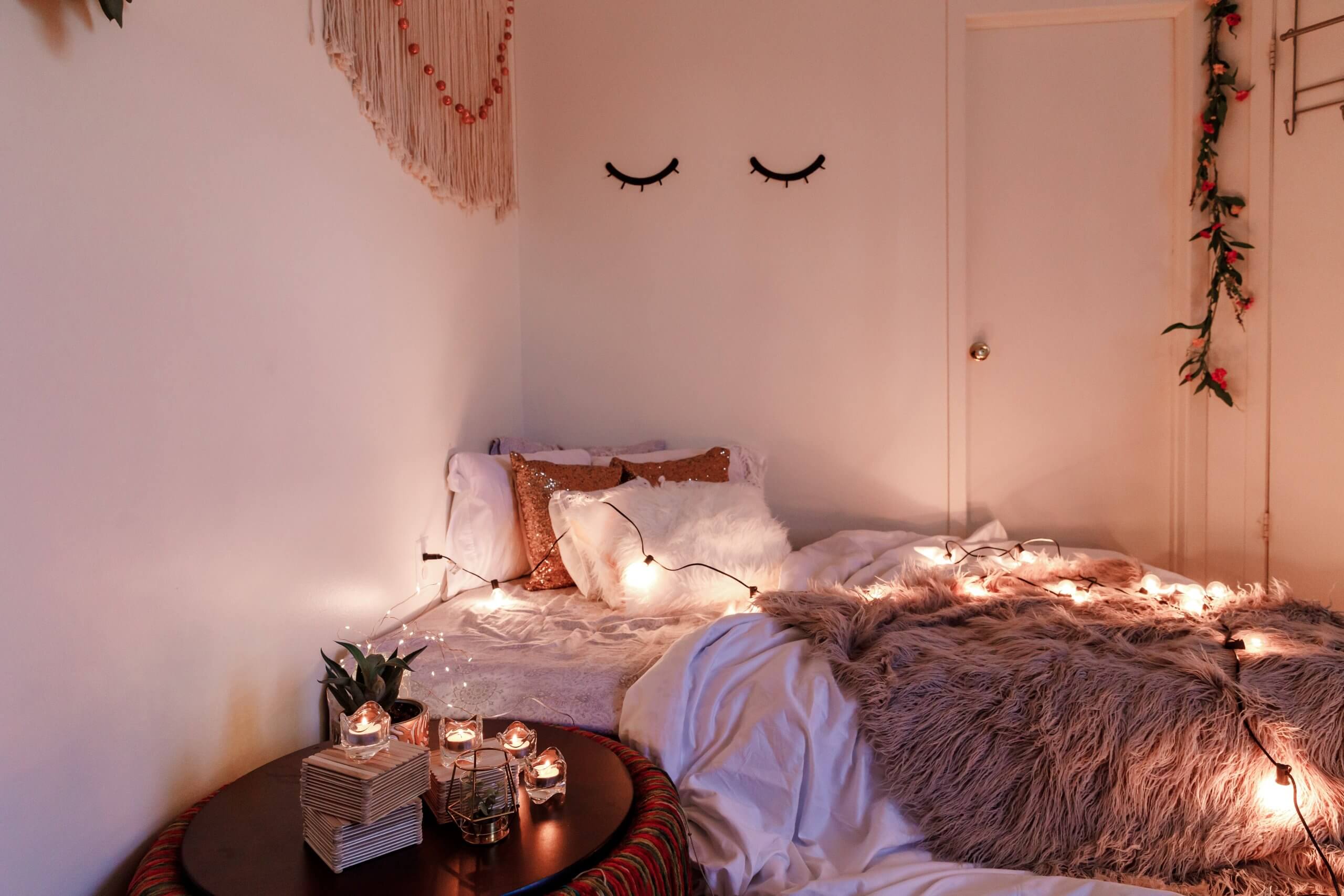 So, you've moved to the dorm and expect your life to be like a Netflix TV show. Endless conversations with roommates, hours of preparation for tests, cozy evenings, and movie marathons… All this surely waits for you after one thing is finished – and this thing is a room makeover.
When the euphoria from moving in is over, it's time to take on the design of the room and make it more spacious and comfortable. It's likely the space is super small, but designers often face such impossible tasks, which is why they offer us a lot of tricks. So let's put their knowledge into practice!
But before we dive into the coolest makeover ever, here's a small piece of advice. Further transformations certainly need time and energy, and you may lack them due to endless deadlines and urgent tasks. Luckily, there's a way to free up your schedule: just turn to a write my paper for help and let a professional do the job for you. Their services are high quality yet affordable, and that's exactly what you need to manage it all in these hectic times.
Study Actual Dorm Regulations
Before you start any renovations, make sure your plans are in line with dorm policy. The rules may differ from one institution to another, but here are a few ones that are quite common:
Do not use nails, glue, wall hooks, or double-sided tape, or anything else that can damage the walls;
Do not paint walls, ceiling, floor, and furniture;
Be aware of the fire alarm and be careful with hazards that can trigger it.
Think Through Zoning
A dorm room is typically a single space where only the bathroom is separated by walls. Everything else is a living area, on which you need to fit the bedroom, work area, and storage. The main task (it is also the main problem) is to correctly divide and arrange all the necessary zones since the space is limited.
So, it's time to use your imagination! Once you outsource your homework to top paper writing services, open Pinterest or design blogs and start saving inspo ideas and things you would like to try.
To divide the room into zones, use carpets. Cozy fluffy one can be by the bed, and more neutral ones under the table or closet where you change. The advantage is that a certain zone isn't fixed to a specific space of the apartment – it is easy to move it by simply dragging the carpet. For such zoning to be effective, it is ideal for placing all the furniture in a particular area on one rug.
Proper lighting is also life-changing: garlands, LED strips, and table or floor lamps are super effective. Many choose a muted color near the bed and a brighter one above the desk. Lighting with different levels of brightness is an original and effective way to draw a line between zones. When one part of the room is brightly lit, and the other is in the twilight, the line between them is easily perceptible.
For proper zoning, you can also use a bookshelf, a dresser, or a small couch. At the same time, you don't lose a single centimeter of usable area.
Here is another zoning rule: there shouldn't be anything redundant in the room. This applies to furniture and accessories, otherwise, the room will seem too tiny. The main task, in our case, is to create the illusion of free space. The abundance of shelves, niches, and cabinets will turn a compact room into a garage, and you surely want to avoid this. So, prevent clutter at all costs.
Choose The Interior Style
The use of light colors, such as white, beige, sand, gray, or milk, can slightly dissolve the boundaries of the room. Meanwhile, dark and bright colors are used only as accents so that the interior doesn't look boring. Designers don't advise using more than three leading colors, thus, it is better to give preference to monochrome solutions. Also, contrasting combinations of white with black or brown look simply amazing.
It is best to study these interior styles:
Minimalism;
High tech;
Scandinavian style;
Japanese style.
By the way, mirror surfaces help to visually expand the space: a well-placed mirror can double the size of the room.
Pick The Right Furniture (If You Are Allowed To)
Since you can't put a lot of furniture in a dorm, all items should be as functional as possible but at the same time not bulky. The simplest option is a sofa bed and a folding table. Think about transforming furniture: these are beds that recline from the wall, desks that are hidden behind wardrobe doors, or folding chairs.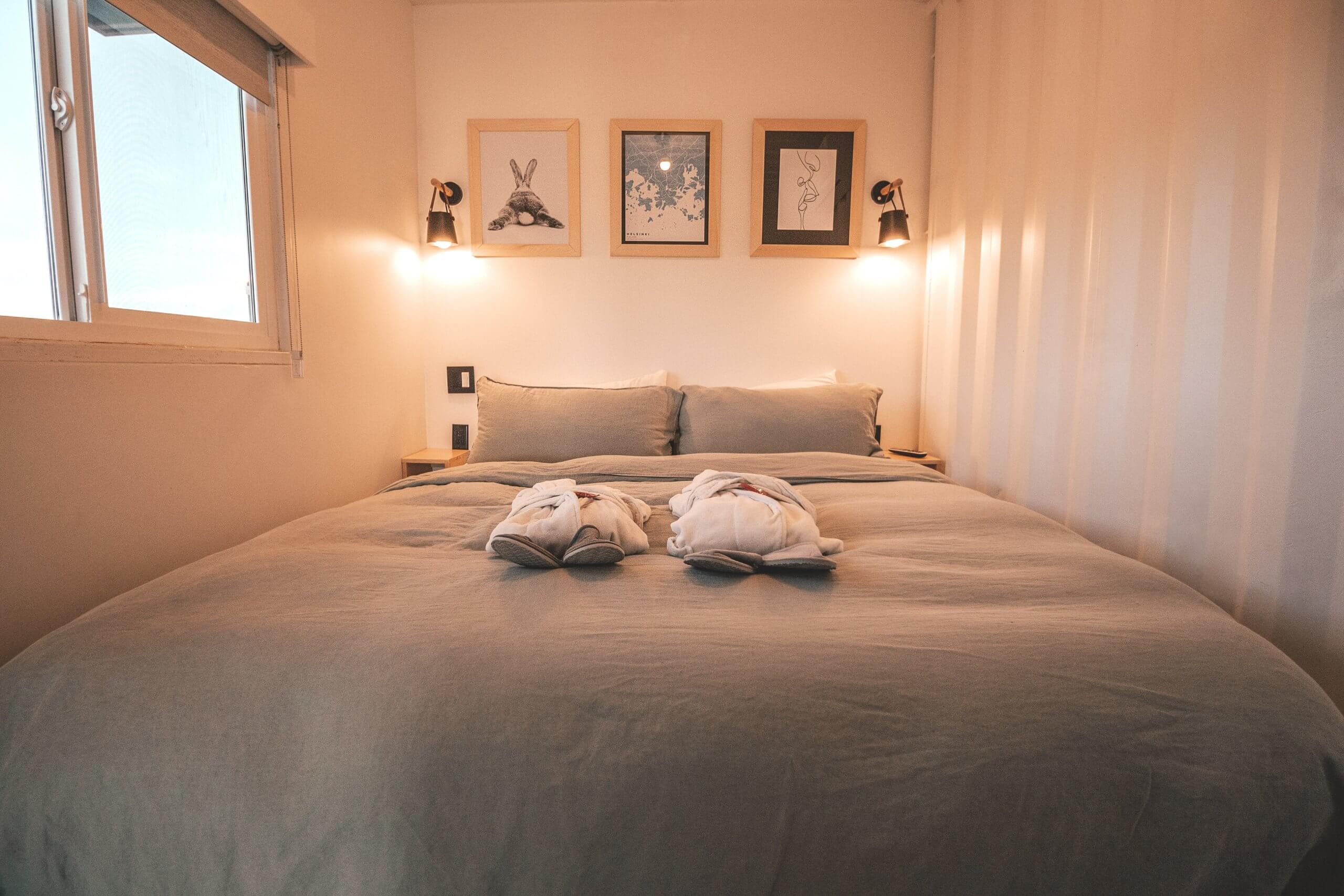 Get Back To The Lightning
Insufficiently lit corners can ruin all your design efforts, emphasizing the small size of the room. Therefore, the correct use of natural and artificial light must be considered in the smallest detail.
Use light curtains, for example, Roman, and roller blinds, as well as blinds, as they take up a minimum of space and open the window fully;
If screens and partitions are used, it is better that they are translucent and allow sunlight to fill the entire room;
Each zone needs its own lighting, and it is better to place light sources at different heights;
Cabinets, niches, shelves, and work areas are best supplemented with separate spotlights;
Lighting photos or pictures will make the room more comfortable.
Remember About Accessories
A room without decorations and accessories looks dull and faded. So, it is better to use functional items such as textiles of an unusual color and ornament, extraordinary lamps, small green plants, mirrors, etc. Large floor vases and massive flowers aren't recommended for dorm rooms as they need much space.
To Wrap It Up
Exams and tests, household chores, personal issues, and overall fatigue – no doubt, you really want to hide from all this. And a dorm room becomes a safe fortress. It may not seem like an oasis of peace at first, but you can surely change it. Yes, there are dorm rules that mustn't be broken. But you can always transform a space with the right colors and lighting, accessories, and furniture rearrangements. The main thing is imagination and openness to new ideas. Good luck!
Homeowners Guide to Black Mold Removal in Toronto

Learning that you may need black mold removal can be outright scary for many homeowners. Black mold is also known as toxic mold, which has been portrayed in the media as a threat to people, animals, and children. The truth about black mold is a... The post Homeowners Guide to Black Mold Removal in Toronto […]