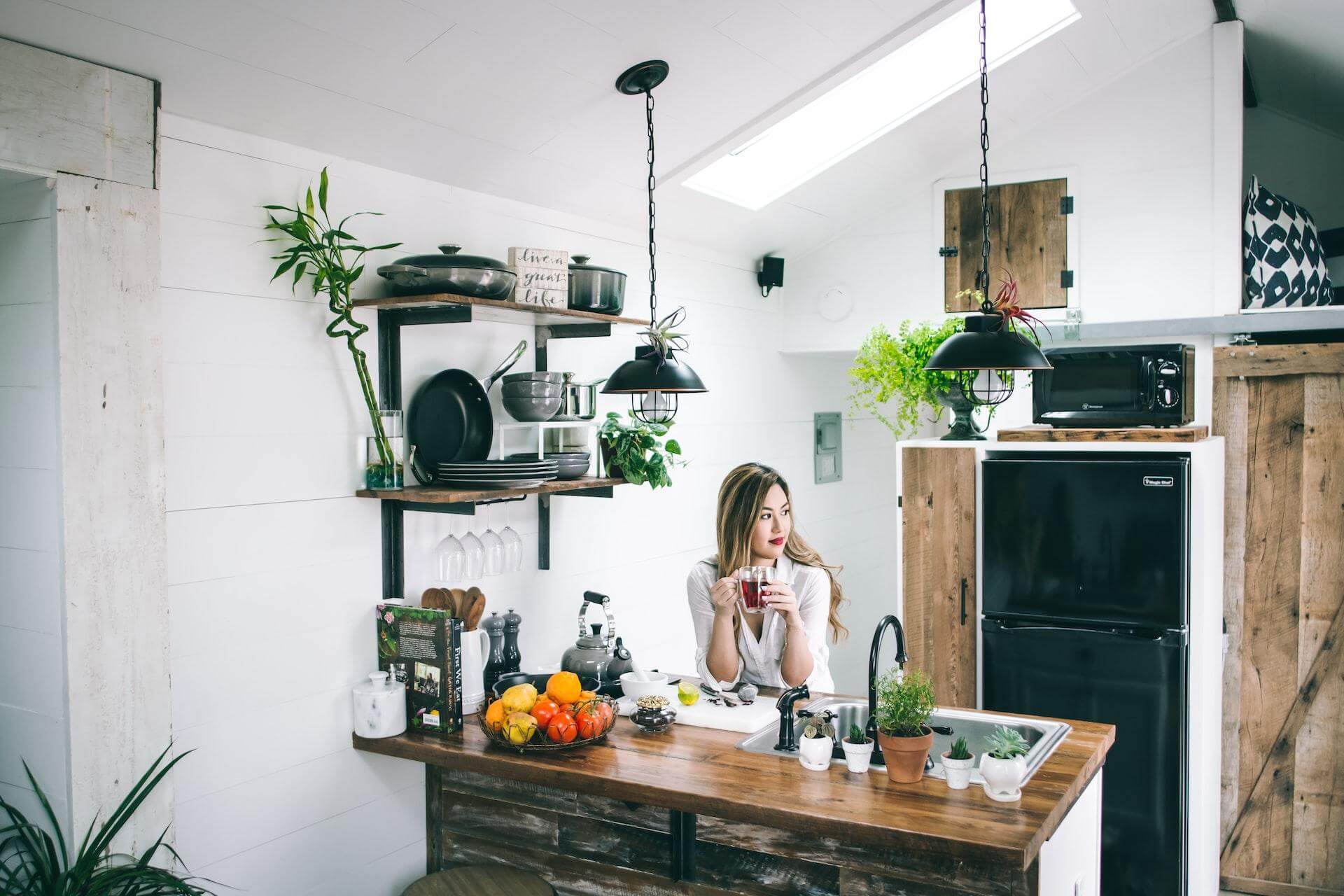 Are you struggling to use and enjoy your tiny kitchen area? Are you remodeling or designing a new build and want to make the best use of a small space?
Tiny kitchens aren't always negative. Many people prefer cooking and working in a smaller space because there is less time wasted walking around and it's much easier to clean. Small rooms get cluttered easily but they don't take as long to clean and you are forced to use the area more efficiently.
Finally, if you hate clutter and unnecessary items, a small kitchen will force you to think more carefully about purchases and lead you toward a more minimalistic life. If you have a small kitchen, consider the positives and use these hints to help you work with what you have.
Draw the Eye Upward
If you have a tall ceiling in your kitchen, use it to your advantage. Draw the eye upward and add storage with tall cupboards. If you are removing your upper cabinets, use the height to install open shelves around the top of the room. Other ways to use height to open up the room include installing tall windows that go right up to the ceiling and using pendant lighting to help accentuate how tall the ceiling is. Some designers install eye-catching chimney-style copper or black range hoods to lighten up the area. All of these vertical lines will draw the eye upward and make the room look bigger.
Use Open Shelves
Use open shelves instead of upper cabinets to open up the space visually. Upper cabinets block the view and make the room seem narrower. By removing the uppers and adding open shelving, you create a lot of open space while retaining some storage. Make sure your open shelves aren't cluttered or they can make the area look busy and crowded. Consider limiting the things on the shelves to those that are visually appealing and that you use frequently, such as copper pans, color-coordinated everyday plates, and matching bowl sets.
Don't Waste the Corners
The corners of cabinets are often wasted space. They are too deep to use effectively, and things can fall to the back, never to be seen again. Find a way to use storage solutions, containers, sliding cupboard bottoms, or other methods to get the full advantage of this deep corner space. If you have removed the uppers, you can put deep shelves in the corner area to create a storage area.
You can also take advantage of the deep corner on your countertops to store large items that you want out of the way most of the time, like your coffeepot or other small appliance that you use frequently. Finally, in new construction or remodels, consider using corners for food storage by installing a tall pantry cupboard in that location.
Use Lighting to Brighten the Space
Use lighting to accent your work areas and make the room brighter. Open, bright rooms feel larger than dark or cluttered rooms. Use recessed lighting for overall bright lighting and add pendant lights over work areas such as the sink and stove. Islands, bars, and peninsulas are good places to add extra lighting. Make these fixtures feature pieces that will bring character and style to the kitchen without adding unnecessary clutter or taking up space.
Organize Everything
One of the drawbacks to small kitchens is the lack of storage. The key to having enough room is to eliminate unused or unneeded items, utilize storage effectively, and keep everything in its place. When organizing, try to ask yourself if you really need and use each item you are storing.
This will help you to eliminate unneeded items. Do you really use that huge colander you picked up last year? How often do you use the blender or waffle maker? Is that slow cooker worth the space it's taking up?
After you have eliminated the things you don't use, consider how to store and organize your things more effectively.
Sometimes, removing things from their packaging is a way to save space. You can store food in specially made tubs and containers that are made to stack together. If you don't mind the look, some of these items can be stored in attractive glass jars, canisters, or other containers and can be stored on open shelves or the counter.
Add an Island
Add an island to your kitchen for extra storage and additional workspace. Even in tiny kitchens, there are often ways to add a little island. If your kitchen is too small or the layout is wrong for an island, consider using a small rolling cart for this purpose.
It can be stored out of the way against a wall or in a corner nook until you need it. When you are cooking and want the convenience and extra work space, roll the cart out to the center of the room to form a temporary island. Get a cart that has shelves or is enclosed so it will also add storage to the kitchen.
Focus on Practicality
Avoid cluttering the kitchen with decorations, pictures, and other items that don't add value to the space. While you don't want a bland room with no character, you do want to make sure you choose each item carefully and that it is worth the space it takes up. Make sure you truly love every decoration and picture that you use.
The best way to decorate small kitchens is to buy attractive things to cook or eat with and use them to decorate. If you have open shelves, fill them with lovely and practical items.
Try to use the shelves for the things you grab the most often and you will be less likely to clutter them up by using them as a handy catch-all area.
Beautiful copper pots and pans are practical and look good when displayed. You can also use open shelves to store your everyday plates, bowls, and cups if they fit in with your style and decor. Make sure they are color-coordinated with your room, and you won't mind them being on display all the time. You can even set your silverware out on shelves or countertops by storing them in open canisters or jars.
Find Out-of-the-Way Storage
Consider moving items that you only use occasionally into a different part of the house. If you only use the roaster a few times a year, store it in the garage or the top of a coat closet. If you have extra food items that you're saving for a rainy day, try to set up a small pantry area outside of the kitchen for storage.
For example, a coat closet or linen closet in the dining room or living room can often be put to better use as extra food and kitchen storage. Consider adding a side table with storage or buffet to the dining area or a hallway if there is more room in those areas.
Conclusion
The key to utilizing a small kitchen effectively is storage and organization and the key to making the room look bigger is light and open space. When planning a small kitchen, use these two main ideas to guide you through the process and you will have great results.
Are Marble Kitchen Countertops a Good Idea?

When it comes to kitchen countertops, nothing exudes elegance quite like marble. Its natural beauty and timeless appeal have made it a popular choice among homeowners. But is it a good idea to have marble countertops in your kitchen? Let's explore the advantages and disadvantages.... The post Are Marble Kitchen Countertops a Good Idea? appeared […]