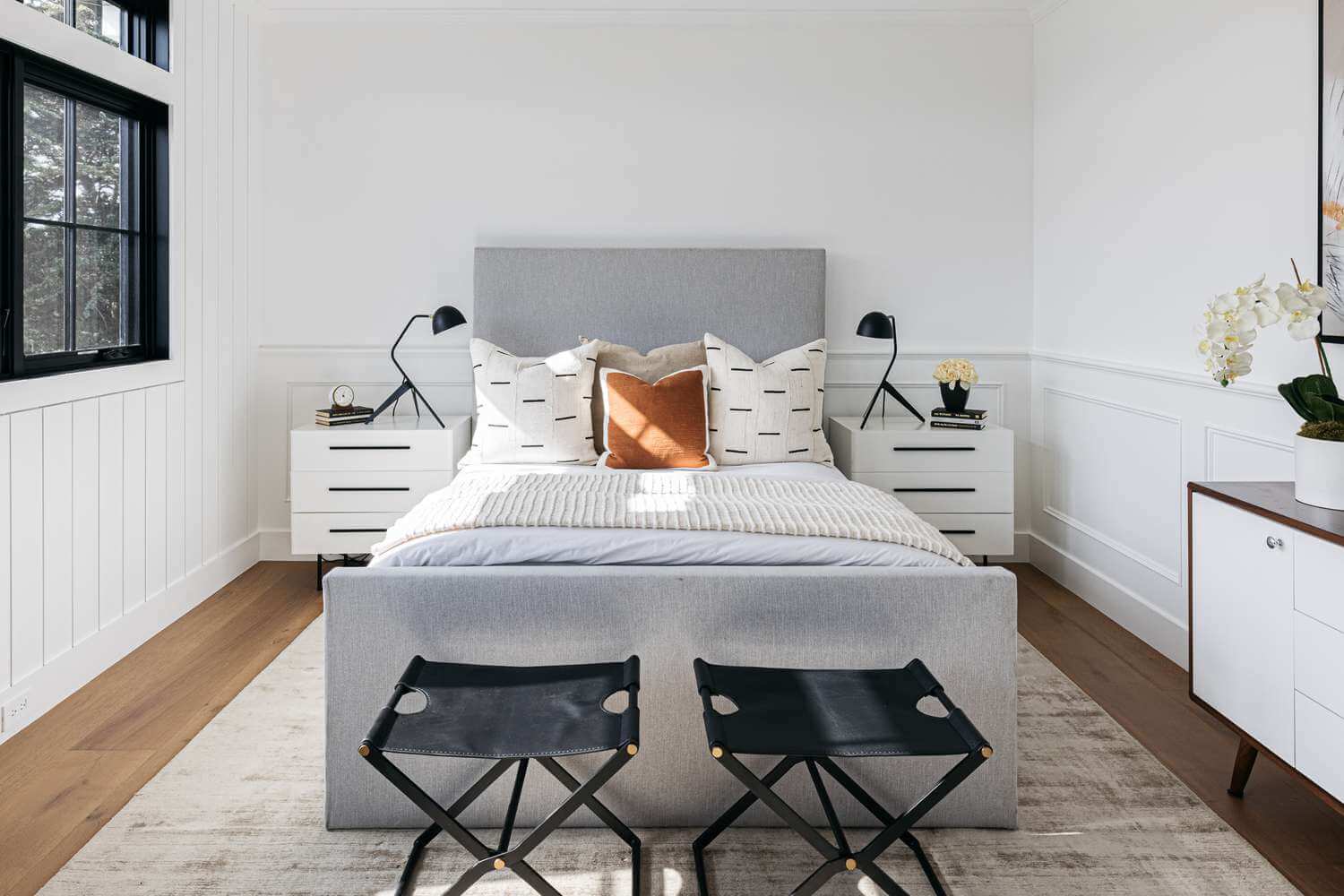 The bedroom is arguably the one space of the home where you'll spend the most time. It's the area where you're supposed to feel the most comfortable and relaxed, and most importantly, get good quality sleep.
Unfortunately, some homeowners find they're unable to settle in their bedrooms. There could be a number of reasons for this. For example, if your bedroom is looking a little outdated, you may spend more time nitpicking, rather than enjoying your quiet zone.
Thankfully, you don't have to have a boring bedroom any longer. Provided you've got the time, budget, and dedication, there are lots of design ideas you can take on board that will spruce up your space and help you feel right at home.
Purchase New Bedding
One of the easiest and cheapest ways to spruce up your bedroom space is by focusing on the bedding. Jazzing up your sheets can change the vibe for the better and most importantly, promote a good night's sleep. Bed Sheets come in all different colours, designs and materials. Therefore, take your time when shopping for new bedding.
Whatever you decide on, ensure your bedding matches the room's colour scheme. If you care about style, there are plenty of trendy bedding prints to sift through. To really bring your bedroom up to scratch, why not shell out more on Egyptian cotton sheets, pillowcases, and duvet cases? Not only will they look chic, but you've also got a much better chance of getting a good night's sleep.
Hang Some Wall Art
If your bedroom walls are looking a little bare, why not bring them to life in the form of wall art? You can bring out your artistic side and hang funky canvases that are sure to elevate your bedroom's aesthetic. If you've got wall art up in your living room, take the same approach with your bedroom. You can hang whatever you like.
Whether it's a painting, poster, print, or collection of family photos, wall art will bring an immediate dose of interest. When you add little sentimental touches like wall art, this can make your bedroom feel warmer and cosier.
Give Your Walls a Fresh Coat of Paint
While many homeowners choose to have wallpaper in their bedrooms, others like to make a different statement and pick one solid colour. Over time, your once fresh coated walls may begin to chip away and look a little rugged.
Because of this, now may be the perfect time to give your bedroom walls a fresh coat of paint. If you're not a big fan of DIY, you may prefer to hire someone for the job. You can click here and check out MyBuilder who can help you find local painters and decorators. They only house trusted, reputable painters and decorators, which should reassure you.
Lay Down a Rug
Rugs act as the biggest air filter in any home. They can enhance indoor air quality by trapping pollen, dust, and other particles from the air. What's more, rugs bring lots of comfort, especially when it comes to making your feet feel warmer. Regarding design, a rug in your bedroom can define the space and inject some personality. They're affordable too, meaning you won't have to break the bank to make an impact. If you have laminate flooring, rugs are a great way to protect your floor from damage. Just make sure to choose the right size rug for your bedroom space.
Change Your Lighting Scheme
Lighting is a simple and inexpensive way to boost your bedroom's attractiveness. There are plenty of lighting options to pick from that can illuminate your space and create a warm and cosy atmosphere.
Some people opt for fairy lights, whereas others like the idea of floor lamps and spotlights. The type of lighting you pick will depend entirely on the design you're after. Whatever lighting you decide on, make sure you invest in good bedside lamps that are sure to add a quick touch of interest.
Rearrange Furniture
For homeowners who aren't keen to splash out on their bedroom, you can make changes without having to dip into your back pocket. In fact, something as simple as rearranging your furniture can make a real impact and bring your bedroom space to life.
For example, pushing your bed into the corner can create more room and make your bedroom look and feel more spacious. If you haven't got the funds for new furniture but you've grown tired of your existing bedroom layout, swapping around the bed, wardrobe, and cabinets can make a real difference.
Buy Pillows and Throws
When it comes to bedroom furnishings, you can't go wrong by purchasing pillows and throws. While your first thought may be to stick with neutral colours, having a bedroom without any contrast is certainly boring!
Why not add a pop of colour with your pillows and throws? Whether you pick red, green, yellow, or blue, make sure to pick pillows and throws that match in terms of style, colour, and design. Like with houseplants, don't cram your bedroom space with pillows and throws! Adopt the thought process of less is more.
Bring In House Plants
House plants are a brilliant bedroom addition that comes with their fair share of benefits. These include purifying the air, helping you sleep better, boosting your mood during the winter months, and relieving stress and anxiety. You don't have to go overboard with house plants either. If you add too many in your bedroom space, they can quickly become an eyesore.
If you have a window ledge in your bedroom, popping one on there can add character to your room. Make sure to tend to your green friend to help the plant grow. This can be achieved by picking an area in your bedroom that receives proper sunlight and filling your pot with fertiliser.
Invest In Good Quality Curtains
There's no doubt about it – curtains can really make a bedroom. The first place to start is determining whether you're after curtains that stand out or you prefer ones that blend in with your room's décor. Pay attention to your bedroom curtain material.
Cotton is the most common option as it's breathable, light, and easy to care for. Those who value convenience will want to pick a machine-washable fabric. For those seeking curtains that give a luxurious vibe, you may want to consider a more sumptuous, heavier fabric. Ultimately, seek out curtains that bring the light in during the summer and banish it during the winter months.
Use Mirrors
While many of us are blessed with lots of bedroom space, others aren't quite so lucky. If you have barely got room to swing a cat, there are things you can do to give the illusion of additional space. One way to do this is by using mirrors and hanging them around your bedroom. Mirrors can reflect natural light from doors or windows into your bedroom too, which prevents the need for as much artificial lighting.
If you look around your bedroom and feel it looks a little dull and uninteresting, there are many things you can do to add character, flair and bring your space to life. Whether it's something as simple as changing your bedding or rearranging your furniture, small changes can yield brilliant results and transform your bedroom space for the better.
Benefits of a Moving Company

Moving can be an exciting yet daunting task, and if you've ever relocated to a new home or office, you know that it involves more than just packing your belongings into boxes. It's a process that requires careful planning, organization, and physical effort. This is... The post Benefits of a Moving Company appeared first on […]