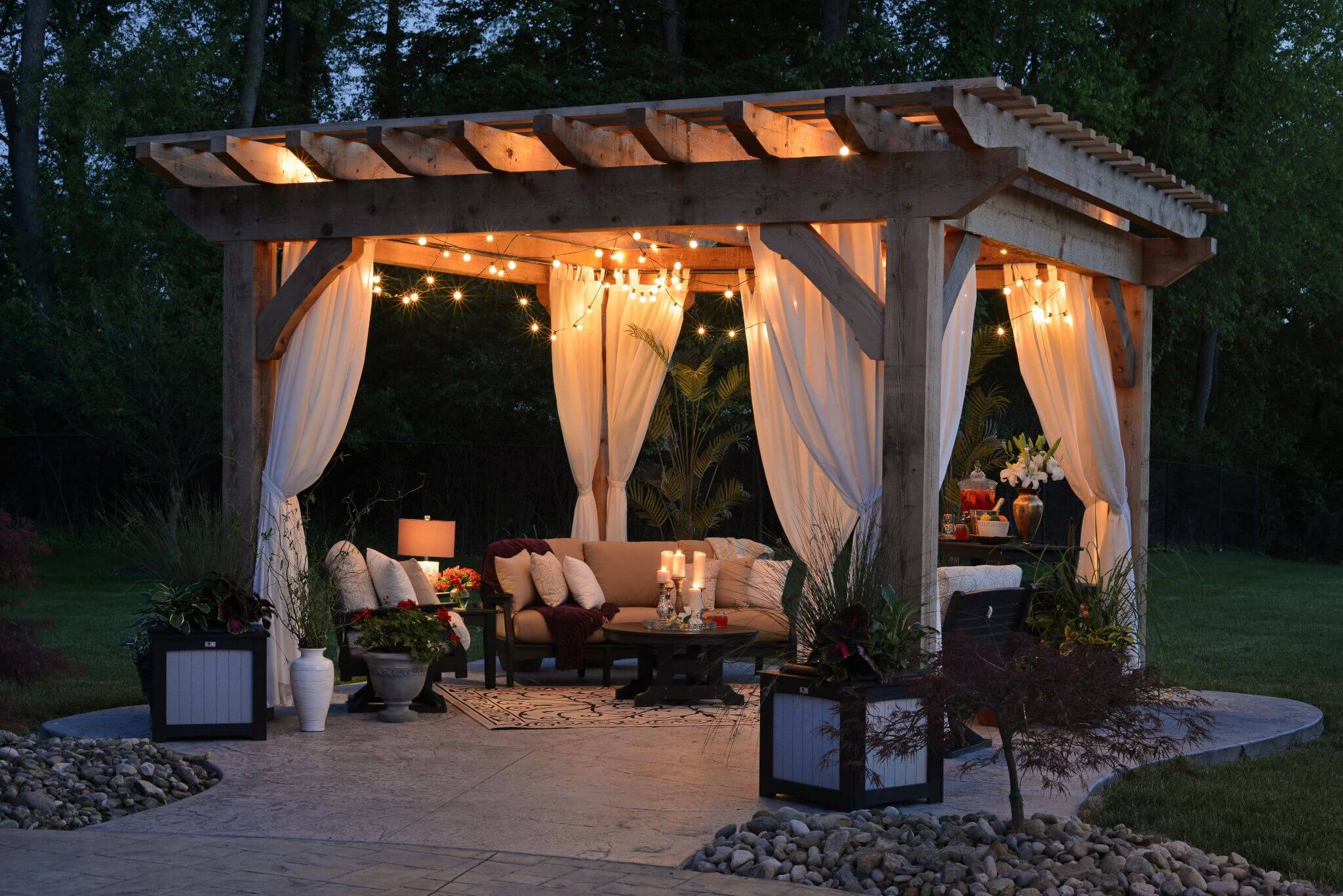 Lights, camera, garden is the moto when you are trying to make yours stand out among the crowd. Having a green haven all for yourself, where you can unwind, relax and dream, is a luxury that should be cherished. With a bit of practical know-how and some elbow grease, you can make your special oasis of nature shine in a brand-new light, pun intended.
There is no need to break the bank here as lights can be a supplement to your well-kept garden, and a welcomed one at that. With some tips and tricks, you can add subtlety or extravagance. Or anything in between, which will be that final cherry on top of your garden design. Once all is said and done standing under the spotlight will be your brand spanking new garden!
1. Light the walkways
As walkways meander along and in-between parts of your garden, they can lead to it as well. Here you can opt for lighting that is subtle at the start with smaller and dim lamps, hidden inside bushes or below leaves, that only illuminate the path ever so slightly. Then as you move deeper, they can change and shed a bit more if you wish. Lighting is all about emphasizing the important part by putting it in the spotlight or giving you more shine where needed.
Many models here are completely adjustable and you can control the amount of light they produce, so you can have a flashing start that gets dimmer the deeper inside the garden you go, or you can start slow and shine brightly as you traverse various parts. Colour plays an integral part here as you can mix and match the lightning with your plants in a complimenting or contradicting way.
2. Utilize your trees
Unexpected allies in your quest for the quests for illumination are right there under your feet. Or above your head in this case. You can use their many branches as support on which you can lay strings of various lights. Think of this as decorating the Christmas tree coupled together with some practical landscaping. Subtle lights strung alongside your trees, that entwine around it and make it the central beacon of your lovely garden.
3. Light your greens with green energy
Since you are surrounded by nature, it only makes sense to continue the theme and maximize on it. Using some old, energy heavy bulbs that heat more than the light is out of the question. Not only is that a potential fire hazard, but you aren't doing Gaia a favour by trying to make your garden special. Using natural solar fairy lights can make your dreams come true and light up in front of you without setting your house budget on fire. Any solar light is a worthwhile investment in the long run but you can also take it a step further and go even more natural with our next suggestion.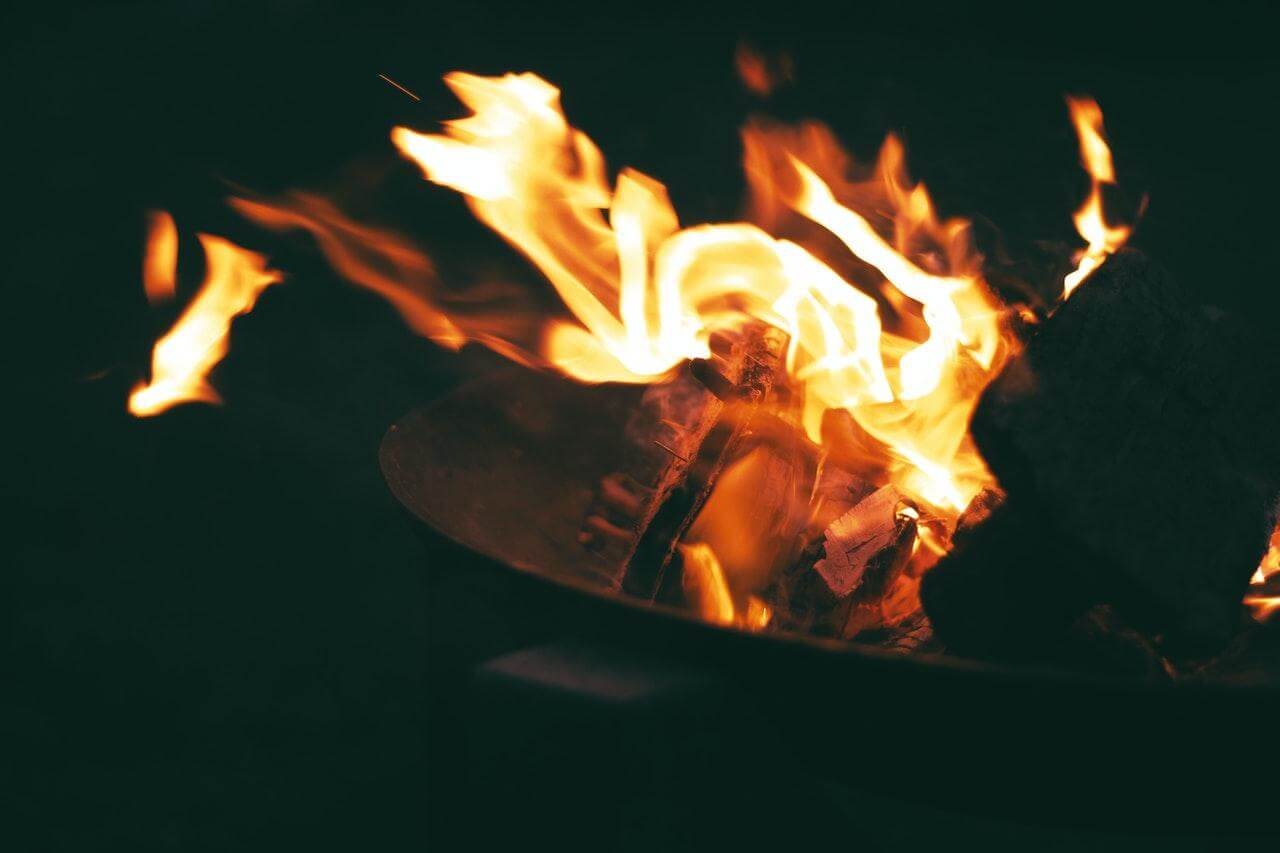 4. Flame on!
When people say lights and lightning, our minds go towards the electric solutions and ignore the completely natural solution. The primal majesty, fire is here to light up your day and night. From simple tiki torches to rustic fire pits, you can incorporate the rustical primal designs and vibes that come with them. Torches can also double down as mosquito and pest repellants and, there is no shortage of fragrant oils that you can burn and make your garden smell as you wish. Fire pits double down as natural light and the focal gathering point as few can resist the urge to sit/lie down beside and watch the fire crackle. Maybe even roast some marshmallows while the evening drags on deep into the night.
5. Safety lights
On the topic of doubling down, lights can also be used for security measures as they, well obviously, illuminate any area. As night falls and many people have aims and goals to relax and enjoy it, others use the cover of night for other, malicious ideas. Dark places are ideal for hiding, after all unless red light is shinning from your ring doorbell. Luckily, your bright lights can deter such malicious intents and, they can be used for decoration as well. Bright lights have their place as you can light your home besides your garden and create a contract between the two. Shining home and subtle garden go hand in hand. All the while you are using these security lights for your personal peace of mind as you enjoy your evening outside.
6. Fences, stumps and stairs
When you want to use every surface possible, then fences are to go solution. With simple small hooks, you can string along any length and bring new shine to them. You can play a bit here with design as you can consider your fences blank pieces of paper. Then you can use your string lights and make details, motive or a miniature painting on them that goes with your garden. If you have some stumps laying around that are too much of a hassle to pull out, then you can think of them as surfaces on which you can put lanterns and other lights to brighten them up.
Left alone and in the dark, they certainly look less appealing than with a bit of light. LED light and strips, can be used to decorate your stairs, making you walk on stars each time. Most of them can be glued with ease and, some of them can even stick to any surface.
7. Water and light
Water can make your plain and typical light shine differently. As light refracts on any water surface and beneath it, it's a real shame to let any of your watery elements sit there unused. If you have fountains, ponds or similar, you can install (or hire someone) to add waterproof lighting to them so that you can combine all the benefits of both worlds. Pools can become something entirely different with some lights added to them.
Water and light exude glamour and are inviting as any aquatic area that is not illuminated looks a bit scary. So, to turn that dark patch into something light, positive and inviting, all that is needed is a spark of light. Many people connect light and water with a potential electrical hazard but rest assured those modern solutions coupled with professional installation are commonplace now, and there is no need to hold back when it comes to combining the two.
8. Consult the pross
There is no need to break new grounds here and re-invent the wheel. There are people out there with plenty of experience and equipment that can make your dreams a reality. Envisioning your perfect garden in your head is easy enough but making that dream a reality could be a bit more difficult as not all of us are equally handy and creative to choose between nichiha or hardie. Professional and experienced landscaping and gardening designers are a google search away.
Or you can browse their Pinterest and other places for portfolios beforehand so that you can have a bit more insight into their ways. Not all designers can resonate with your idea, so it's worth doing a bit of research beforehand. Once you find the perfect one for your vision, all that remains is to schedule a meeting over a cup of coffee and plan away. Pretty soon you will see your dreams appear in front of you and your backyard.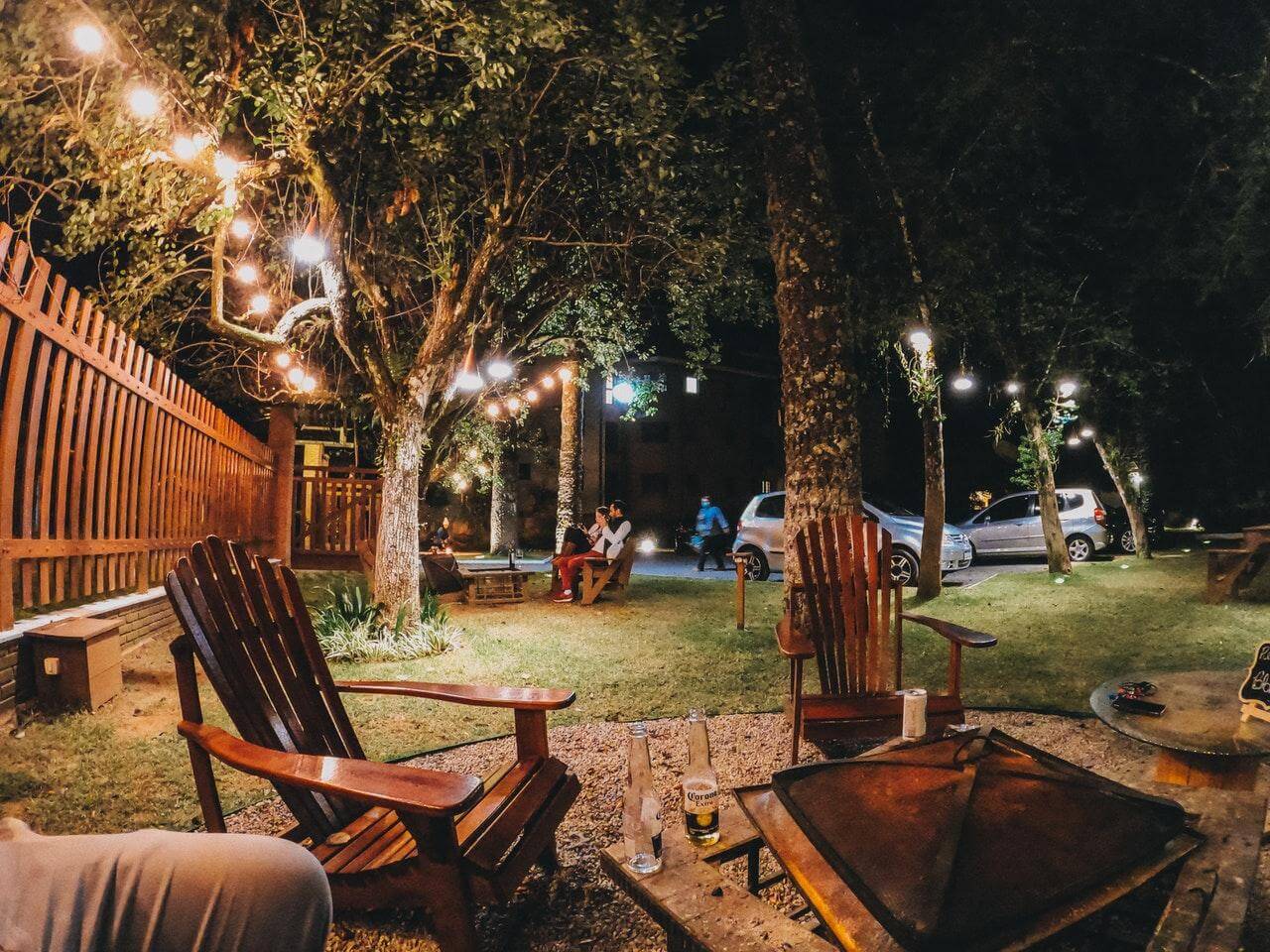 9. Minimalism maximizes design
It is easy to go overboard with the design. You add a bit of here and there, wanting to include all the things you love and to fill your garden with them. In the process of doing so, anyone can get carried away with the individual pieces and not look at the broader picture. Sometimes you have to step back and take a look at all you made so that you can know if you want or need more. The focus on your garden is, obviously, your garden itself and, any lightning should be considered as a supplement.
If your lights are overshadowing your plants, then that's an indicator that you need to tone it down a bit. Minimalism in this area lets your garden shine alongside your lights. And without the need for each other to compete for anyone's attention.
10. Different lights for different zones.
As your garden has different parts with different properties to them, so to can you use different lights for them. You don't have only one colour of plants, so why limit yourself to only one type of light? Which is usually white. As colours invoke feelings you can use that to your design advantage and implement different choices for some parts. Parts that you want hidden and personal can have dim or subtle lights while parts for socialization and gathering can be brightly lit. Decorative parts can have lights that can be completely different from the rest of them. As you know, what you want to accomplish with your garden design, and you know your garden the best, this is a personal area that is best left to experimentation. You can mix and match with various light variants, colours and types until you find that one mix that works perfectly for you.
When you look at this as a whole, it can seem a bit intimidating at first, but the most important thing to do is to take that first step. In doing so you will realize that many of these are interconnected. It gets easier the more you get into it as one thing well organically leads to another. Pretty soon you will be heading over heels in brochures, googling and mixing your ideal lighting setup so that your garden can stand out in the neighborhood. Once you are all done and happy with your overall choices it's time to lay back and enjoy the fruits of your labour as they shine all around you.
We wish you all the best in your future endeavours and, don't forget to pop out the champagne when you get your garden party going. Or when you decide to dedicate the night to yourself and your loved one. It is your special haven, after all.
Are Marble Kitchen Countertops a Good Idea?

When it comes to kitchen countertops, nothing exudes elegance quite like marble. Its natural beauty and timeless appeal have made it a popular choice among homeowners. But is it a good idea to have marble countertops in your kitchen? Let's explore the advantages and disadvantages.... The post Are Marble Kitchen Countertops a Good Idea? appeared […]