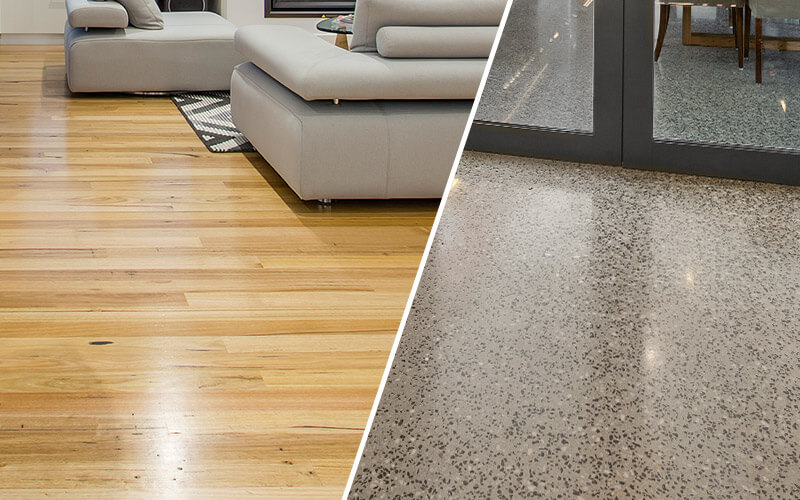 That's a question that many homeowners must ask themselves when they're decorating their home. Luckily, there are plenty of options for you to choose from! In this blog post, we'll look at some different types of flooring. In a nutshell, it all depends on a few factors. What is your budget? How long do you plan to stay in that home? A quick look at the options below will help you find out what works for your needs. We've included an overview of pros and cons of each type of flooring:
1. Wood flooring
Wood flooring is derived from wood and is commonly made of a type of engineered wood such as laminate, hardwood, bamboo, or cork. Wood floors are installed using glue, nails, screws, or staples for durability. Wood floors typically come under the categories of unfinished or finished.
Advantages : Wood flooring can give your home a luxury look and add value to your home.  The timeless style of wooden flooring also ensures that it's always in fashion.
Disadvantages: Wood flooring is prone to having dents and scratches, therefore you need to take proper care. While there are also chances of getting stains on the floor if there is spillage.
2. Vinyl flooring
Vinyl flooring is a type of flooring that is often thought of as the best and easiest option for homeowners. Vinyl flooring is made out of vinyl, which is a material that can be recycled frequently and has a longer lifespan than most other types of flooring.
Advantages: Fading resistance. Vinyl floors are easy to keep looking new because they refuse to fade or discolour. and is easily affordable for most budgets. Installation costs can typically be completed in one day for less than $500.
Disadvantages: Maintenance: it may be difficult to clean and if exposed to water, there could be shrinking and shrinking
3. Marble flooring
Marble flooring is a natural stone that provides a luxurious look for your flooring. It can also be honed, filled or polished to produce different effects on the surface of the marble.
Advantages: A high level of durability. It's hardness and sturdiness help to prevent scratches and other types of damage. it also looks great in almost any space and can add a sense of luxury to your living area.
Disadvantages: Marble is porous, which means it will hold onto dirt and be more difficult to clean than some other types of flooring.
4 . Tile flooring
Tile flooring is a great option for areas in the home that receive heavy foot traffic. Tile flooring uses materials such as stone, terracotta or ceramic to make your floors look fantastic.
Advantages: Tiles are extremely durable and harder to scratch or damage than most other types of flooring. This is a great feature for high-traffic areas in your home that need to last through a lot of wear and tear.
Disadvantages: The grout between the tiles can become dirty, which means you have to take extra steps when cleaning. You might binge-watch movies in the extra time.
To summarize, there are many different flooring options to choose from in order to match your home's needs. The key is finding the right one for you and making sure that it matches all of your requirements. Do you need a product that will be durable yet soft enough on bare feet? Are you looking for something natural or synthetic? What kind of budget do you have available? These questions should help guide which type of flooring would work best for your space so that you have food from Swiggy even on the floor.
Homeowners Guide to Black Mold Removal in Toronto

Learning that you may need black mold removal can be outright scary for many homeowners. Black mold is also known as toxic mold, which has been portrayed in the media as a threat to people, animals, and children. The truth about black mold is a... The post Homeowners Guide to Black Mold Removal in Toronto […]