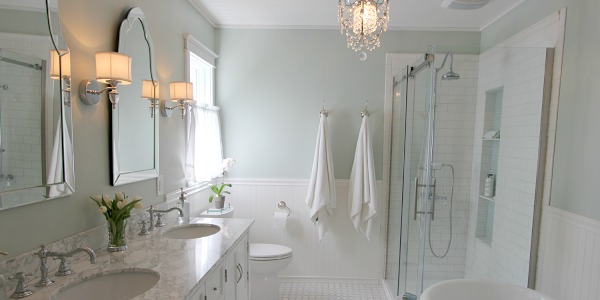 Are you ready for a bathroom remodel? Upgrade your fixtures is an easy and inexpensive way to give your bathroom a fresh, stylish look. 
Installing brand-new fixtures can be intimidating, but don't worry! We have all the tips and tricks to make the process quick and painless. 
From selecting the appropriate style for your home to ensuring everything is put together correctly, we'll guide you through every step. 
So grab some tools and prepare for a transformation – it's time to upgrade those bathroom fixtures! 
Choosing the Right Fixtures for Your Home 
You can make a statement with your bathroom fixtures – choose carefully to ensure a stylish remodel! 
When upgrading your bathroom fixtures, there are plenty of options. From brushed nickel hardware to modern chrome styles, you want to consider the overall design theme for your bathroom. 
If you're aiming for a traditional look, opt for classic finishes like brass or bronze; if you prefer something more contemporary, sleek stainless steel and porcelain will do the trick. Additionally, think about functionality: do you need extra storage? How much counter space is available? 
Make sure that whatever fixtures you choose coordinate with each other and fit in the allotted space. With so many choices out there, it's critical to be mindful when shopping around so that your finished product looks polished and put together. 
An experienced eye can help you create a cohesive look that truly shines—so don't skimp on style when selecting your updated fixtures! 
Decorating tips aside, let's move on to the best way to install them. 
Installing Your New Fixtures 
Installing the stylish fixtures is the most effective way to give your bathroom a fresh, modern look! With the right tools and know-how, you'll create the stylish bathroom of your dreams. 
Gather your necessary materials, including a drill, screwdriver, adjustable wrench, and plumber's putty. Having a second set of hands available could also help with heavier items like sink basins or tubs. 
Once you've got everything together, begin removing the old fixtures and taking careful measurements for cutting any existing holes that may need to be made. Remember that this is where having an experienced partner pays off – they can help ensure everything lines up perfectly before you start drilling away! 
Finally, secure any nuts or bolts with plumber's putty and replace any caulking. With that done, you're ready for serious style upgrades in no time! 
Conclusion 
You'll be happy to know that upgrading your bathroom's fixtures can increase your house's resale value by up to 60%. That's a huge return on investment for such an easy fix! 
Now, it's time to enjoy the fruits of your labour and marvel at the transformation of your transformed space.
Benefits of a Moving Company

Moving can be an exciting yet daunting task, and if you've ever relocated to a new home or office, you know that it involves more than just packing your belongings into boxes. It's a process that requires careful planning, organization, and physical effort. This is... The post Benefits of a Moving Company appeared first on […]