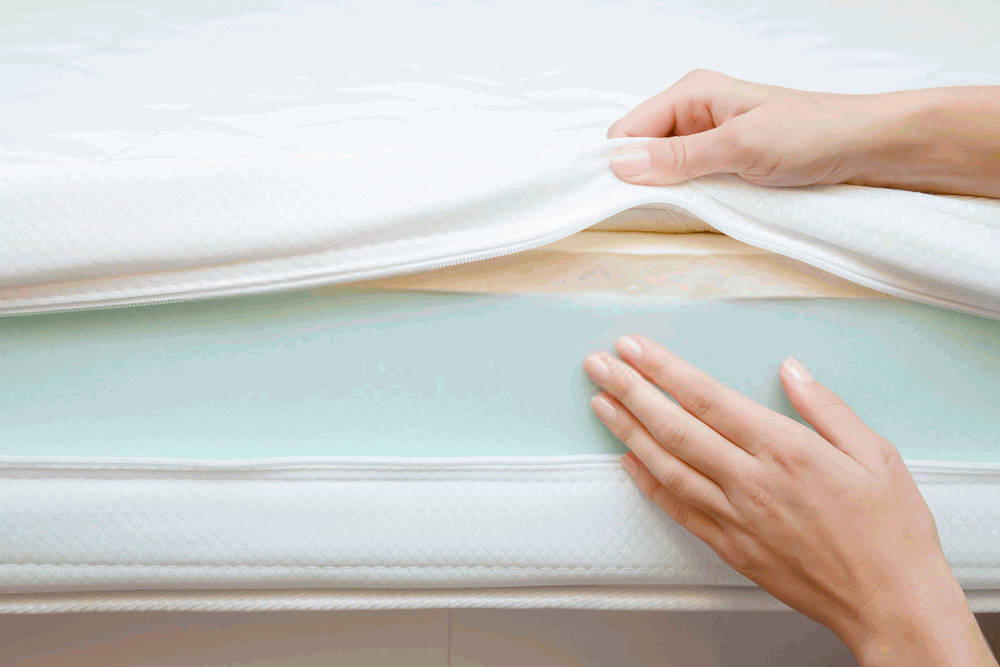 Have you modified your bed with the mattress topper but still facing some problems during sleep? If yes, then we at Mattress Topper Judge are here with the tips and tricks that will help you in knowing the best ideas for preventing the topper from sliding. People might opt for applying the mattress topper because their mattress is old, saggy, uncomfortable or too soft, or too hard for sleeping. But they continue complaining that they are still not getting the proper use of it because it might be sliding or shifting continuously or have a lack of stability. This is resulting in a lack of good sleep. People might start thinking that they might have opted for the working toppers which is completely wrong. Because using a mattress topper in the right way is also a trick. That's why we have brought our guide that will outline tips for keeping a mattress topper from sliding during sleep or throughout the day. Therefore, continue reading this article and get to know the quick answer for: How to Keep a Mattress Topper From Sliding in a Better Way 2021?
Topmost Reasons why do Mattress Toppers Slide?
People might think that buying a mattress topper will resolve their sleeping problems but only if you don't watch scary movies before going to bed, otherwise you will face issues and problems for having a delightful sleep. For that, there are many reasons out of which one is that they are not placing the mattress topper in the right way. This is resulting in the topper's sliding. There are several possibilities that your mattress pad slides regularly. Out of them, some are mentioned below:
If the mattress topper is smooth then it might result in reducing friction with the pad
Undefined and unmatched size of topper can be the most common reason for sliding mattress topper
Non-availability of a headboard or footboard leads to a mattress topper sliding
If the gliding base is unstable then it might create a slippery surface for the bed structure
Active sleepers mattress slip off more often because they toss and turn more while sleeping
Tips & Tricks for Keeping the Mattress Topper from Sliding in 2021
Many people complain about not finding the perfect mattress topper for their bed but actually, they are not getting the right way to keep the topper on the bed for long. They might feel slide-off either during sleep or during the day. That is just a result of carelessness in the minor grip. That's why we have brought the following hacks that will save you from all the stress and frustration of keeping the mattress topper at the place. So, follow the listed tips & tricks and start using the mattress topper for a healthy good night's sleep.
1. Start using Sheet Suspenders or Straps
Suspenders or sheet straps are analyzed as the most effective way that will help you in preventing the mattress topper from slipping off the bed. Because using closely fitted sheets helps in preventing topper slipping again for a couple of hours. This is one of the best ideas if you tend to move a lot in bed during sleep or a restless sleeper.
2. Safety Pins or Hooking up the Toppers
Using the safety pins for preventing mattress toppers from sliding is one of the cheapest ways to keep them in place. Also, it is one of the easiest and fastest ways but you should make sure the pins will be placed the right way so that they won't budge and damage your mattress topper.
3. Try Adhesive Hook-and-Loop Material
We will recommend you use the fabric adhesive strips for placing the mattress topper in place all the time. You need to buy a set of strips so that they can be placed at the center and in each corner of the mattress. But make sure that the hook sides will meet the loop sides to avoid the velcro functioning. You can also buy double-sided rug tape for maintaining the mattresses in place.
4. Use Cotton or Polyester Blend Pads
For preventing the mattress toppers from sliding away adding a cotton or cotton/polyester mix pad will make sure that the mattress topper should be in place. Make sure that the topper isn't in direct contact with the glossy surface so that sheets would be fitted well.
5. Use Rubber Matting or Foam
Rubber has a grasp that will help your mattress and mattress topper to set up perfectly. It is one of the most economical ways to resolve the issue of a mattress topper. Get a yoga mat or a soft rubber welcome mat and put them in one of these materials between your bed and mattress.
6. Add a Footboard or Headboard To Your Bed Frame
We will advise you to add a footboard or headboard to your bed frame. Because it will help your topper in preventing them from sliding up and down. So, look out your bed and if the bed doesn't have brackets to the above then consider adding another bed frame in it.
7. Use a Duct Tape
Using Duct tape or carpet tape will help you in putting the mattress topper in the right place. Its strong adhesive properties help in holding the topper and mattress in a better way. We will recommend you to use duct tape first rather than using the strong liquid adhesive. So, avoid flipping the mattress over and over with the use of two-sided adhesive regular duct tape.
Closing Thoughts
We hope that you have got the right idea and information regarding placing the mattress topper in the right way. Follow all the above-mentioned tips and get an adjustable and good night's sleep. The mattress topper will provide you with the bed's firmness and improve comfort only if you use it effectively. So, enjoy a peaceful shut-eye and use any of the solutions that work best for you. Other than this if you need any more guidance and information regarding the mattress toppers get in contact with us at Mattress Topper Judge, we are always there to help & assist you. Our team will assure you the best good night's sleep with their top-notch and effective mattress toppers adjusting tips and tricks. However, before getting into the mattress topper make sure that have rechecked your thermostats and other factors that are keeping you away from a good night's sleep.
Are Marble Kitchen Countertops a Good Idea?

When it comes to kitchen countertops, nothing exudes elegance quite like marble. Its natural beauty and timeless appeal have made it a popular choice among homeowners. But is it a good idea to have marble countertops in your kitchen? Let's explore the advantages and disadvantages.... The post Are Marble Kitchen Countertops a Good Idea? appeared […]