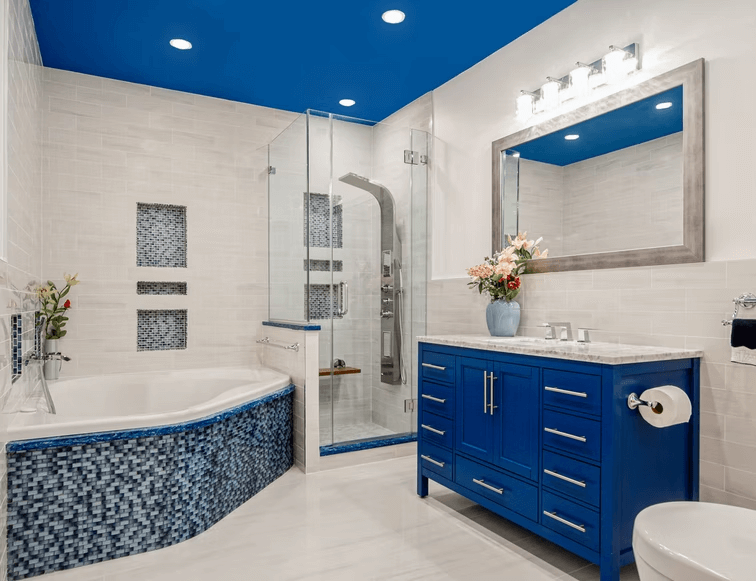 No matter how little money you have to improve the look of your bathroom with neon lights, there are always ways that you can make it look a little bit nicer and give it a new lease of life. For anyone that is currently in the predicament of wanting to spruce up their bathroom but are on a strict budget, then keep on reading as we have some great tips for you.
Change Up The Fixtures And Accessories
Sometimes even the smallest of touches, such as changing up the fixtures and accessories, can make a real difference to a bathroom. This is a chance to add a touch of style and color to an otherwise plain and unstylish bathroom. For those people in rental properties where their chance to decorate a bathroom space is limited, adding new affordable glass shower doors offers the chance to add some of your own personality.
Repair Rather Than Replace
If the fixtures and accessories that you have in your bathroom are expensive and of good quality, you may simply want to repair them when they become worn and tired looking, rather than completely replacing them. For instance, if the ceramic on your cast iron bathtub has begun to crack, then you can simply resurface it yourself or via a professional rather than replacing it with a brand new bathtub.
Give It A Fresh Coat Of Paint
By refreshing the paintwork in your bathroom, it can completely change the look and feel of the space. You can do this by using the exciting color just to brighten it up a bit or change things completely with a brand new paint color. With most bathrooms not having much wall space, this can be done not only cheaply but also quickly.
Improve The Lighting And Add mirrors
By making the lighting in your bathroom better, it can have the effect of really brightening up the space without costing an arm or a leg. You could either opt for something super stylish or go for LED spotlights that are high energy efficient, saving you money on your energy bills. Putting up mirrors can help to make your bathroom space even lighter and brighter as they help to bounce the light around the room.
Upgrade The Tiles
Whilst painting bathroom tiles or regrouting them may not be practical for everyone, completely replacing them could upgrade the look of your bathroom space especially if it is small. To get the best value for money, make sure that you use bathroom tiles sparingly. Tiling an entire bathroom from floor to ceiling is a very expensive option and is something that most homeowners avoid doing for this very reason.
Keep The Same Layout
If you plan on installing a new toilet, basin, or bathtub, then keeping them in the same spot in your bathroom will help to keep costs down as there is no need then to redirect or change the pipework.
Homeowners Guide to Black Mold Removal in Toronto

Learning that you may need black mold removal can be outright scary for many homeowners. Black mold is also known as toxic mold, which has been portrayed in the media as a threat to people, animals, and children. The truth about black mold is a... The post Homeowners Guide to Black Mold Removal in Toronto […]