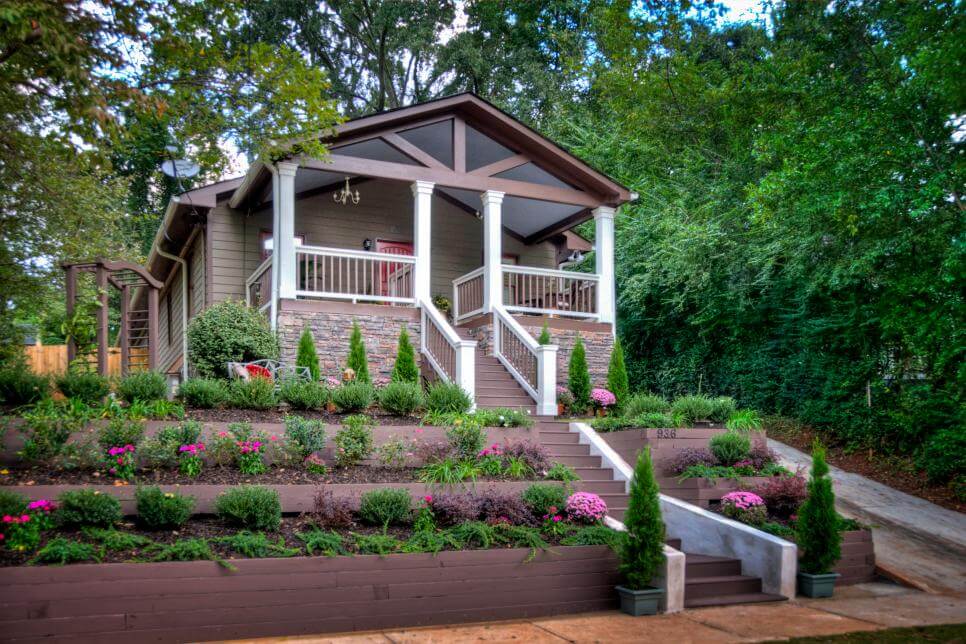 Making a great first impression is crucial when you're trying to sell your home, so you have to make sure your curb appeal is on point. But where does someone begin? Do they just have to mow the lawn and pick up sticks?
Yes, but there's much more to it than that, especially if you want to increase its value!
Here are five curb appeal ideas that can boost curb appeal and your home's value in 2022.
1. Add stone veneer to the front of your home
By adding stone veneer to the front of your home with neon lights, you can expect to recoup 92% of that purchase when you sell. A stone veneer breaks up the boring vinyl siding and adds some visual interest when applied to the bottom third of the front-facing walls.
2. Replace your front door
Your front door needs to make a statement and you can wow potential buyers with a new steel door. These doors are energy-efficient, require little maintenance, and are perfect for blocking the cold. Although these doors start in the mid-$500s, you can expect to recoup 65% to 91% of that cost when you sell.
3. Replace your garage door
A new garage door can make a world of a difference when it comes to curb appeal. Instead of having a dingy door that groans loudly everytime it's used, invest in a new one. If you noticed that your neighbors updated their garage doors and now yours looks dated, then that may be a sign that it's time to update.
Regardless of why you update the garage door, the point is you can recoup a whopping 133% of the cost when you sell. You may spend $3,000 on a new garage door, but it'll be worth it in the end!
4. Update your mailbox and house numbers
You wouldn't believe this, but it's the small touches that can make a difference in how buyer's view your home. You may have an absolutely stunning home with an impeccable lawn, but if your mailbox and house numbers look old, worn, and dated, then it's definitely time to do something different.
The beauty of a fix like this is that you don't have to spend a lot of money for it to have an impact. You can spend less than $100 on a mailbox and black numbers and it'll be like icing on a cake.
5. Touch-up the exterior paint
New veneers, new front door, and new house numbers are great and all, but they're kind of pointless if the exterior paint is cracked, chipped, or needs some refreshing. Painting the exterior may be a big job, but you could see a huge return – upwards of $7,500!
Curb appeal ideas don't have to cost a lot
Boosting curb appeal is a great way to attract buyers and increase your home's value. You don't have to spend tens of thousands of dollars on professional landscaping and a brand new entryway. Simple touches like the ones mentioned here are perfect for those who are on a budget!
The Energy-Efficiency Advantages of Vinyl Window Replacement

Windows are more than just portals to the outside world; they play a significant role in determining the comfort and energy efficiency of your home. If you're looking to improve your home's energy efficiency, consider the advantages of vinyl window replacement. In this article, we'll... The post The Energy-Efficiency Advantages of Vinyl Window Replacement appeared […]