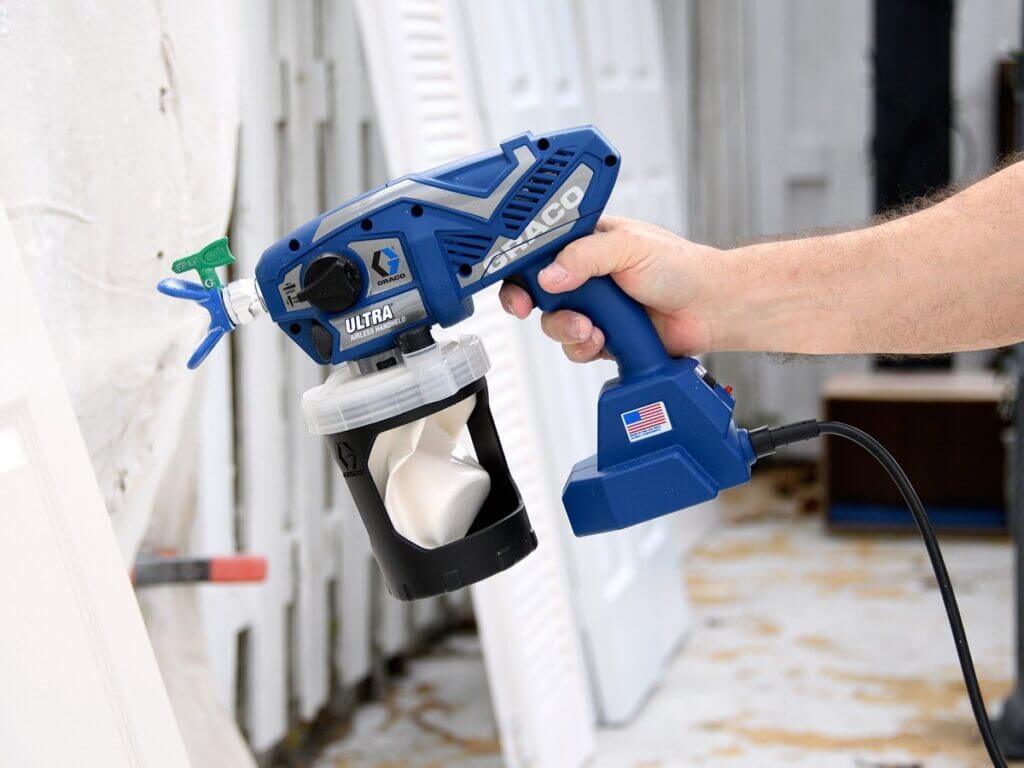 A cordless paint sprayer makes the completion of painting projects much easier and faster compared to conventional painting tools such as rollers and brushes. The battery powered spray painting device offers a myriad of advantages, one of which is that it does not require a plug point for functioning. Hence, it can be used anywhere.
A cordless paint sprayer is great for application on large areas that need a paint job. Below, is a comprehensive guide that will help you learn about the cordless device and its associated benefits.
What is a cordless paint sprayer?
A cordless paint sprayer is a handheld spray paint gun that is powered by batteries. It is one of the most convenient and effective handheld painting tools. These devices do not require a cord or external power source which gives the painter much more operational freedom.
A cordless paint sprayer includes a canister and an independent power source. The device is great for use in those tricky places that are difficult to reach via a paintbrush or roller. Also, they offer great flexibility since they can be used indoors and outdoors. They have the ability to cover large areas with a uniform coat of paint within seconds, all of this with hardly any effort involved.
The only effort involved while using a cordless sprayer is to aim the gun over the target area and pull the trigger. The pressure and power generated by the battery are enough to coat fairly large areas at a time.
Advantages of using an efficient cordless sprayer
Paintbrushes and rollers are a highly limiting and manual way of painting that is quickly going out of trend. Cordless sprayers are highly suitable for all kinds of paint jobs and it doesn't ruin your Honeywell thermostat. Mentioned below are some of the advantages of using a cordless spray painter.
There are no plug point restrictions. The device is independently powered and can be used anywhere.
The chance of tripping on a cord and getting injured is obliterated.
You get far more precision with a cordless paint sprayer than a conventional sprayer.
A cordless sprayer comes with a variety of nozzle attachments that cater to different paint job requirements.
A cordless sprayer allows for a much faster project completion than conventional tools such as rollers and paintbrushes.
Cordless sprayers produce an even and consistent coat time and again. Moreover, they do not leave lines after a paint job as paintbrushes do.
The sprayer can be used to paint just about any kind of surface. Hence, they are suitable for a wide range of applications.
They are very easy to operate and use for long durations.
Sprayers offer superior quality finish as they consistently provide the same service from start to finish, even after hours of usage.
 How to choose a good cordless paint sprayer
Cordless paint sprayers have been designed to offer a whole new world of ease and comfort to professional painters. These devices take the pressure off the painter and make the job reach completion much faster, and with the least effort. However, various cordless models offer varying degrees of efficiency and features. Hence, one must choose the model based on his needs and project requirement.
Consider the following aspects to choose the best cordless paint sprayer:
1. Battery
The first thing that comes to mind when thinking of a cordless sprayer is its battery and power consumption. One must choose a sprayer with a high-quality battery since it has a direct impact on the power and duration of a cordless sprayer. Find out about the charge time for the battery and the life span and running time it can render.
2. Is it user-friendly?
High-quality cordless sprayers are designed in a way that keeps the user in mind just like kickass torrent does for you. A well-designed sprayer must be easy to control and operate. Ease of use is of paramount importance since the whole purpose of a cordless sprayer is to simplify the paint job.
See to it that the sprayer is easy to pack away and reassemble when needed. The trigger must be of high quality and very light on the touch. Just a little pressure should be enough to consistently spray paint as a trigger that is hard to press will take a toll on the user over a long period of time. A sprayer must also be very easy to clean and maintain.
3. Power output
Cordless sprayers come with varying levels of power output. Some sprayers are compact and meant for DIY jobs while others are commercial grade and heavy-duty that have superior spraying capabilities.
4. Weight
A cordless sprayer must be lightweight so that it can be held for long and is easy to carry around.
Final words:
Invest in a cordless paint sprayer that allows the user to regulate paint flow. This will enable you to not only use the sprayer for a variety of jobs but also cut down on paint costs.
Are Marble Kitchen Countertops a Good Idea?

When it comes to kitchen countertops, nothing exudes elegance quite like marble. Its natural beauty and timeless appeal have made it a popular choice among homeowners. But is it a good idea to have marble countertops in your kitchen? Let's explore the advantages and disadvantages.... The post Are Marble Kitchen Countertops a Good Idea? appeared […]