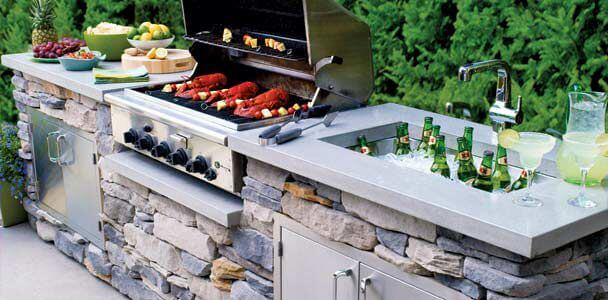 Outdoor Barbecue Grill Ideas
Andres Walsh, 3 weeks ago
0
4 min

read
14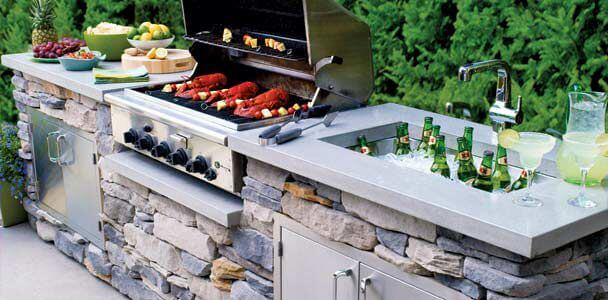 With the summer heat well on its way, the fresh smell of grilling patties, the smoke rising from barbecues, and fresh lemonade are right at your fingertips! Imagine the rustic charm of a grill, where the smoky aroma transports you to simpler times. This is reminiscent of family barbecues and carefree summer evenings.
Embrace the fusion of style and functionality with a built-in gas grill island that transforms your backyard into a gourmet outdoor kitchen with a sleek countertop, storage drawers, and even a mini fridge for chilled beverages. Whether you're a seasoned grill master, a backyard cooking enthusiast, or a novice seeking to ignite your passion for outdoor cooking, we have many sizzling ideas to revolutionize your grilling experience!
Prepare to fire up your summer and ignite your passion for outdoor barbecue grilling! Join us on this smokin' hot adventure that will leave your taste buds tingling with excitement. It will also leave your backyard alive with laughter and camaraderie from unforgettable grilling experiences.
Rustic brick charcoal grill
Embrace the charm of a bygone era with the timeless allure of a rustic brick charcoal grill that harks back to simpler times, beckoning friends and family to gather and indulge in a culinary feast like no other. This barbecue grill adds nostalgia to your backyard and imparts that unbeatable smoky flavour to your masterpieces.
This grill elevates them to delectable heights that leave taste buds tingling with yearning for more. Picture the sizzle of meat meeting hot coals, the gentle crackle of embers dancing beneath the grill grate, and the warmth of the fire. It creates a cozy atmosphere that invites laughter and storytelling.
Built-in gas grill 
Step into the world of outdoor culinary luxury with a built-in gas grill island that is more than just a cooking area, a complete outdoor kitchen designed to cater to your every need and desire. Say goodbye to running back and forth between the kitchen and the grill.
The built-in island offers convenient storage drawers that keep all your grilling essentials close at hand, ensuring a seamless cooking experience. And what's an outdoor kitchen without a mini fridge to keep your beverages chilled and your ingredients fresh?
Fire pit grill
What else screams summer better than a fire pit from your backyard? This pit brings together the warmth and ambiance of a crackling fire and the delights of outdoor cooking? Imagine gathering around the fire pit with your loved ones, sharing stories and laughter.
The flames dance and cast a warm glow on your closest family and friends. But the magic doesn't end there; with the fire pit grill combo, you can seamlessly transition from roasting marshmallows and enjoying friends' company to firing up the grill and indulging in a delicious barbecue feast.
Rotisserie grill
Elevate your grilling repertoire to new heights with the mesmerizing magic of a rotisserie grill. This captivating setup revolves around slow and steady roasting, creating succulent and juicy meats that impress even the most critical palates.
The rotisserie grill combines traditional grill elements with a rotating spit. This allows you to cook whole roasts and poultry to perfection while retaining their natural juices and tenderness. As the meat rotates over the grill, the self-basting action ensures that the flavours are locked in and evenly distributed, resulting in mouthwatering masterpieces that feast on the eyes and the taste buds.
Modern stainless steel grill
With this grill, you can tap into contemporary elegance with a grill that exudes sophistication and style. This will elevate your outdoor cooking space to sleek refinement that complements your home and garden.
The minimalist design of the modern grill is a testament to understated luxury. It has clean lines and sleek surfaces that evoke understated elegance, making it the ideal choice for those who appreciate simplicity and seamless integration of form and function.
I mean, just imagine the shimmering stainless steel catching the sunlight, casting a radiant glow that enhances the ambiance of your outdoor space. This creates a stunning focal point that draws guests to gather around and revel in outdoor grilling.
Wood-fired pizza oven and grill
As unique as this sounds, this type of oven and grill is much more common than you think! More than just that, though, why settle for just pizza or grilling? You can have the best of both worlds with a wood-burning pizza oven and grill combo.
This grill invites you to indulge in a symphony of flavours that span Italian delights and sizzling barbecue creations. The wood-fired pizza oven infuses your pizzas with that unmistakable wood-fired aroma and smoky essence, resulting in perfectly blistered crusts and bubbling toppings that embody Italian tradition!
Andres Walsh
My name is Andres Walsh and as far as I can recall, I have had only one passion in my life – a love of fixing things! Growing up, my friends and even my family members called me "wrench." The nickname has somehow stuck even through to my adult life.
Related posts
Benefits of a Moving Company

Moving can be an exciting yet daunting task, and if you've ever relocated to a new home or office, you know that it involves more than just packing your belongings into boxes. It's a process that requires careful planning, organization, and physical effort. This is... The post Benefits of a Moving Company appeared first on […]