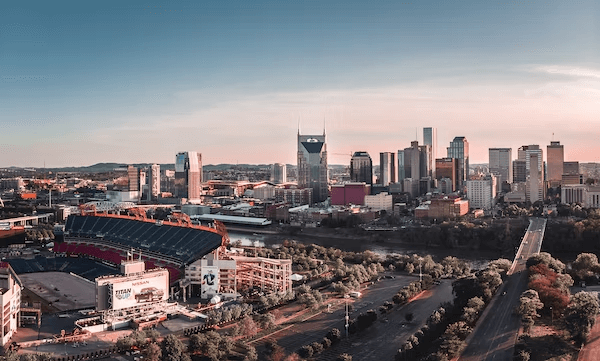 Moving to a different state is often a difficult decision, but there are many reasons why people make the choice. Some may want to explore job opportunities in places with exciting job prospects. Others may consider the move because of the cost of living.
Some people may move to take advantage of recreational activities or to experience a new culture.
No matter the reason for the move, it is always a difficult decision and should be considered carefully.
Why Move to Tennessee?
Tennessee is a wonderful place to live, full of vibrant culture, beautiful landscapes, and friendly people. From the natural beauty of the Great Smoky Mountains to the musical history of Memphis, Tennessee, has something for everyone. Here are some of the unique things about Tennessee that make it a great place to live:
Country music: Tennessee is home to the world-famous Grand Ole Opry in Nashville – a must-see for any country music fan. Country music stars from all over the world have played at the Opry.
Gorgeous landscapes: From the Great Smoky Mountains to the Cumberland Plateau, Tennessee is full of beautiful scenery for outdoor enthusiasts. With 57 state parks and more than 14 million acres of forests, there are plenty of opportunities for hiking, camping, and wildlife watching.
Friendly people: Tennesseans are some of the nicest people you'll ever meet. Whether in a big city or a small town, you'll find people always willing to help or lend a hand.
Affordable housing: Tennessee is one of the cheapest states to live in, with some of the lowest property taxes in the nation. There are plenty of options for housing, from rural farms to urban condos.
Best Cities in Tennessee
By now, you're probably convinced that Tennessee has a lot to offer. When it comes to choosing the best cities, here are some you should consider.
1. Memphis
Moving to Memphis is an excellent decision for many reasons! It has a vibrant music and nightlife scene, with the iconic Beale Street, the Memphis Zoo, and plenty of great restaurants.
The cost of living is also much lower than in many other cities, making it a great option for those on a budget. Plus, the city is located near two of the main cities in the mid-South region – Nashville and Little Rock – giving you access to all the culture and entertainment they offer.
Memphis is a diverse and welcoming city with a strong sense of community and friendly locals.
2. Germantown
Anyone looking for a new home would find Germantown worth considering. The family-friendly city in the suburbs of Memphis is a great option for those looking to experience the culture of the city without the hustle and bustle of downtown.
Additionally, Germantown is home to various great schools, parks and recreational activities, giving residents plenty of ways to stay active and entertained.
3. Nashville
Next on our list is Nashville. It has a booming music and arts scene, with plenty of venues and festivals to explore. The city also features a wide range of cultural attractions, from museums and galleries to a vibrant culinary scene.
With its friendly locals and warm southern hospitality, Nashville is an excellent option for those looking to experience the culture of the south.
Aside from the music scene, Nashville boasts impressive architecture, marrying the old with the new.
4. Franklin
Franklin, Tennessee, is an excellent city to live in for many reasons. It is located 22 miles southwest of Nashville and provides easy access to the city and the surrounding areas.
The city is also home to a wide variety of excellent eateries serving dishes from around the globe. One good reason to move to Franklin is its job market. Many major corporations have established or expanded their headquarters there.
Furthermore, Franklin enjoys an average of more than 200 sunny days yearly. As such, it has a wide variety of exciting things to do indoors and outdoors. Franklin is a safe city to live in, with a lower crime rate than the state and national average.
5. Brentwood
Last but not least, Brentwood. Brentwood, Tennessee, is a great option for those looking for a small-town experience with big-city amenities.
Located just south of Nashville, Brentwood offers easy access to all the city's attractions, along with the tranquillity of a suburban community. It is also known for its excellent public schools, often ranked among the best in the state.
The city boasts a vibrant culinary scene, with restaurants serving dishes from around the world.
It's also great for families. The city is home to numerous parks and green spaces. All in all, Brentwood is an ideal place for anyone looking for an idyllic small-town lifestyle with big city convenience.
Key Takeaways
Whether you're looking for an urban adventure or a quiet countryside retreat, Tennessee has something for everyone. From music and whiskies, there's so much to explore that can stave off your boredom.
Some of the best cities to move to in Tennessee are:
Memphis
Germantown
Nashville
Franklin
Brentwood
The Energy-Efficiency Advantages of Vinyl Window Replacement

Windows are more than just portals to the outside world; they play a significant role in determining the comfort and energy efficiency of your home. If you're looking to improve your home's energy efficiency, consider the advantages of vinyl window replacement. In this article, we'll... The post The Energy-Efficiency Advantages of Vinyl Window Replacement appeared […]