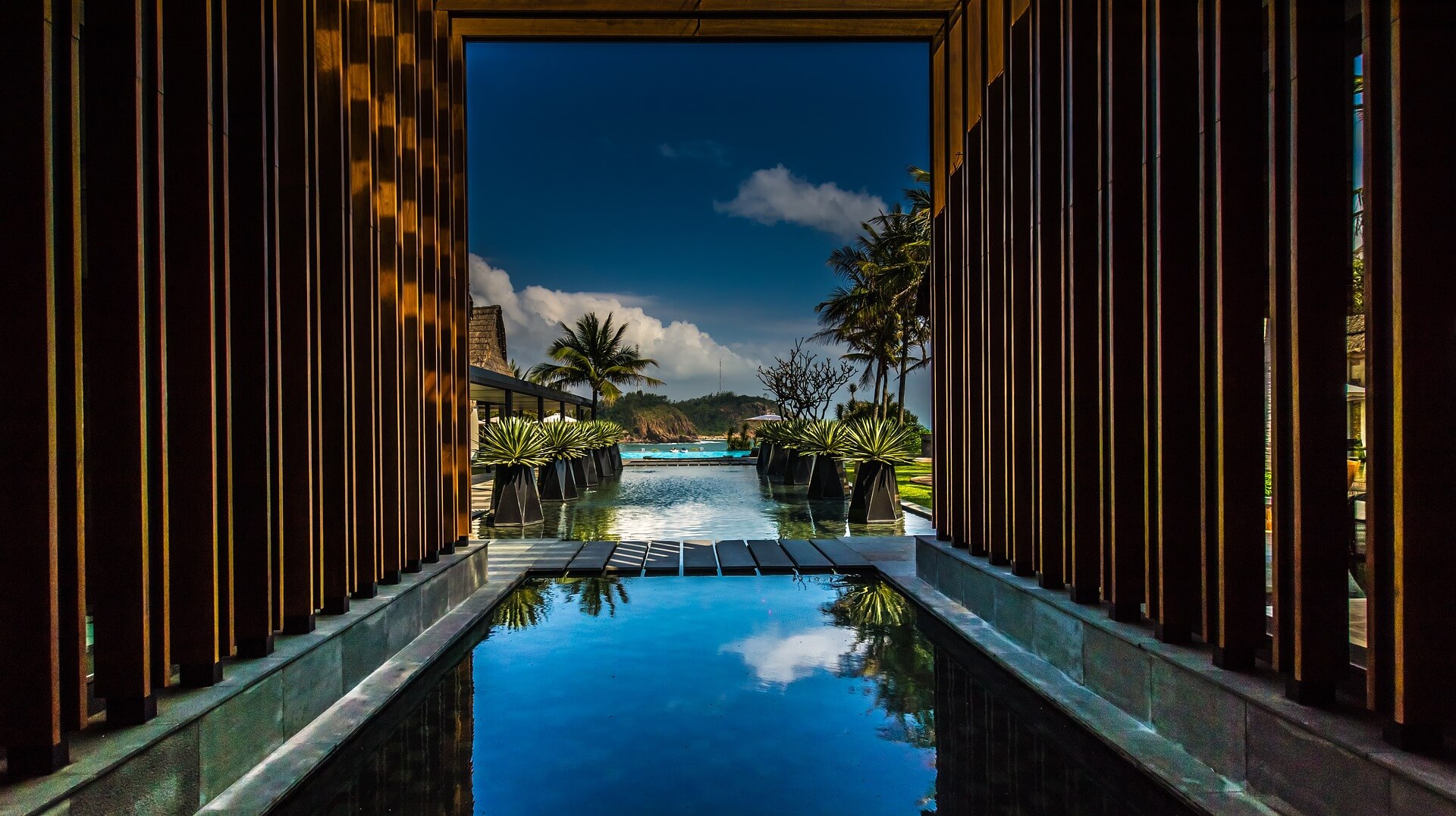 Your outdoor space could be your greatest asset and an extension of your home if you know how to spruce it up on a budget. It can be daunting to know where to start and where to save to stay within budget, but with a few clever strategies, it is easier than you think to get the outdoor transformation you're dreaming of.
Here, we explore eight of the easiest ways to transform your outdoor space on a budget, so read on to get inspired and get your space looking fabulous without breaking the bank.
1. Change The Pool Tiles
Changing the pool tiles is an easy and effective way to give your pool a new look, with a cost-effective investment. Making a feature of the pool and surrounding area will drastically change the outdoor area for the better.
Depending on the type and size of the pool, there are different options available, from ceramic to quartzite, specially designed tiles, and mosaics. Have a look at tile companies online and browse plenty of styles and colors to choose from that would best complement your existing décor.
2. Wallpaper Your Outdoor Walls
Wallpapering your walls doesn't have to be expensive. Using a paint scraper to get rid of existing paint and then applying wallpaper to the walls is the easiest and cheapest way to transform your patio space. You can even buy cheaper options to achieve the desired look within your budget.
3. Freshen Up Furniture
If you're looking to spruce up your outdoor space without breaking the bank, then an easy fix is to focus on furniture. Don't be tempted to buy anything new; instead, look into refurbishing it and giving it a fresh, modern look. You can add some paint, change fabrics and cushions, and even add a few rugs here and there.
4. Maximize Greenery
Creating an outdoor space that screams style need not be expensive if you know how to make the most of natural resources. Opt for potted plants which are both vibrant and less pricey than landscaped outdoor gardens. Adding green can add a lot of depth and life to your outdoor space.
5. Create Feature Lighting
You don't have to spend a fortune to add lighting to your outdoor space; there are plenty of options that won't blow your budget.
Fairy lights or solar lanterns will do the trick to add both soft and bright lighting to your exterior, ideal for late-night gatherings and lighting up the space during winter.
6. Paint Affordable Accessories
Pots, planters, and other accessories can be bought for a fraction of the price and transformed into eye-catching pieces for your exterior. Get creative and paint door frames, chairs, and other accessories to give a modern touch to your outdoor space. Painting the exterior of your door with vivid color can work wonders, too.
7. Go For DIY Projects
Getting creative with DIY projects is a great way to personalize your outdoor space and make an impressive impression without having to spend a huge amount of money. Take an old tire and give it a face-lift with some colors and graphics, or even go all out and create a terrarium to add some greenery to the area.
8. Keep Your Maintenance Low
The final way to maximize your budget in transforming your outdoor space is by ensuring that you don't spend too much on maintenance. Start with the basics such as scooping leaves, tidying up garden furniture, and often mowing the lawn – it all adds up!
6. Add A Fire Bowl
Adding a fire bowl can be a great way to transform your outdoor space. Not only are they enjoyable and cozy, but they can also be used for grilling and for keeping your guests warm during the colder months.
7. Install A Nature Element
The addition of a natural element such as a waterfall, pond, or fountain can make your outdoor space feel like it's a part of a natural oasis. It can bring serenity and charm to your outdoor space while creating a relaxing atmosphere.
8. Construct A Deck
Design and construct a deck to extend and upgrade your outdoor space. Ensure that the deck is made from the right materials that will sustain the elements.
9. Introduce Outdoor Matting
Bring comfort and style to your patio with the use of outdoor matting. Find matting that can last and is easy to maintain.
10. Erect A Gazebo
A gazebo can give an extra charm and a sense of privacy to your space. Find one that can fulfill both the budget and style of the patio.
11. Put Cushions With Bright Colors
Adding bright-colored cushions to your patio can make it lively. Look for cushions with colors that will stand out against the existing furniture for a vibrant look.
12. Utilize Mirrors To Make Space Feel Bigger
Mirrors can be a great way to give the illusion of a more spacious area. Put a full-length mirror near the windows to let the space feel bigger and brighter.
13. Redecorate Your Fencing
If you have a fence around your outdoor space, then redecorating it can give it a much-needed makeover. Look for colors that pop and make your outdoor area look more inviting. Consider adding a few accents like bunting, hanging plants, or vinyl decals for a personal touch.
14. Replace Your Outdoor Hardware
Replacing the hardware in your outdoor space can give it a much-needed makeover. Look for hinges and pulls that are weatherproof and easy to clean, ensuring your outdoor area looks its best for years to come.
Conclusion
Transforming your outdoor space on a budget doesn't have to be a daunting task; with a few tips and tricks, you can have your outdoor space looking vibrant without spending too much. Try any of these eight tips and you'll be able to get the outdoor area of your dreams within budget. From changing pool tiles to creating DIY projects, you can easily spruce up your outdoor living space stylishly and affordably.
Homeowners Guide to Black Mold Removal in Toronto

Learning that you may need black mold removal can be outright scary for many homeowners. Black mold is also known as toxic mold, which has been portrayed in the media as a threat to people, animals, and children. The truth about black mold is a... The post Homeowners Guide to Black Mold Removal in Toronto […]