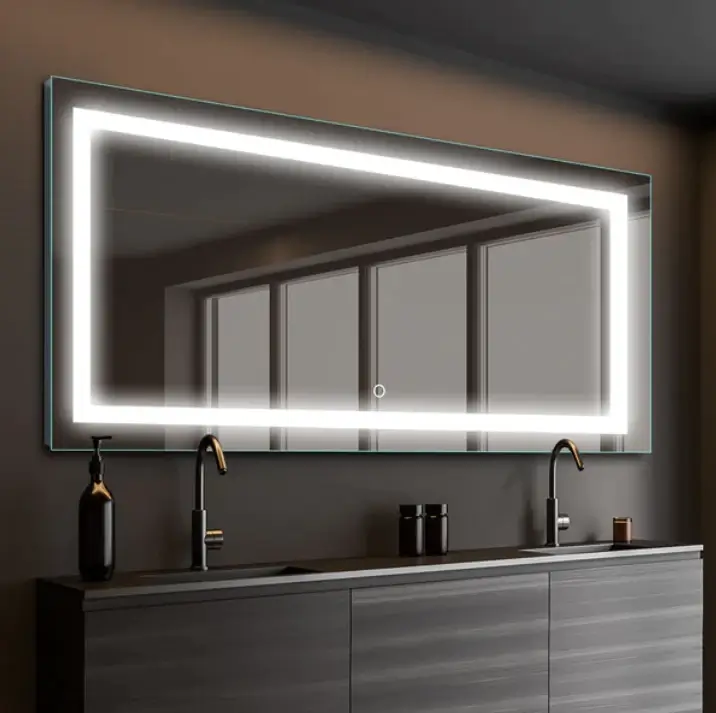 In interior design, glass and mirrors have been present in some form or another for centuries, but having LED-illuminated bathroom mirrors serves both as a grooming aid as well as a stylish addition to your bathroom. An illuminated bathroom mirror makes it easier to see yourself in comparison to a yellow light, which makes it a convenient mode of decoration. Smart mirrors in the bathroom provide a clearer vision, similar to that of natural light. Their energy efficiency, along with the stylish look they provide, makes them an excellent choice for bathrooms.
It can be overwhelming to choose the right smart mirror for your bathroom when there are so many options available. There is no one mirror that suits everyone's needs; you need to look at what you need. This includes your bathroom's space, the mirror's purpose, the interior style of your bathroom, as well as your budget. You should also check if your mirror is SAA approved. The electrical requirements for SSA-approved appliances are the same as those for Australians and New Zealanders. So let's read on to gain the knowledge needed to make a wise choice. Our carefully curated list of factors that you should consider makes picking your smart mirror a breeze.
SMART MIRRORS CAN BE CHOSEN BASED ON THE FOLLOWING 7 FACTORS:
1. Design of your smart mirror:
It is of great importance to select a mirror that matches the bathroom design of your bathroom. It is possible to choose a mirror that matches your tile's color or the wall's color; the options are endless. For inspiration on how to style your smart mirror, browse the internet. With Remer, you'll always have plenty of options to choose from when it comes to SAA-approved smart mirrors with a wide variety of features.
2. Illuminated bathroom mirrors have the following features:
As LED-illuminated bathroom mirrors are technologically advanced, it is important to take the time to understand all the features of these models. In addition to magnifying, touch-screen dimming, and fog-resistant technology, smart mirrors also have a magnifier. To add to the company's unique selling points, you can also find advanced features like shaving sockets or Bluetooth.
If you're looking for a mirror that has a lot of features, make sure it has those features before buying it.
3. Fog-resistant smart mirrors:
When you spend a lot of money on a stylish and beautiful mirror you love, you find it completely useless the first time you take a hot shower, as the condensation needs to clear for 15 minutes or you have to wipe it clean. The smart mirror with fog-resistant technology can save you from this problem if you are constantly frustrated by it. These mirrors are equipped with a demister that prevents condensation from building up on the mirrors.
4. A mirror's glass quality is as follows:
Compared to traditional mirrors, smart mirrors have a different glass quality. Hotel Bathroom LED Mirror usually features high-quality panels that enhance reflection quality. Magnification strength varies from mirror to mirror, so always choose a mirror that is durable and has an SAA certification since it constantly comes into contact with water and soap.
5. Bathroom mirrors are lit by:
Lights from the bathroom mirror are also a major factor. Choose Hotel Bathroom LED Mirror with balanced illumination instead of smart mirrors with uneven lighting. Even at night, this creates a clearer and better reflection. Smart mirrors that are SAA-approved display natural colors, which makes them ideal for bathrooms.
6. Bathroom light mirror that is both energy-efficient and durable:
It is not necessary to worry about the lights in a smart mirror going out quickly when selecting one. The lights can last for tens of thousands of hours if they are equipped with advanced technology; if your mirror is SAA-approved, it will work for many years. Additionally, LEDs are energy-saving, so they are not associated with high electricity bills when they are used in smart mirrors.
7. Mirror in the cabinet:
Before purchasing a smart mirror, we should also consider the amount of storage that is available in the bathroom. If your bathroom lacks storage, an SAA-approved smart shaving bathroom cabinet can be a great option for you. They are a great way to maximize your bathroom's storage space.
Before you buy a smart shaving cabinet with a mirror, make sure you have enough space to mount it, as it might interfere with nearby doors.
In addition to being far more advanced and efficient than an incandescent bulb, LED-illuminated bathroom mirrors provide an instant upgrade to a contemporary bathroom with their clean, crisp design and seamless technology. A smart bathroom mirror approved by the SAA will provide you with better illumination without sacrificing style in your bathroom.
Remer offers a wide range of led circle mirrors & shaving cabinets for bathrooms in a variety of styles, shapes, and sizes to suit the interior design of your bathroom. If you are looking for a trusted manufacturer to buy smart mirrors for your bathroom, we can help. Our website provides information on your nearest retailer and information on our quality bathroom fixtures as well.
Homeowners Guide to Black Mold Removal in Toronto

Learning that you may need black mold removal can be outright scary for many homeowners. Black mold is also known as toxic mold, which has been portrayed in the media as a threat to people, animals, and children. The truth about black mold is a... The post Homeowners Guide to Black Mold Removal in Toronto […]