Teak outdoor furniture, the ultimate choice for enhancing your patio or garden, stands out as the top pick. With a rich history spanning centuries, this hardwood is renowned for its unwavering strength and durability, making it the undisputed champion for outdoor spaces. Its unmatched robustness, longevity, and unique aesthetic that effortlessly blends with various decor styles make it an exceptional choice. Whether you're in search of chairs, tables, benches, or an array of teak outdoor furniture pieces, you'll find a wide selection to suit your style and budget.
Advantages of Teak Outdoor Furniture
In the world of outdoor furniture, teak takes the crown due to its strength, inherent weather resistance, and minimal maintenance requirements. Teak is a symbol of tenacity, enduring harsh weather conditions without succumbing to damage or the effects of time. Its tightly woven grain pattern provides an extra layer of protection, guarding against the unpredictable forces of wind, rain, and the relentless sun. The natural oils in teak outdoor furniture act as a shield, preventing water damage and rot caused by moisture.
Natural Weather Resistance
Teak is a natural survivor, resistant to the ever-changing weather, from scorching heat to cold. This resilience makes it the ideal choice for outdoor spaces, as it won't warp or crack like other materials might over time. The inherent oils within teak create an impermeable barrier against rust and water damage, whether it's rain or snowfall.
Low Maintenance
When it comes to maintenance, teak offers a minimalist approach, a welcome departure from the constant upkeep required by materials like plastic or metal. Teak remains immune to the need for special treatments, allowing you to enjoy your outdoor space without the burden of constant maintenance.
Types of Teak Outdoor Furniture Available
Explore the world of teak outdoor furniture, where durability meets aesthetic beauty. Besides its incredible longevity, teak boasts a natural finish that seamlessly complements any outdoor setting. Discover the variety of teak outdoor furniture options:
Benches and Chairs: Teak benches and chairs offer comfort for relaxation or outdoor dining. Choose designs with graceful arms, inviting backs, and plush cushions for added comfort. Opt for timeless elegance with chairs featuring classic slatted designs or enduring Adirondack-style seats.
Tables and Desks: Whether you prefer outdoor dining or a garden workspace, teak tables and desks come in various stylish options. From round tables for intimate gatherings to rectangular ones for grand events, there's a selection to suit your taste.
Loungers and Swings: Enjoy the leisure of summer on teak loungers or outdoor swings, available in traditional wood finishes or contemporary synthetic wicker styles. Don't forget to add colourful cushions to create a trendy ambience that will impress your guests.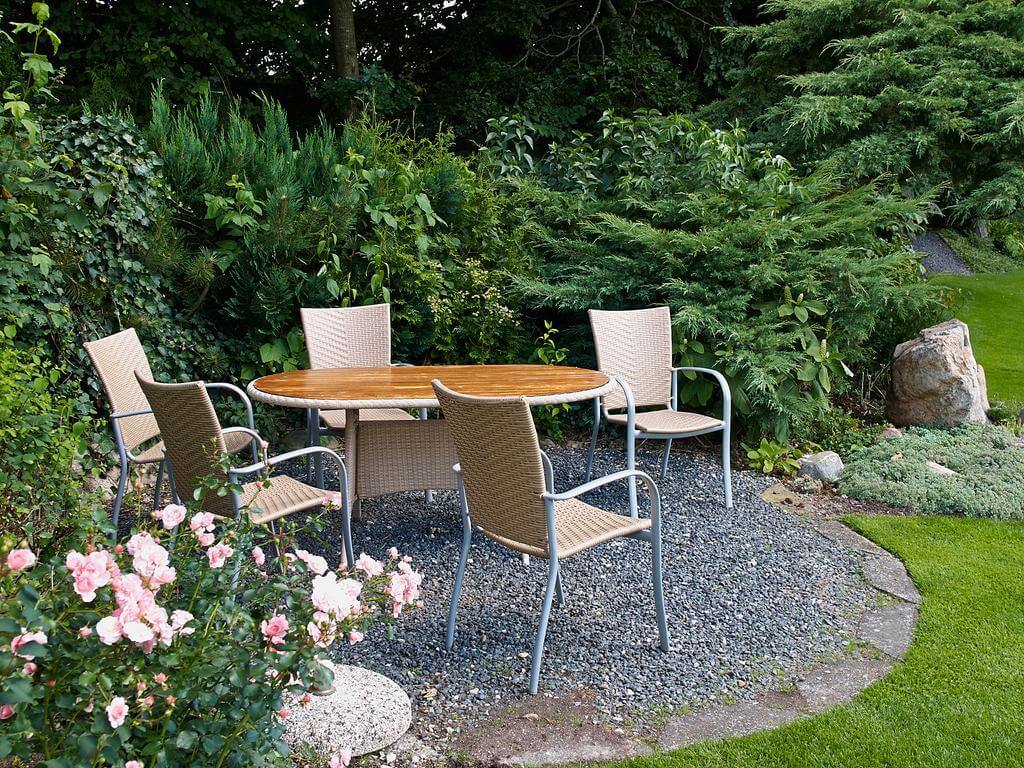 Care Tips for Teak Outdoor Furniture
Teak outdoor furniture, a symbol of timeless allure and enduring durability, requires gentle care to maintain its majestic appearance over time. Here are some guidelines for cleaning, storage, and maintenance:
Cleaning: Begin with a gentle cleansing using a soft-bristle brush or cloth to remove surface dirt. For a deeper clean, use warm, soapy water and a soft scrub brush. Avoid harsh detergents or abrasive tools that could damage the wood. Rinse your teak furniture with clear water to remove any soap residue. Stubborn stains can be treated with a mixture of one cup of bleach and two gallons of tepid water.
Proper Storage: Protect your teak furniture by storing it in an enclosed space, such as a shed or garage, when not in use. This provides extended protection from the elements and preserves the furniture's appearance. If you lack such storage, consider using furniture covers to shield your teak pieces.
Conclusion
In summary, teak outdoor furniture stands as the premier choice for outdoor decoration. Its unmatched durability ensures years of reliable service while showcasing its captivating, golden beauty. Maintenance is a breeze, making it the perfect choice for those who want to inject style and comfort into their outdoor spaces. Teak outdoor furniture is the answer for those seeking enduring elegance in their outdoor sanctuaries.
The Energy-Efficiency Advantages of Vinyl Window Replacement

Windows are more than just portals to the outside world; they play a significant role in determining the comfort and energy efficiency of your home. If you're looking to improve your home's energy efficiency, consider the advantages of vinyl window replacement. In this article, we'll... The post The Energy-Efficiency Advantages of Vinyl Window Replacement appeared […]