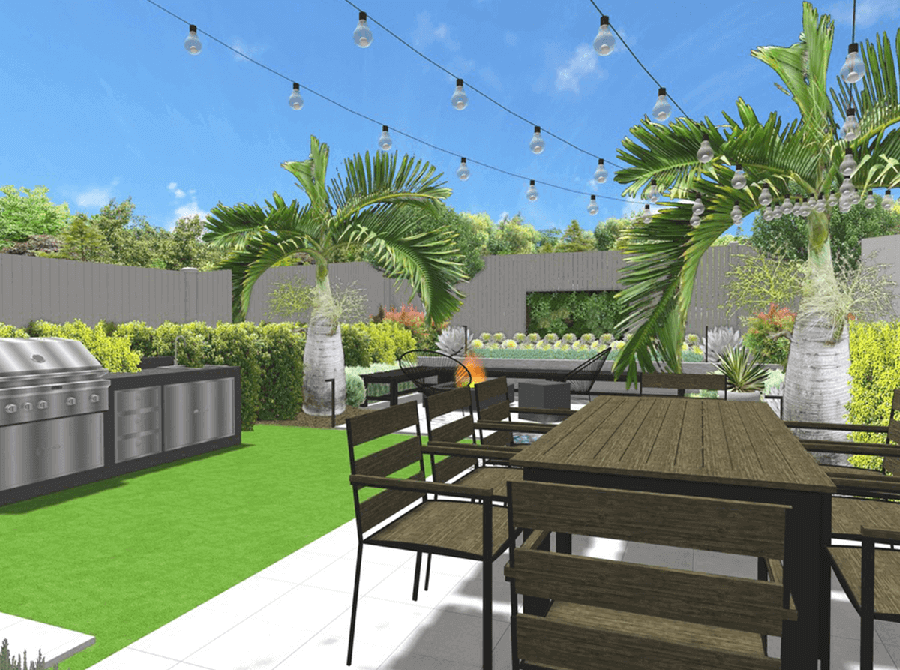 It can be challenging, frustrating, and disappointing to figure out what to do with your landscaping. When all you see is dry grass and boring rocks, it's hard to picture a beautiful place to hang out. Knowing which plants will do well in your garden is challenging, as where to put them. Putting money and time into projects that don't give you what you want is frustrating if you want to stop worrying and start working on a relaxing outdoor space.
Whether you want to add vegetable gardens to your existing landscape or completely redo your 20-acre property, ShrubHub Online 3D Landscape Design experts will help you make a detailed and doable plan that will give you the inspiration and confidence you need to get the great outdoor space you've always wanted.
Our landscape designs are made to fit the needs of each customer. We'll sit down with you, get to know you, and help you visualize what you want from your outside space before we make any recommendations. You can check the list to see a 3D tour of a finished design.
3D landscape design is best if:
You want the most time to look at designs, talk about changes, ask questions, and discuss how they will be implemented.
You want a detailed landscape plan and the ability to see your outdoor space in 3D as if walking through the finished landscape.
If you are a do-it-yourself landscaper OR planning to hire a professional landscaper, you will benefit from ShrubHub Online 3D Landscape Design online design meetings.
You want to see your landscape from several perspectives
You plan to discuss the finer elements of the design, such as contour adjustments or material selections.
With the 3D images in this package, there will be no question about elevations, plant placement, or how parts of the finished project will flow.
Taking a quick look at the 3D conceptual design images will make all of this clear to you and the person installing it.
You have a large property with many different parts that must be combined into a single design or a complex landscape with many other factors, slopes, or grade changes.
What's in it?
How to design a landscape
Lots of time to talk with ShrubHub Online 3D Landscape Design for complete design change, Included in our video meetings is:
A first one-hour consultation to review project documentation before we begin design;
A second one-hour consultation following delivery of the first draught of the design and 3D pictures;
A third one-hour consultation to evaluate the completed design, to review the revised design, to review the most time, creativity, and skill you can put into your landscape design.
Deliverables
You'll end up with a 3D walkthrough video of your finished landscape design
A scaled printable PDF that you or a contractor can use to build your landscape
Screenshots of the 3D landscape design to help you or your contractor
And a scaled printable PDF of the final design with plant key or plant labels
Benefits of a Moving Company

Moving can be an exciting yet daunting task, and if you've ever relocated to a new home or office, you know that it involves more than just packing your belongings into boxes. It's a process that requires careful planning, organization, and physical effort. This is... The post Benefits of a Moving Company appeared first on […]