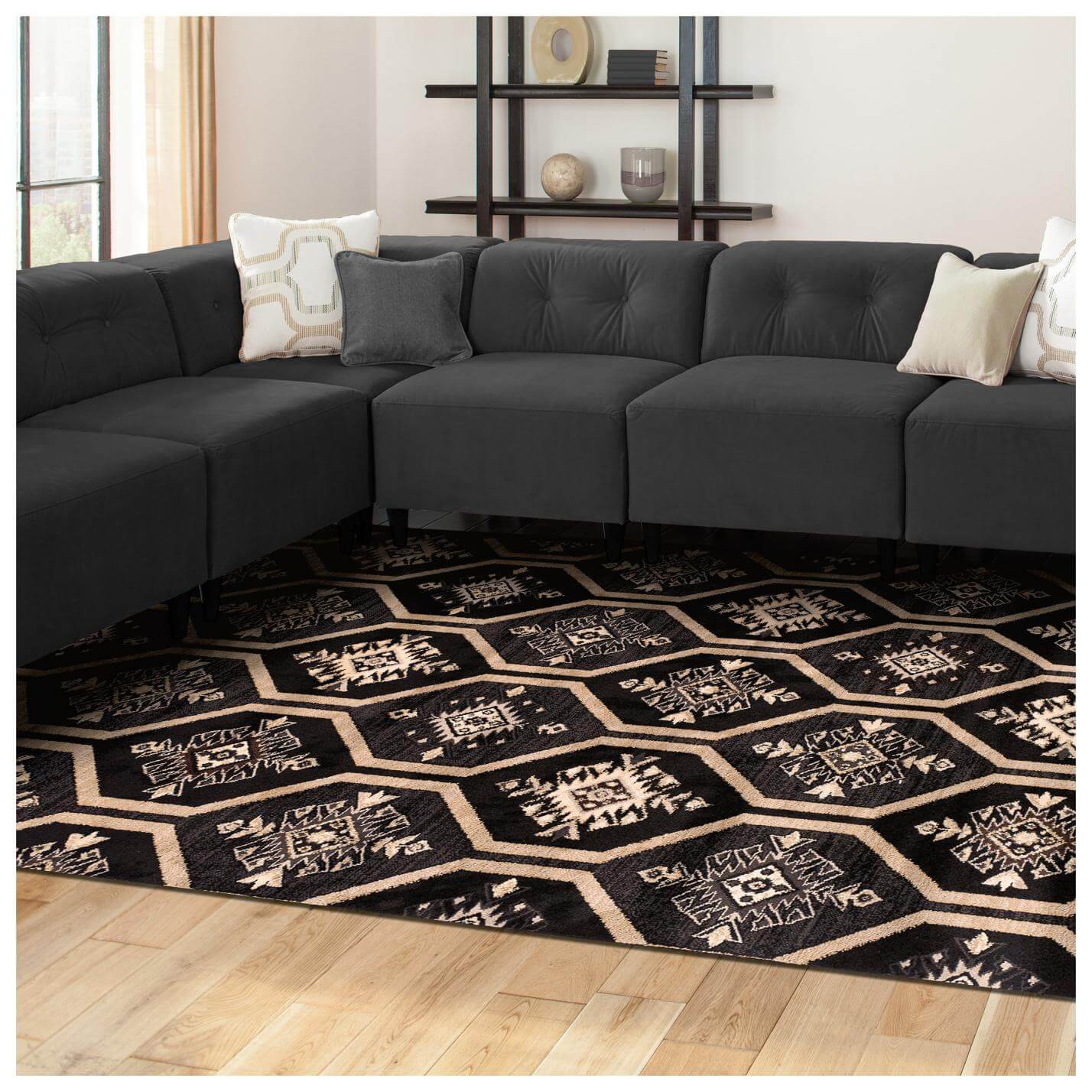 Area rugs are visually appealing pieces of decor that have many practical uses, including bringing comfort and warmth to your tile and hardwood floors. In addition to stylish and practical uses, area rugs also have a grounding element which makes rooms seem more inviting, cozy, and intimate for your night overs with favorite series on Dramacool.
Because area rugs come in so many sizes, designs, and materials, they're one of the most difficult home decor purchases to make. To help alleviate your stress, here are some tips to help you find the perfect area rug.
1. Size and Shape
When choosing a rug for a specific room, finding the exact size and shape that complements the area is crucial. Whatever the size, you need a rug that balances the space of the area well. Here are elements of different rooms to keep in mind:
Living Room – In an open-space concept like a living room, the rug has the big role of tying all of the furniture in the room together. A larger rug would work well here and make the room more cohesive.
Dining Room – To choose a rug for a dining area, take the measurement of the table's size and add 24 inches on each side. This will allow your guests to easily pull out dining room chairs without tripping over the rug. You should also match the rug's shape to that of the table. For example, if you have a round table, you should choose a round rug.
Bedroom – For a spacious bedroom, a large rug is the ideal choice. A large rug keeps the space balanced and gives your feet a cozy spot to rest. However, for smaller rooms, the rug should take up less room to not overwhelm the space. Look for rugs that only extend about 18 to 24 inches from the bed.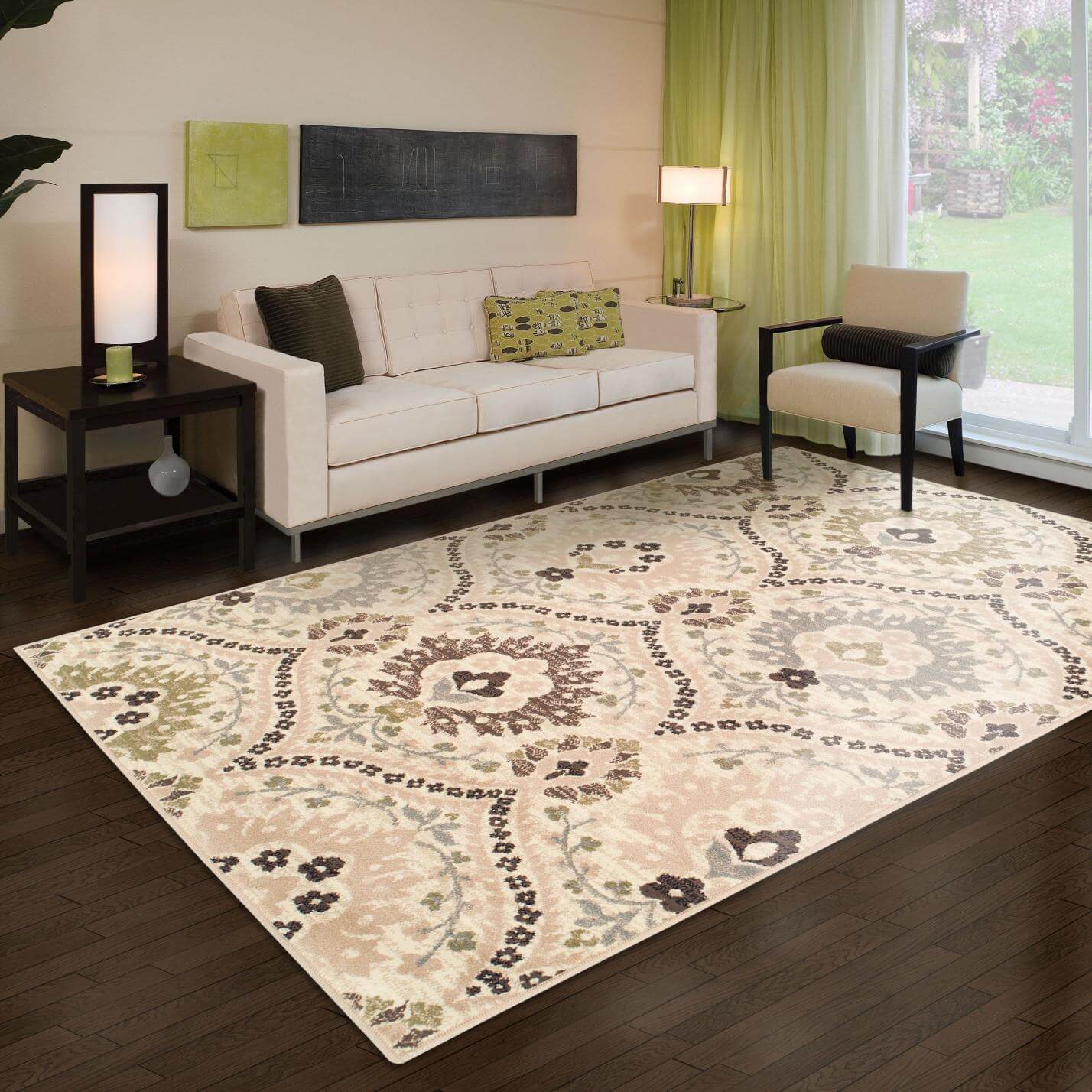 2. Style and Material of the Rug
There are plenty of styles and materials of area rugs available on the market. Different materials each give a unique look to the rug, which can change the entire atmosphere of a room. Here are a few common categories of rug materials:
Natural Fibers – Sisal, Cotton, Jute, Silk, and Wool
These are long-lasting and durable options that can easily hide stains and soil. However, they are pricier and require professional cleaning, especially silk rugs.
Synthetic Fibers – Polyester, Acrylic, Polypropylene
These rugs are affordable, easy to clean, and stain-resistant making them ideal options for homes with children and pets.
Animal rugs – cowhide rugs, sheepskin rugs, reindeer rugs
Animal rugs have become a must-have recently as they give any interior a special charm, create comfort and warmth and unlike synthetic materials, they do not contain harmful substances. The cost of an animal rug varies depending on the type of animal it comes from. Consider checking out the black and white print cowhide rugs if you've been searching for quality rugs. Cowhides Direct offers different pricing options and allows you to browse the available collections in different colours and sizes.
Artificial Silk – Bamboo Silk, Viscose, Banana Silk
The prices of these rugs are affordable, and they are available in numerous patterns, which can conceal stains, dust, and dirt. However, Viscose rugs are so absorbent that any spillage can ruin their fibers.
Deciding on the style depends on the rug's material, your lifestyle, and the room space. Here is a quick list of some of the different styles of floor rugs available:
Contemporary – Geometric, Farmhouse, Mid-Century, Coastal
Traditional – Moroccan, Persian, Berber
Bohemian – Ikat, Southwest, Kilim, Shag
Natural – Sheepskin, Leather, Cowhide
3. The Importance of Pile
A rug's pile is a measure of the density of its fibers. The pile of the rug determines the thickness and density of a rug. This can greatly alter the look and feel of a rug.
High-pile Rugs – Rugs with taller and looser fibers make them plush and ideal for a living room or bedroom.
Low-pile Rugs – These rugs have shorter fibers and loops, which are beneficial for high-traffic areas like kitchens, hallways, and entryways.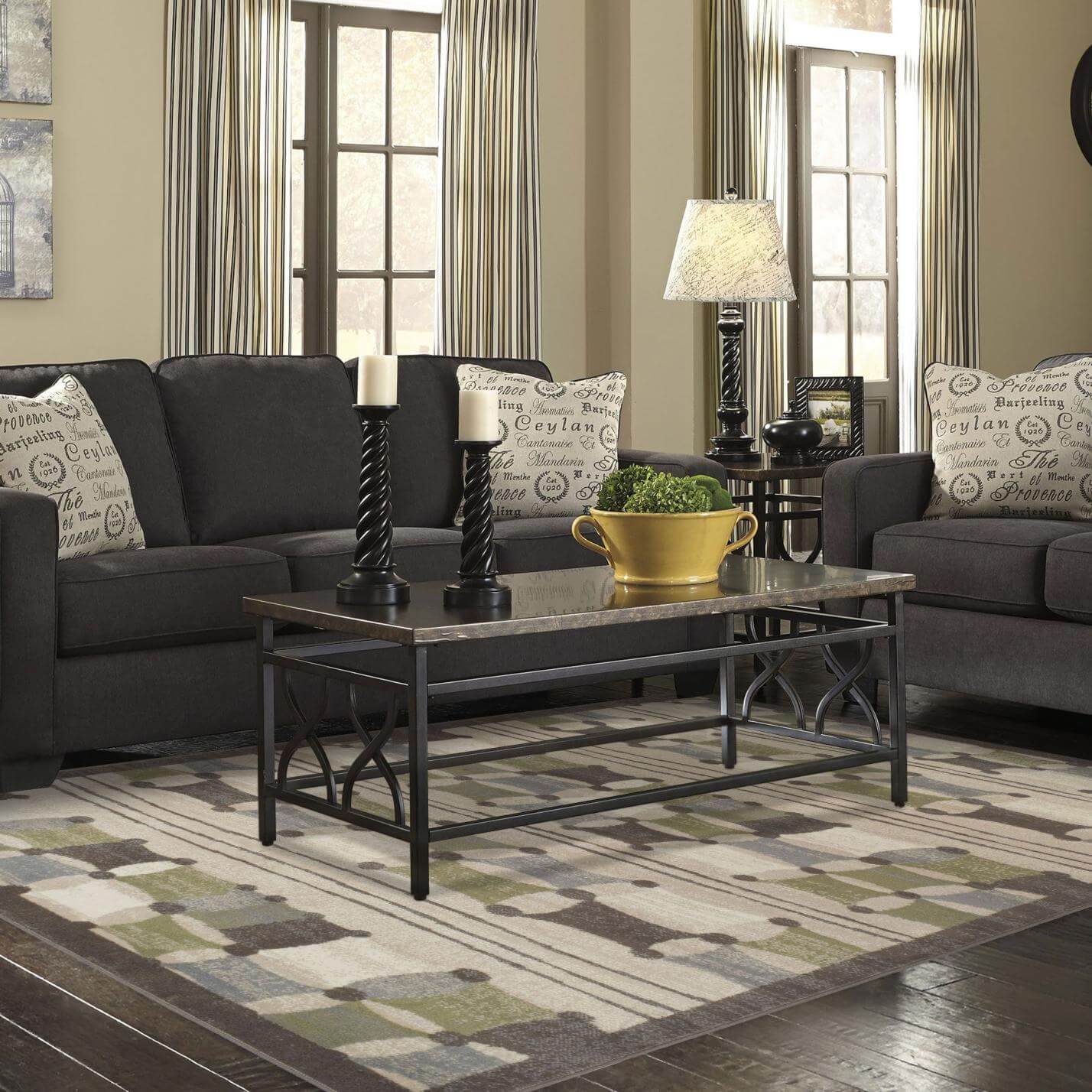 4. Cleaning and Care
Before you buy a rug, an important factor to consider is the care required. Cleaning the rug should be easy and affordable. Here is how you can take care of different materials of area rugs:
Wool – To clean wool-based rugs, you can soak the rug in a mixture of detergent and water, and later use a toothbrush to scrub. A toothbrush is a good option instead of a typical brush, because scrubbing excessively and harshly will damage the fibers.
Cotton and Silk – For cotton and silk rug cleaning, it's important to get professional help, as stains can easily get in between the fibers, making it look worse.
Synthetics – For synthetics you can either use a vacuum, steam-clean or spot-clean. These are easier to clean than others. They also absorb more oil and soil, which can make them look dirtier. However, a few acrylics are stain-resistant.
5. Consider Purchasing a Rug Pad
After taking time to conduct careful consideration before buying an area rug, you naturally want to protect your investment just like you made it double sure before becoming a vendor on Big Basket. A great way to do this is a rug pad. A rug pad is a buffer between your rug and floor which prevents the fibers of your rug being crushed and inevitably worn down. Rug pads greatly prolong the life of your rug.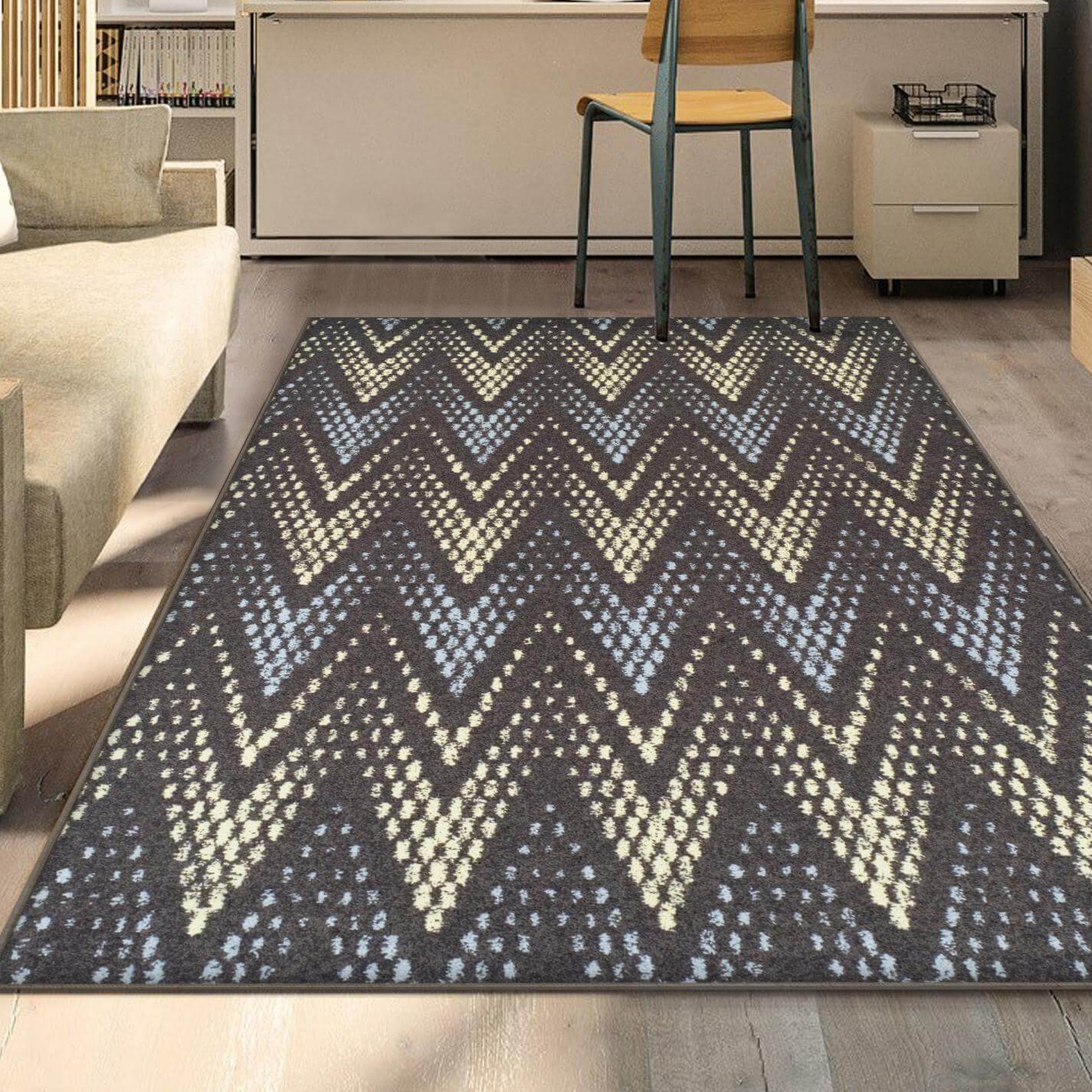 6. Dimensions
The size of every room in your home is different, and because of this, it's important to pick a rug that matches well with the space you are decorating.
Living Room – The area rug should be large. You should choose a mid-to-high pile rug. Standard dimensions of an area rug for a living room should be 8'x 10′, 9'x 12′, or 10'x 14′.
Bedroom – The best rug for your bedroom will be a mid-size or mid-to-high-pile area rug. Wool or silk compositions work well here. The best rug size for your bedroom will be 8′ x 10′, 9′ x 12′ or 2′ x 6′ (runner size), or 4′ x 6′.
Dining Room – A mid-pile rug or flatweave is a great choice for this area. Rugs with cotton or wool material work well in the dining area, because they are easy to clean. Standard dimensions for the dining room rug are 9′ x 12′, 10′ x 14′, or 8′ round. Remember to match the shape of your table to the shape of your floor rug.
Kitchen – A patterned rug with a natural fiber composition is a great choice for the kitchen, as they are easy to clean. However, the rug should be low-pile with dimensions of 2' 5" x 8′, 2′ x 3′, 3′ x 5′, or 6′ x 9′. Patterned design rugs work well because they conceal the dirt and stains.
Entry – For entryways, preferably choose jute or wool rugs or any other natural fiber rug. Make sure that the rug is low-pile. However, for entryways, you do not need a rug bigger than 2′ x 3′, 2′ x 8′ (runner), or 4′ x 6′. You can try funky and geometric prints as a way to create a warm and inviting ambiance for guests. Check out these ones for sale at Home City Inc.
Outdoors – for outdoors, the rug should be large enough to cover your patio or deck space, stain-resistant, and UV-resistant. A polypropylene rug is a suitable choice. The standard dimensions for outdoor rugs are 8′ x 10′, 9′ x 12′, 10′ x 14′.
We hope these tips and tricks helped you on your journey to finding the perfect area rug for you and your family. Head to Home City Inc. here to begin shopping for rugs now!
Homeowners Guide to Black Mold Removal in Toronto

Learning that you may need black mold removal can be outright scary for many homeowners. Black mold is also known as toxic mold, which has been portrayed in the media as a threat to people, animals, and children. The truth about black mold is a... The post Homeowners Guide to Black Mold Removal in Toronto […]