Compromising the quality of your door lock is the last thing you can imagine these days. With the rising security awareness, people are increasingly moving towards smart door locks as they are convenient to them and secure their houses in an efficient manner. When you want to select the door lock for your facilities, you also have to think from an intruder's point of view. They can easily have a duplicate key of your house, but they cannot go through the smart keyless door locks at all.
Types of smart keyless door locks
Smart keyless door locks come in various types, and you can choose them based on their functionality. Unsurprisingly, being the leader of manufacturing these systems, Smonet smart locks have all the cutting-edge technology present in them. Following are the in-fashion smart lock types widely demanded in the market right now.
●    Keypad Door Locks:
As the name suggests, keypad door locks have a keypad on them which you can use to enter your secret pin or password for opening the door. As this is your unique pin, no one can enter the door without your approval unless nest camera blinking blue.
●    Smart Keyless Door Locks
These locks can be opened via various methods available in a single system. These methods include unlocking the doors with passcodes, fingerprints, mobile Apps, and even mechanical keys.
●    Key Fobs/ cards
Key fobs or cards are small security instruments that you can put in your pockets and use while locking or unlocking your doors. They are programmed in a way that they can communicate with the locks without any physical connection between the two.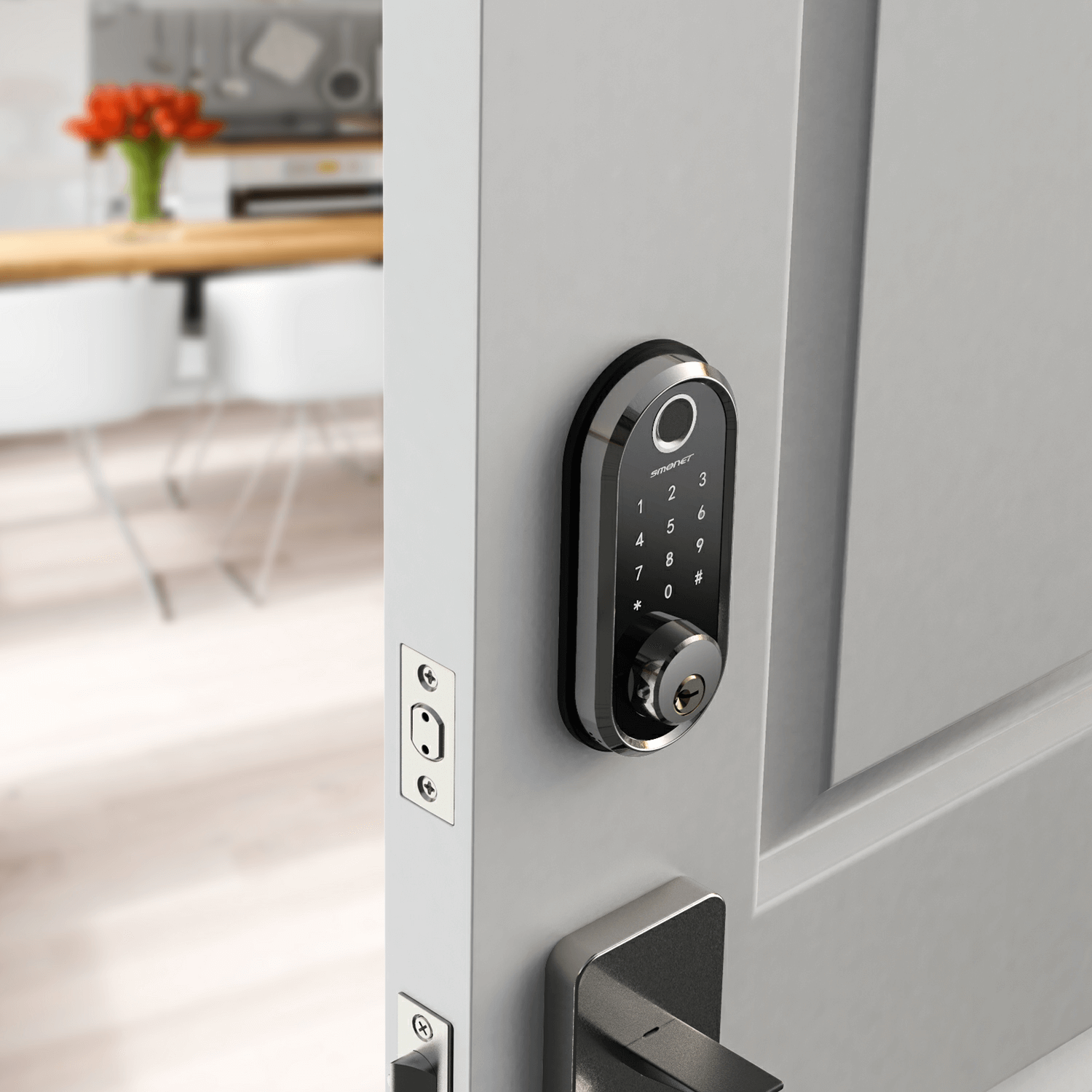 ●    Biometric Locks:
What is a better way than unlocking your doors with your fingerprints? Probably nothing. Biometric locks allow the users to do that, which helps them protect their facilities from any potential intruder.
Tips of choosing a keyless door lock for home
But with the wide variety of these locks available, how to pick a door lock? Consider the following factors in selecting your smart door lock.
●    Durability
This is perhaps the most important parameter of judging smart keyless door locks, which gives you an idea about the ability of the lock to withstand any potential hacking attempt. You should choose the locks which are most durable as they will not only help you in saving money in the long run but also if an intruder tries to break into your property and steal the thermostats and other appliances.
●    Battery Life and Low Battery Indicator
As smart locks work on batteries, you need to ensure that the lock you are going to buy has long battery life. Usually, smart lock batteries last for at least six months, so if you do a bit of research about the battery life of the lock available in the market before purchasing, it will be a win-win situation for you.
●    Integration:
The distinctive aspect of smart keyless door locks is that you can control them using your smartphone and wifi, which puts you in control of your home security. This important feature is the most important prerequisite of buying any smart lock as it provides you with much comfort.
●    Auto-locking Feature:
Many smart keyless door locks provide an auto-locking feature that locks your doors automatically. This way, you do not have to worry about forgetting to lock the door. You must check if your smart lock provider incorporates this facility while making the locks so that you can enjoy additional comfort at no expense.
Smonet High Performance On-Sale Locks
Smonet has a Halloween sale which gives you a unique opportunity to get your hands on the most secure locks at a much lower price.
●      Smonet ZNS-H001
Available at a discounted price of $129.99(original price $139.99), this smart keyless lock can be installed on both the left and right handles of your door. Made up of zinc alloy, it provides you an opportunity to unlock your door with seven available methods, including passcode, wifi gateway, fingerprint, and many others.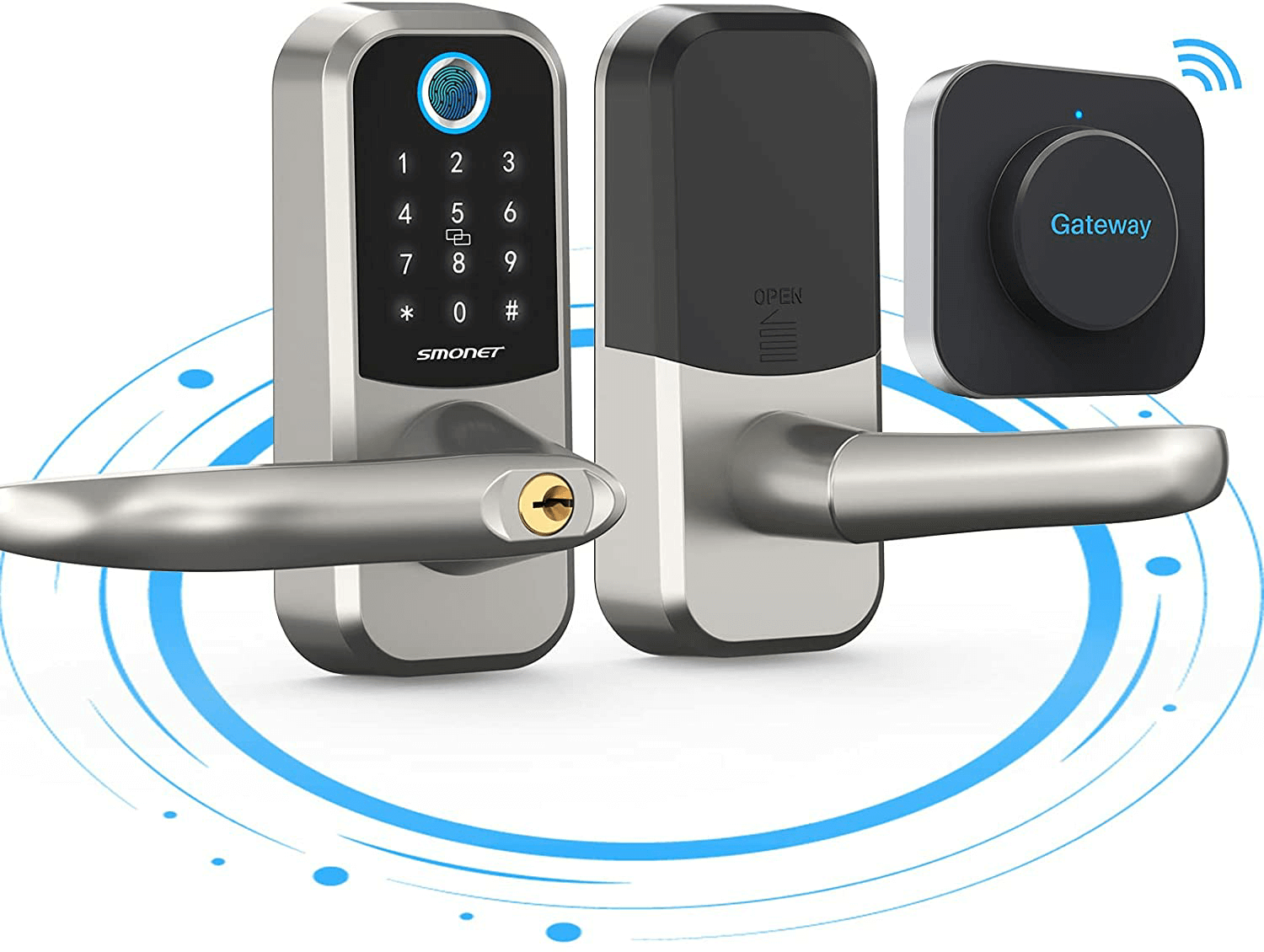 ●      Smonet ZNS-Y001
Compared to its original price of $129.99, the Smonet Halloween sale provides this lock for as little as $119.59. This smart lock provides you with the facility to create a one-time password to share with your guests.
●      Smonet SMUS-AM
Smonet's SMUS-AM smart keyless door lock is available for only $104.88, discounted from an original price of $119. Not only can you connect the lock with Alexa, but for security measures, the lock can be locked automatically for 5 minutes once someone enters the incorrect password five times.
●      Smonet SMUS-MD
With its long battery life and high durability, the discounted price of these locks is $105.79 compared to the regular price of $119.99. The battery of this door lock can last for at least six months, which rules out the possibility of a dead system. With the functionality of auto-locking the door available, you can lock your door remotely even if you forget to do it manually.
Wrapping-Up
With a purpose to make your homes, offices and other places safe, Smonet has introduced various products again and again, which have shown promising results. They are providing their services to various customers globally, which makes them a trustworthy brand worldwide. They are committed to adding the latest features in their products that distinguish them from others.
The Energy-Efficiency Advantages of Vinyl Window Replacement

Windows are more than just portals to the outside world; they play a significant role in determining the comfort and energy efficiency of your home. If you're looking to improve your home's energy efficiency, consider the advantages of vinyl window replacement. In this article, we'll... The post The Energy-Efficiency Advantages of Vinyl Window Replacement appeared […]