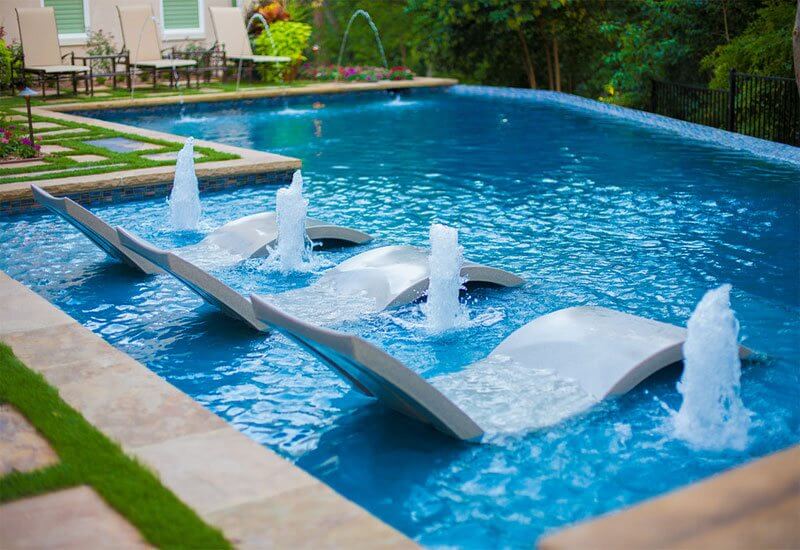 A swimming pool can enhance your home environment and add value to your property by providing a touch of class and luxury. That's why it's important to renovate your pool and restore the appeal it had originally or improve to make it better. Knowing how to go about pool renovation is a source of headache for many homeowners.
We are going to share some of the best swimming pool renovation ideas to inspire your creative side and help you to achieve the best swimming pool renovation ever.
Waterfalls
Rockface waterfalls are among the best pool renovation ideas. The waterfalls are among the best swimming pool renovation ideas that could transform the look of your environment enhancing its beauty. Apart from the aesthetics and the great view, waterfalls also add oxygen to your pool to bring down the temperature to make a cool pool thats perfect for relaxing during the day. Fountains of water are also a good idea. Besides, the movement of the water can liven up a boring environment. There are various styles and stone types you could use for the best results.
Firepits
If you are looking to make your pool area warm, you could consider firepits and order some food online. Wood or gas firepits can offer a great area for not only socializing but roasting and keeping warm. You could consider using a long and rectangular firepit next to a retailing or seating wall. Using Wood or gas firepits along square or rectangular gardens could give excellent results.
Stone decking
Using limestone, slate, and native rocks to create stone decks for your swimming pool can transform your environment to make it outstanding and pleasant to the eye. The stonework could go around the whole pool offering a luxurious feel and look.
Pool paver decking
Pool pavers are highly recommended for swimming pool renovation because they are not only foot-friendly but also provide good traction. Pool paver decking will help you achieve perfect pebble-filled canals and small borders that will give your pool area a modern look. Above all, pool pavers are durable, provide the natural look of stone, and are chlorine and salt resistant making a great choice for your swimming pool.
Beach entries
Creating a slope and graduated opening to your pool will give your pool the appearance of a natural beach. You'll experience the usual gradual slope-like beach. This swimming pool remodeling idea can be achieved using concrete or fiber. A Vinyl swimming pool is also achievable. Also known as a zero-entry pool, it will create a beautifully seamless transition between land and water.
Glitter Grout
Wet grouting is common for paving around the pool areas. The colored metalized glitter is mixed into grout before application. White or light grey is excellent for mixed color pools and gives your pool a fancier touch. Epoxy grout is mostly used because it's durable and waterproof and requires no sealing. Grout is used in areas with high traffic because its resistant to staining, crumbling and cracking.
Pool theatre
It's becoming common for swimming pool areas to have large screens or projectors so you could relax in the water as you watch your favorite TV show or movie. A pool movie theatre could be set up so that you and your family or guests float in the pool or seat on the deck and watch movies. Other excellent swimming pool remodeling ideas include underwater led light and mosaic surface tiles.
Conclusion
The above pool remodeling ideas can help you to transform your home environment into a beautiful and lovely space thats pleasing to the eyes and excellent for relaxing. For best results only work with professionals with a proven pool remodeling track record. Also, it would be great to ask for 3-D modeling for your project so you could see what it would look like when completed.
Are Marble Kitchen Countertops a Good Idea?

When it comes to kitchen countertops, nothing exudes elegance quite like marble. Its natural beauty and timeless appeal have made it a popular choice among homeowners. But is it a good idea to have marble countertops in your kitchen? Let's explore the advantages and disadvantages.... The post Are Marble Kitchen Countertops a Good Idea? appeared […]