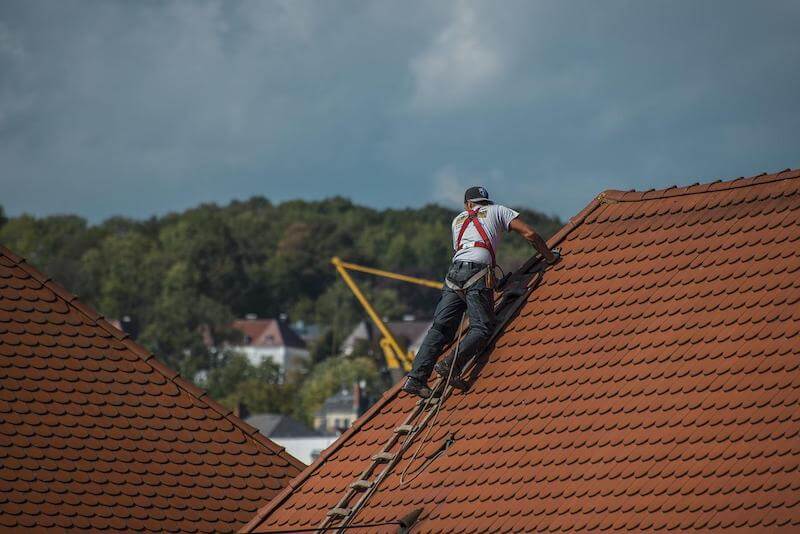 Have you ever thought, why are roofs so vital to us? The answer is so simple- it gives us an all-one solution for protection. Be it the sun or the wind or the snow, being under a roof is the utmost important thing to all of us. On the other hand, even if a roof is not in a proper condition, it is you who have to suffer. Therefore, identifying a damaged roof and getting it repaired or replaced at the right time before your thermostats give up which you have to take care of the most. Thus, in this article, we will discuss one of the common topics that remains confusing "is it better to repair or replace a roof."
What are the signs leading you to confusion- repair or replace a roof? 
The thought of repairing or replacing a roof does not come to a person out of the blue. And neither should you consider repairing or replacing them without considering the following factors; let us get started:
Consider the age of your roof.
The first and foremost thing you should consider while repairing or replacing your roof is age. If your roofing is of asphalt shingles, you may call the SCI Roofing and construction to ensure the age of your roof. The better the quality, the longer they will last. It can last up to forty years, and if not of higher quality, it can last up to a maximum of twenty years.
Apart from the professional assistance in helping you identify the age of your roof asphalt shingles, you can do it too by observing the following symptoms:
Sagging of your roof
Roof getting covered by moss
Occurrence of granules in the gutter
Missing pieces of shingles
When you notice such signs, do take the help of some professional roofers and get the advice on whether you need them repaired or replaced
Do you plan on staying in the house forever? 
One of the main decisions you change or replace your roof lies in whether you plan to stay in your house forever or not. If you are in a rented house, then, to be honest, getting the roof repaired does not come under your budget. If you are planning on selling your home, you might need to look after the condition of your roof before facing any kind of problem while selling it.
Whatever be the symptoms, the main question lies in whether you should get your roofs repaired or replaced. Well, to know the answer, keep reading this article.
Why and when should you consider repairing instead of replacing your roof? 
Repairing your roof is way much more affordable than replacing it. It saves you a whole of time and expenditure costs. When you improve an old roof shingle, it increases the life expectancy of your roof. And to clear out the confusion, notice the following signs when should you consider repairing your roof:
Missing pieces of shingles
Holes and punctures
Shrinkage and splitting due to poor maintenance
Apart from all such signs, there are others too; watch out for them and consult SCI Roofing and Construction.
Advantages of roof repair:

Repairing roofs are pocket friendly
The cost that the replacement of the roof will bear is much more than the cost of repairing the roof. It will save you a lot of money and time. Increases the life expectancy of your roof
Increases the life expectancy of your roof
To be specific, your roof system is much a more comprehensive system than some roof components. Please consult a professional roofer and find out how to help you repair your roof even before replacing them. Suppose you see almost no reason to replace your roof; fix them. This also increases the life of your roof.
Why and when should you consider replacing instead of repairing your roof? 
Quality of roof installation plays a huge role in your roof placement, alongside considering the age of your roof. Apart from installation quality, there are several other factors that are brought into consideration while you are replacing your roof:
Wear and tear
Vulnerability of your house shortly
Advantages of roof replacement:
Increasing curb appeal of your house
The quality of life of a new roof is nearly 40% of your house's curb appeal. The curb appeal makes your home noticeable either positively or negatively. And if you consider replacing your roof, it probably will make your house fall under the positive category. Why so? Because who would want to look at some old, worn-down house?
It gives you a relaxing smile.
Once your roof is being replaced, you don't have to keep peeping on your top repeatedly to keep it under a check. You don't have to keep up with a tensed face whenever you return back home or no greetings to leakages. And that gives you a relaxing smile.
Roof repairing v/s roof replacement 
Now, as we have got a basic idea between roof replacement and roof repairing, we may say both the methods work for the restoration of your roof.
You have to opt for roof replacement instead of roof repair in case of any significant damage. But in case of just a missing piece of shingle or some minor injuries, you may opt for roof repair.
If you want to restore the looks of your roofs, then settle for re-roofing instead of roof replacement, which will take up a lot of your time, effort, and money.
Suppose you have decided to repair the damages. In that case, settling for roof replacement is a better deal, according to various analyses, as it increases the lifetime of the roof and provides a fresh new appearance to your house.
Whenever some damage comes up related to the roofs, always try to connect with some professional roofers as they will help you with the right piece of advice and suggest you the best possible way. Go through this article to get some help related to "is it better to repair or replace a roof?"
Benefits of a Moving Company

Moving can be an exciting yet daunting task, and if you've ever relocated to a new home or office, you know that it involves more than just packing your belongings into boxes. It's a process that requires careful planning, organization, and physical effort. This is... The post Benefits of a Moving Company appeared first on […]