Many homeowners use paintings to help them create a specific atmosphere in their living areas. A painting is also often used to create a focal point in a room. Home interiors agree that a painting as part of your home décor is one of the most effective ways to enhance the atmosphere in your home.
The important aspect, however, is that you must use paintings that you love or related to your hobbies and interests because your paintings tell your friends and visitors a lot about yourself – and you also have to enjoy being in the same room as your paintings!
However, the problem is that, in many instances, homeowners need to be aware of the variety of paintings reflecting their interests. And you might also think that you will not be able to afford paintings for your décor. So, in this article, we'll look at appropriate paintings for people loving the American West landscape and specifically discuss the works of Albert Bierstadt.
Why Use Art as Décor
Before we introduce Bierstadt painter and some of Albert Bierstadt's artworks, let's briefly discuss in more detail why more and more homeowners are using art as part of their home décor.
The most common reasons why paintings are being used as part of a home's décor include the following:
If you have a favorite painting you want to display in your living room, the colors used in the painting can influence the color scheme of your room. You can choose colors found in the artwork itself or compliment or contrast the colors of the painting.
A Painting creates a Focal Point
A well-chosen painting often provides a focal point in the room – and in many instances, has a good story to share.
You can make a Statement with a Painting
You can use the painting to create a "conversation corner" in the room and hang it in a space where it will be visible to your visitors when they sit down. If you are making a statement with the painting in some way or another, it might be the starting point of a conversation.
Albert Bierstadt Artworks as Home Décor
The German-American artist, Albert Bierstadt (1830-1902), is one of the most famous artists depicting the landscapes and waterfalls of the American West. Many of his landscapes include the beautiful waterfalls in the Rockies.
Apart from the sheer beauty of Albert Bierstadt's works, a painting of him in your home will always provide great joy if you are a West American and/or waterfall enthusiast. Interestingly, you will not be the only person to buy Albert Bierstadt's art. He was a painter whose paintings were popular and in demand during his lifetime.
Who was Albert Bierstadt Painter?
To assist you in deciding whether you want to add one of Albert Bierstadt's paintings to your décor, we'll give you some background about his career. Albert Bierstadt was born in 1830 in Solingen, Germany, and after a year, he moved with his parents to the United States. Because he was always interested in the American West, he joined many journeys to the area.
For him, the purpose of the journeys was to create paintings, make sketches, and gather information about places where very few Westerners had been at that time. These journeys contributed to his establishment as the best West American landscape painter during the 19th century.
When he was 23 years old, he returned to Europe to get an art education, but unfortunately, everything didn't work out as he had planned. But while in Europe, he met Worthington Whittredge and the German-born Emmanuel Leutze – two artists who helped him.
In 1856, he journeyed with Whittredge and other artists to Switzerland and Italy on a painting tour, and many "Plein-air" artworks were created during this tour. In addition, art scholars believe that the European experience inspired the works later created in the Rocky Mountains.
For your convenience, we'll discuss a few possible Albert Bierstadt paintings to be used for your home décor.
Cho-look, the Yosemite Fall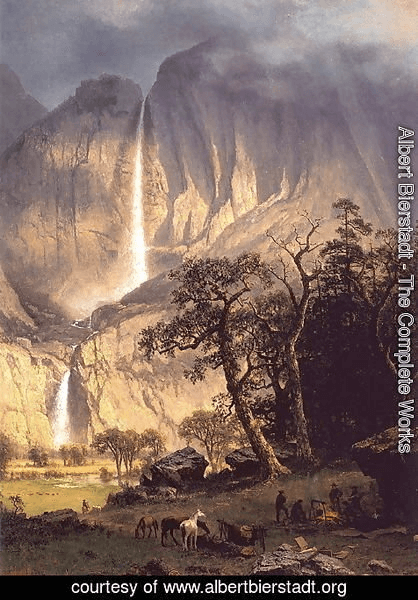 In 1863, Albert Bierstadt visited the valley of Yosemite and was very impressed by the large scale of Yosemite Falls.
He depicted the large scale and the natural majesty of Yosemite Falls in his painting "Cho-look, the Yosemite Fall." He conveyed the scale and "feeling" of the majestic falls by painting cypresses and oaks in the foreground. He also depicted a sketching umbrella, a color box, and other objects he always had with him in the right corner of the painting.
Suppose you use this painting as part of your home décor. In that case, you have beautiful artwork and a piece to start a conversation about the natural majesty of the Rockies and the conservation of nature in general.
Rocky Mountain Waterfall and The Falls of St Anthony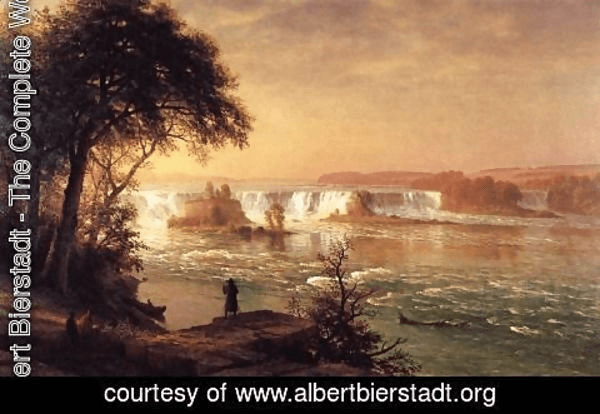 If you love paintings with a lot of detail captured, "Rocky Mountain Waterfall" will be the ideal choice for your home décor. In this painting, Bierstadt succeeded in capturing the gorge and cascading falls in "photographic" detail.
You can have hours of joy by just looking at this Albert Bierstadt artwork and trying to discover more detail that you've missed the previous times.
If you want a depiction of the American West landscape before human interference, "The Falls of Anthony" might just be the painting for your home décor. It is an oil landscape where Bierstadt depicted the natural scene before human interference.
What If You Can't Afford the Albert Bierstadt Paintings?
Most of Albert Bierstadt's works are in private collections and are not easily available. And when one of his artworks does come available at an auction, it is unaffordable for most "normal" art lovers.
Fortunately, there is a solution. You can purchase a reproduction at an affordable price. There are art galleries – mostly online art galleries – specializing in making and selling reproductions. Unfortunately, if you use a reputable online gallery, the end product you will buy will be so close to the original that it is often difficult to see it as a reproduction.
And a good reproduction adds much more atmosphere to a room than just a printed version of the original. Usually, the reproduction has the same effect on the viewer as the original.
Conclusion
If you are a landscape and specifically a waterfall enthusiast, you must add at least one of Albert Bierstadt's paintings to your home décor. Although you'll most probably not be able to add original Albert Bierstadt art to your home décor, you should be able to find an excellent reproduction.
Homeowners Guide to Black Mold Removal in Toronto

Learning that you may need black mold removal can be outright scary for many homeowners. Black mold is also known as toxic mold, which has been portrayed in the media as a threat to people, animals, and children. The truth about black mold is a... The post Homeowners Guide to Black Mold Removal in Toronto […]