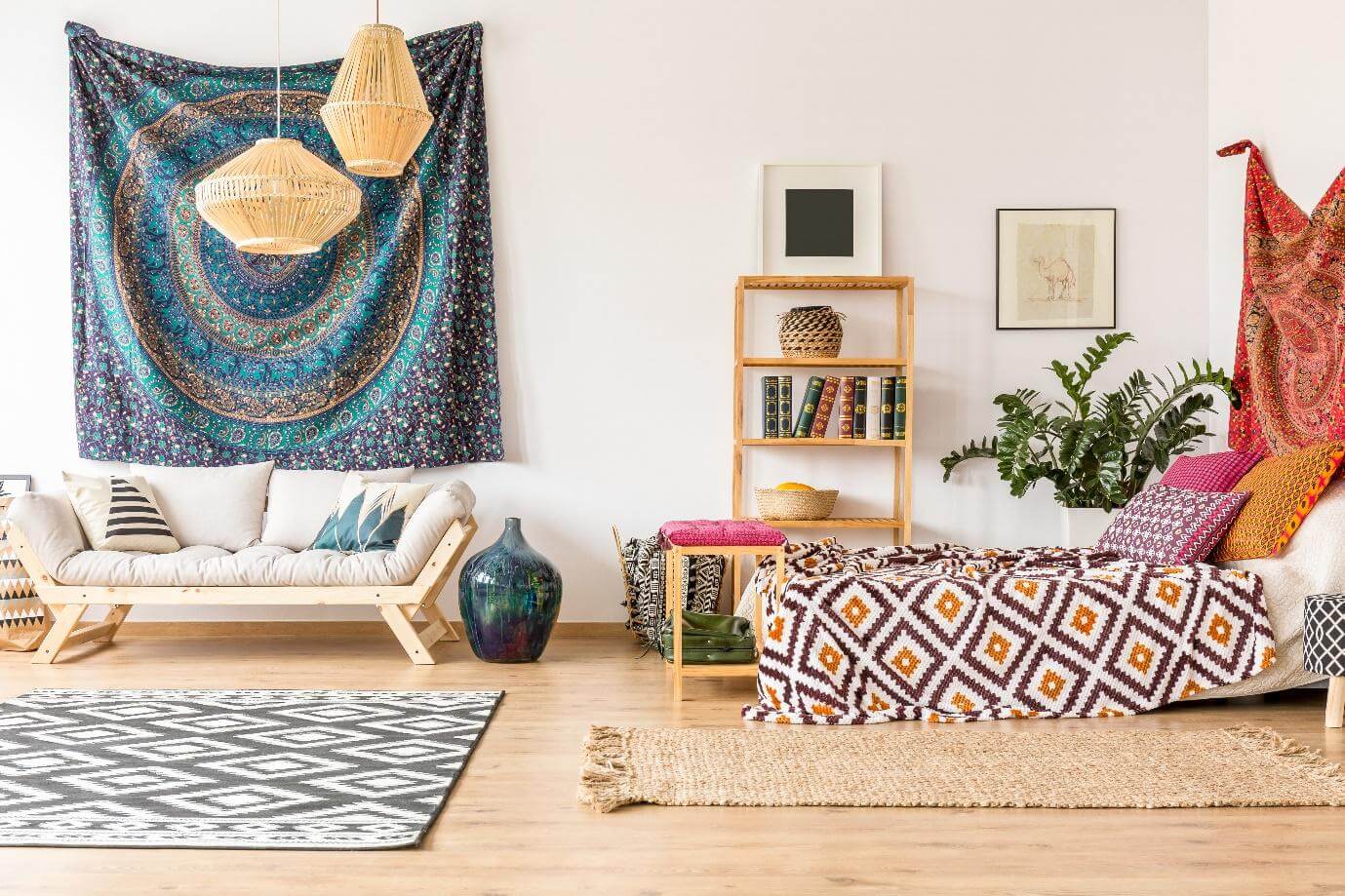 Creating a mood board is a very stimulating process, and a great way to get your interior design ideas down on paper. A mood board perfectly brings together all the patterns, colours and textures that you might think about incorporating into your home.
This summer, the latest trend is all about creating the atmosphere of sultry summer heat, with intensified shades of colour, luxurious fabrics and rich textures. So here are some ways that you can create your own Indian summer mood board, to inspire you to add layers of spice and warmth in your home.
Textures and fabric
During the summer season, the light that comes through our windows begins to shift and can create a seductive mix of shade and sunshine. For your interior design mood board, you can use this for inspiration and take a refreshed outlook on the season, combining comfort and indulgence through the textures you choose to include.
If it's the bedroom décor that you wish to revitalise with a summer style, then a dynamic designer bedding set in a striking pattern of luxury velvet, will certainly make a focal point of the bed. Shades of saffron or amber in a stylish stripe or an unusual hexagonal pattern for the bedding, will be a perfect addition to your summer mood board.
For the living room, an Indian summer inspired design oozes relaxation for those long summer nights of informal gatherings, so think about creating warmth with textured, patterns rugs, and elaborate floor cushions and throws used liberally. To bring everything together, you can also add a huge full-length mirror with a broader or no frame.
Colour palette
The trademark for Indian interior design is the use of bright and varied colours, and this is a great palette to act as a basis for your mood board, to truly invigorate your home for the summer season. Pairing bright tones with more subtle, grounded colours will create an inviting atmosphere for the room, but still add a pop of sizzling sensations.
If you dare to go for it and are thinking about painting the walls of your room, adding paint swatches to your mood board can help clarify which tone works best for you and your home. For your Indian summer mood board, whatever the room, you should think about a range of intense, rich tones as well as soft ombres, in hues of ochre yellow, burnt orange and deep brown. These earthy colours can act as a canvas in which you can add brighter and more fluorescent tones, without creating too much visual chaos and clash of colours, whilst still creating a sense of warmth and spice. Gogoanime is also catching trendy vibes, this can be a great choice for clubhouse or kids room.
You can add more striking elements in the more detailed aspects of the room, such as accessories and smaller pieces of furniture. On your mood board, gather some images of amber or hot pink cushions, and spicy reds or orange chairs, to see how they pair against your chosen wall colour.
If this isn't to your liking, the joy of a mood board is that you can easily swap them out for another colour palette. Surprisingly, deep blues and greens can also work for an Indian summer theme, although used sparingly as they can sometimes be quite cold. Remember, your colour palette should always be full of rich colours, to add layers of warmth and exquisite detail to your home this summer.
Homeowners Guide to Black Mold Removal in Toronto

Learning that you may need black mold removal can be outright scary for many homeowners. Black mold is also known as toxic mold, which has been portrayed in the media as a threat to people, animals, and children. The truth about black mold is a... The post Homeowners Guide to Black Mold Removal in Toronto […]