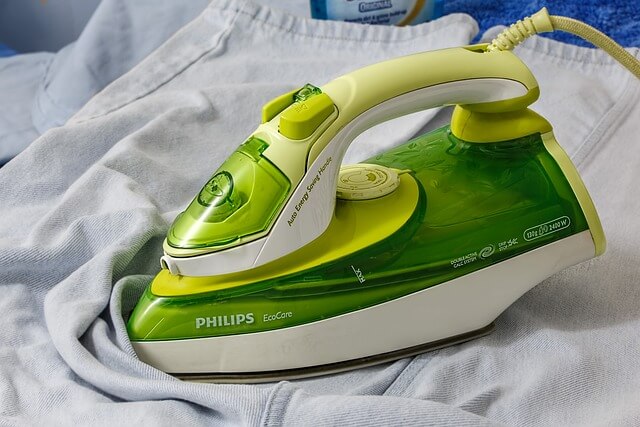 In 1882, the electric iron was invented, and it has since become an irreplaceable part of every household. It is, however, not uncommon for people to not know how to clean an iron properly even though it has been around for so long. While you may think a quick wipe will do the job, you're wrong. You may find that your iron's plate gets waxy and oily, and cleaning with a simple wipe will be challenging. Here are some tips for cleaning your electric iron, but remember to wait until the iron has cooled down before you begin. Cleaning a hot iron is both ineffective and dangerous.
Baking soda
Your iron will be clean and gleaming again after using this method! You only need to mix baking soda with water to create a paste. To scrub the iron's soleplate, rub this paste on it with a soft brush or towel. You can easily remove it with water. Ensure the paste is completely removed and the iron completely dry before use.
Newspaper
To clean the iron's soleplate, you can scrunch up some newspaper and scrub it with it. Once the soleplate has been brushed thoroughly, turn off the iron and put on oven mittens to protect your hands from heat.
Acetone nail polish
There's no better way to dissolve and wipe away an iron's dirtiness than this method. Make sure the iron is hot before you clean it with the polish. Use an acetone nail polish remover to soak a cotton ball. The cotton ball should be quickly dabbed onto the hot surface while wearing oven mittens. Despite its fast evaporation rate, acetone nail polish remover does a great job of removing gunk! With a cloth and water, wipe the surface once you're done.
Kitchen sponges and scrubbers
You can use a non-scratch sponge or scrubber to scrub the iron's surface with soap and water. Let it dry completely before using the iron, after wiping it with a towel and letting it dry thoroughly before using it.
White vinegar
Put some distilled white vinegar on a towel and dampen it. Next, remove any gunk from the iron's soleplate by wiping it. Sometimes, the cool iron soleplate can be placed on a clean towel soaked in vinegar, but the residue may remain in others. Afterwards, wipe it dry after soaking it for 15-30 minutes.
Vinegar and baking soda
Mix vinegar and baking soda in a bowl and soak a towel in this solution. Then, in the same way, you would iron the towel, place it flat on a surface, and use a hot iron on it while it is turned off.
Dish detergent
One of the easiest ways to clean a flat iron is to add a few drops of liquid dish detergent to some water and then dip a soft rag in the solution to clean the iron's soleplate.
Salt
Take a sheet of paper and sprinkle generously with salt. To remove stains and gunk on that sheet of paper, run a hot iron over it. To cool the iron, run it a few times before unplugging it. Dry and soften a cloth and wipe away the salt once the iron has cooled.
Toothpaste
The iron's soleplate can be cleaned by rubbing some white toothpaste on it. After that, wipe it clean with a damp cloth. It is essential to let the iron dry entirely before using it.
Dryer sheets
Apply a few dryer sheets to the soleplates while the iron's heat is on low. Remove the gunk by rubbing it until it is removed. You can use a damp cotton swab to clean steam holes (steam vents). Mix water and liquid detergent in a cotton swab. Once the steam holes have been cleaned, insert a damp cotton swab and scrub them.
Removing plastic
When ironing a dress shirt, you might end up with part of the button stuck to the iron.
Cool your iron by unplugging it.
Place the soleplate in a metal bowl and fill it with ice cubes to harden the plastic.
Use a plastic knife instead of a metal one to scrape off the plastic when it has hardened.
Use a damp cloth to clean the surface.
Cleaning steam iron
Regularly cleaning the vents and water reservoir of a steam iron is essential since the vents can get clogged with tap water.
On top of a cool iron, you can place your ironing board on an old towel. Mix half a cup of distilled white vinegar and water to clean the steam vents. Mix the ingredients and pour them into the iron. Use a cotton swab dipped in vinegar to clean the ducts. Press and hold the steam button for about five minutes when the steam is at its highest. Repeat half a dozen times. If you have poured out the remaining vinegar-water mixture after turning off, unplugging, and replugging the iron, ensure it is discarded.
Things to remember
Although paper clips and other hard items might appear like the perfect way to clean an iron, don't do so! In addition, you may find ways to get rid of your flat iron's scratches as a side benefit of your curiosity about how to clean a flat iron. Unfortunately, this will result in unwanted blemishes on your iron's soleplates and steam holes.
Unless your iron is irreparably clogged or stained, you must throw it away. However, you can't just throw it in your garbage can. It is essential to follow some legal rules when disposing of electronics.
Keeping your iron clean
You can prevent black gunk and brown stains from appearing on your soleplate by following these tips:
Learn how to iron a garment by reading the care label. The laundry symbols indicate the heat the garment can handle, so you can avoid damaging your clothing and iron.
Make sure you use distilled water to clean steam vents and soleplates. If you have hard water, it can cause spots on the soleplate and clog steam vents.
The iron soleplate will pick up any residue if you place a clean press cloth or thin towel between it and the item you're ironing.
When you're finished steaming or ironing your clothes, wipe down your iron with a damp microfiber cloth once it's cool. Your laundry isn't finished when you've finished steaming or ironing.
Conclusion
Cleaning appliances is not something we often think of as a chore. However, we need to keep clean everything in our lives, including iron. Following these tips will improve not only your appliance's quality but also the quality of your clothes. Of course, if you find yourself in a challenging situation, do not hesitate to ask for help from certified cleaners.
Benefits of a Moving Company

Moving can be an exciting yet daunting task, and if you've ever relocated to a new home or office, you know that it involves more than just packing your belongings into boxes. It's a process that requires careful planning, organization, and physical effort. This is... The post Benefits of a Moving Company appeared first on […]