Source: https://www.pexels.com/photo/afternoon-architecture-chairs-contemporary-271815
The beauty and serenity of the outdoors provide an earthly sense that cannot be understated. Modern contemporary outdoor furniture can help you get needed comfort, aesthetics, and a welcoming feel for your outdoor space. Different types and brands of outdoor furniture are available.
If you are looking to revamp your outdoor space, this article provides some vital tips that will guide you to choose only the right furniture. You will also get some ideas on the next piece to add to your patio.
7 Tips to Consider When Choosing Modern Outdoor Furniture
When it comes to furnishing your backyard, patio, or other outdoor space, it can be tricky to find the perfect set of modern contemporary outdoor furniture that is stylish and functional. With so many options available on the market today, how can you make sure you're making the best purchase for your home? Here are a few tips:
Consider Space
The type of furniture you need depends on how much space you have to work with. More miniature furniture will be perfect for a smaller space. A large dining table will only look right in a big backyard with neon lighting.
Alternatively, you may want to consider the purpose of the outdoor area before choosing a set. Is it for dining, lounging, or entertaining? Once you know what you'll be using the space for, it will be easier to narrow down your options.
Think About Your Color Preferences
Consider your color preferences. Are you drawn to bright, bold colors or prefer neutral tones? Muted and Pastel colors are better in bright and sunny spaces. They are resistant to dirt. Choose colors that match and complement the environment and surroundings.
Prioritize Maintenance
Prioritizing low-maintenance and easy-to-clean materials is the way to go when choosing outdoor furniture. You also want something that will last longer and, at the same time, add more character to your space. Thus, you should strike a balance between the cost of maintenance and aesthetics.
If you are getting sofas, you may want to choose options made from waterproof materials. When using metals, consider their resistance to rust. Aluminum and stainless steel would be great options. Rattan has few maintenance requirements compared to wood, and plastics are excellent options for your outdoor furniture.
Sustainability
Supporting the environment is essential. Choose eco-friendly and sustainably sourced materials. Some top brands for sustainable furniture include Crate and Barrel, Yard Bird, and Loll Designs.
Consider Your Lifestyle
Choose furniture that suits your style. Modern outdoor furniture comes in various shapes, colors, and material choices. Modular designs can give your outdoor space a new look without getting new furniture and weather equivalent to the weather offered by your Honeywell thermostat.
Weight
If your patio or garden space sorts a lot of purposes and you have to move things around more often, weight is a vital factor you may want to consider. Heavy furniture would be difficult to move around. Those tethered to the ground are even worse to remove and move to a different space in your backyard. If you go too light, they could also easily be blown away by strong winds.
Go for Durability
The hassle of buying new furniture can be tedious. Having to buy a new one every time due to breakage will be an arduous task. It's better to purchase durable materials that will last longer, usually at higher costs in locations with hailstones or dust that can break or scratch glass. A glass dining table should be avoided or placed under a protective shade.
Seven Contemporary Furniture Ideas for Outdoor Space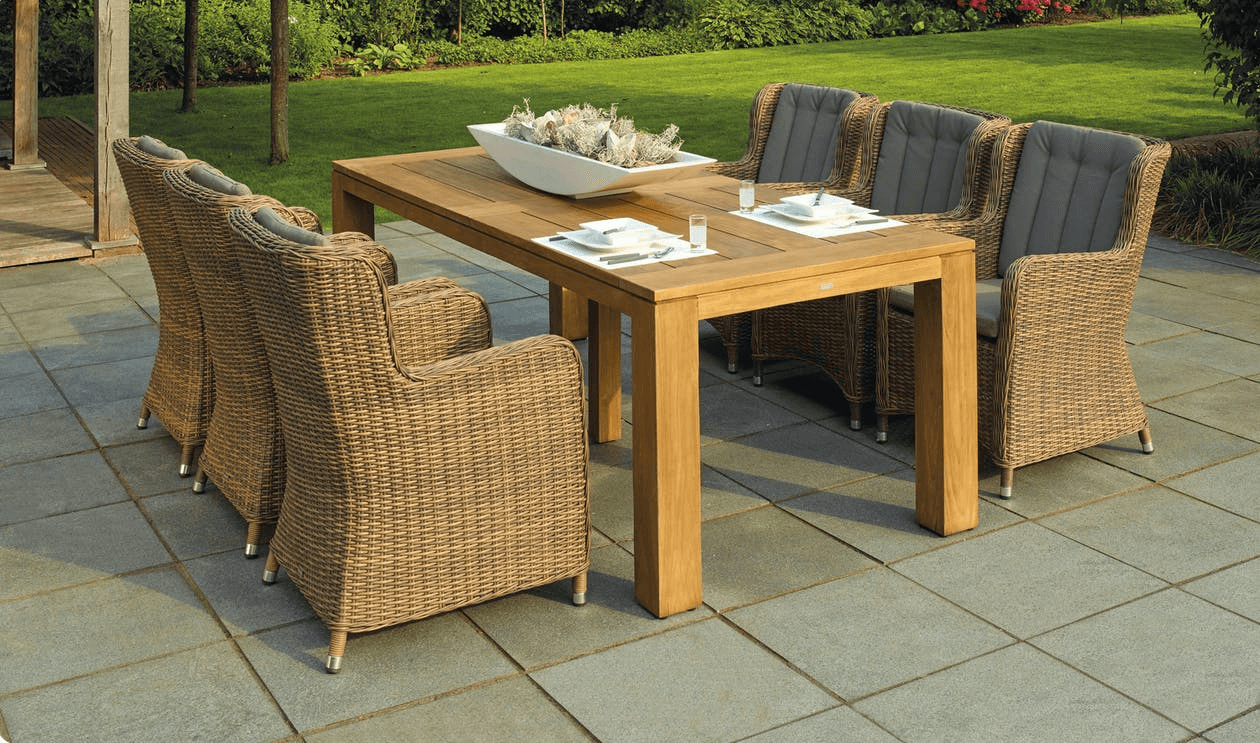 Link: https://www.pexels.com/photo/white-plates-on-table-238377/
Alt-text: An outdoor dining set with six chairs around a wooden table
Caption: For a moist climate, choosing furniture made from a weather-resistant material, such as aluminum or plastic, is crucial.
Summertime is the perfect opportunity to take your living space outdoors. While a few pieces of comfortable furniture can make all the difference, it's also essential to think about what you're going to put on the ground. Here are seven ideas for contemporary outdoor furniture that will elevate your space and keep you comfortable all season long.
Sun Loungers
For those sun lovers, sun loungers are a must-have on your patio. They sit just right at home by the pool, as an accent piece, or by the garden. You can also place them in pairs by a water feature, ornamental plants, or shade for the ultimate zen experience. At night, they are perfect for watching the night sky.
2. Dining Set
A large teak table paired with stylish seating is a must-have in a big backyard for your fine and alfresco dining needs. Teak is naturally well suited for outdoor use. It requires little maintenance, an excellent choice for the weather all year round. It fades over time, but you can restore its shine and warmth with little effort.
More so, you could go for an industrial look with sharper edges or a round table. Rattan dining features will also provide that modern outdoor look and feel. Alternatively, you can opt for a glass dining table with fitting dining chairs.
3. Sofas
Sofas are versatile and are a must-have in every outdoor environment. You can easily fit small sofas unto a deck or in a small corner space. More oversized sofas can stay by a fire pit, garden, or pool. Outdoor sofas also come in various colors and are modular, which means you can rearrange them into different shapes.
4. Poufs and Bean Bags
You will be surprised how far you can stretch an outdoor pouf and bean bag for a perfect and chilled outdoor space. They are also excellent for filling empty and liminal spaces in your garden. They are easy to move around and maintain and are safe for children.
5. Chairs and Coffee Tables
Setting armchairs by the water feature, on a deck, under a shade, or by your ornamental plants gives an excellent view and helps you connect to your natural surroundings. They are great for taking your morning coffee and the view, reading a book, or lounging on a lazy Sunday.
You can create a chic space with chairs and tables on a modern patterned pavement, cushions, plant pots, and cozy lighting. They can be wood, rattan, or even adequately finished metals that will not look out of place.
6. Bistro Sets
Modern bistro sets are perfect in urban backyards and the countryside. They provide a cozy feel and are easy to move around. They are perfect for brunch and lunch with friends.
Parasols
These are much more wallet-friendly than permanent structures that provide shade. They are also customizable. Parasols offer both aesthetics and protection from the elements, not only on hot summer days but on cold and drizzly days.
Final Words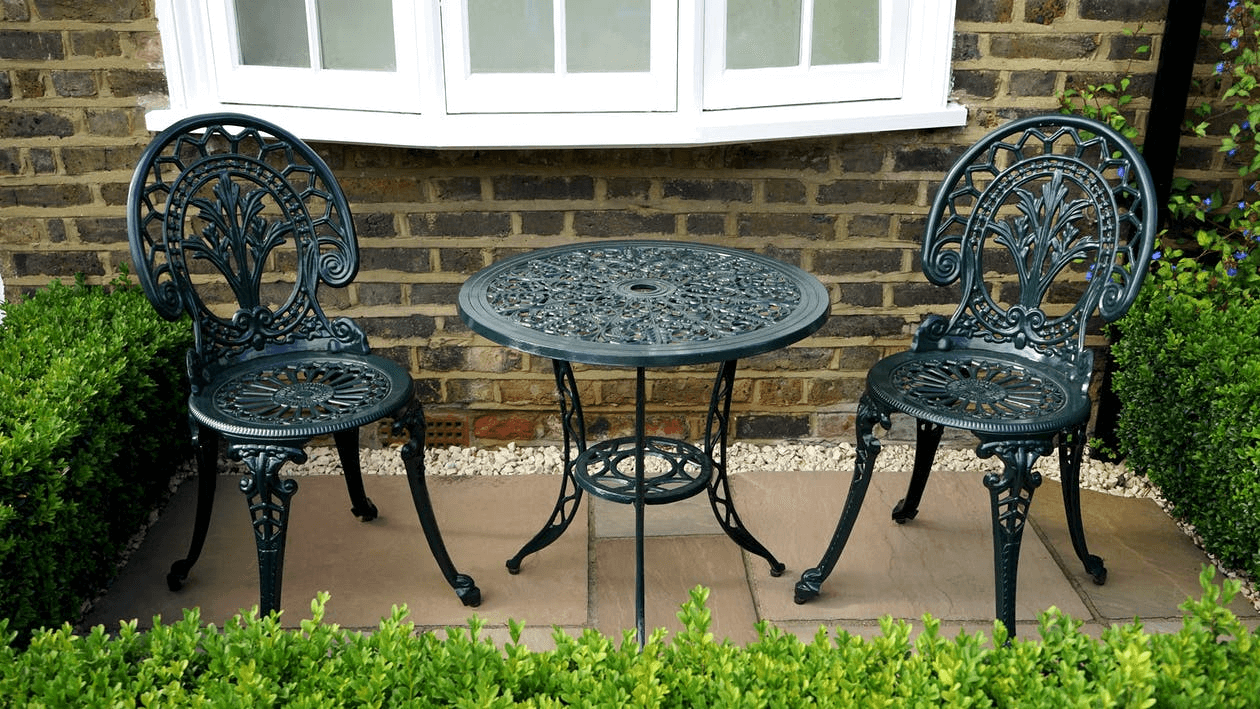 Source: https://www.pexels.com/photo/black-steel-table-with-chairs-139109/
Research proves a connection between the outdoor lifestyle and maintaining better mental and psychological health. Getting some modern contemporary furniture provides the comfort you need while also giving excellent aesthetics for your patio or garden space. Whatever your preferences are, from sleek and straightforward to whimsical and fun, there is something for everyone. If you are looking to update your outdoor living area, check out this article for tips and ideas when choosing a piece of furniture
The Energy-Efficiency Advantages of Vinyl Window Replacement

Windows are more than just portals to the outside world; they play a significant role in determining the comfort and energy efficiency of your home. If you're looking to improve your home's energy efficiency, consider the advantages of vinyl window replacement. In this article, we'll... The post The Energy-Efficiency Advantages of Vinyl Window Replacement appeared […]