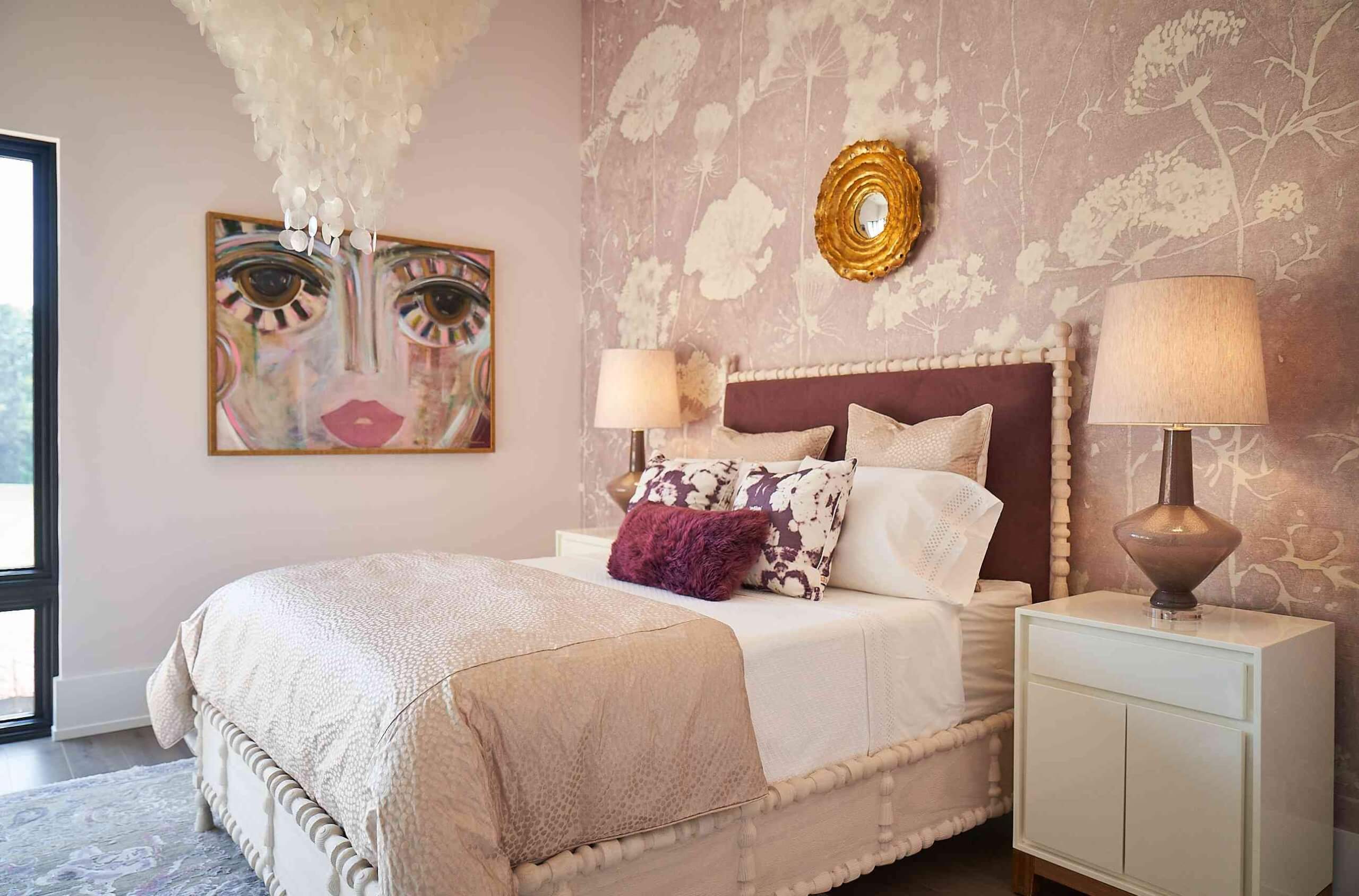 A bedside table is, of course, one of the most helpful objects to have when it comes to bedroom decor. A nice bedside table should suit your lifestyle by offering extra storage or a place for your reading light if necessary.
But this handy nightstand is not simply for storing your sleep necessities. A lovely design may make a space appear more put together and improve its overall attractiveness. It also serves as a platform for a fashionable lamp and whatever gorgeous décor you wish to display.
If you are looking for aesthetic bedside table ideas or simply practical advice on choosing functional furniture, you are sure to find something in our guide below.
Choose a Size
The first step in selecting a bedside table design is determining the proper size table to place next to your bed. Make sure the table surface is around the same height as your mattress and has enough breadth to fit the objects you intend to set on top of it.
Height
Measure the height of your mattress to prepare for the purchase of a bedside table. The height of the bedside table should correspond to it; if you select a bedside table that is too short or too tall, it will seem uneven next to the bed and make getting objects from the table more difficult.
Because the typical mattress is 64cm in height, a conventional nightstand is 58cm to 71cm in height. A 58cm small/low type is ideal if you have a low mattress or bed frame. Do you have a higher bed frame or mattress? To match the height of your bed, choose a tall nightstand that sits at 76cm.
Width
The width of your bedside table should be determined by the amount of surface area you want, as well as your own design choices. How do you decorate a tiny bedroom? Use a small table with a width of less than 54cm to save space.
If you intend to place personal objects or décor on the bedside table, a standard (54cm – 74cm) or broad width (above 74cm) is ideal. A thin table works well in a modern setting, but a normal or broader bedside table complements a cozier traditional or rustic setting.
Designs for Bedside Tables
After determining the appropriate size, it is critical to select a bedside table style that compliments your room and meets your storage requirements. Consider adding amenities like felt-lined drawers or built-in outlets to your system.
Wood
There is a reason why wood is the most preferred material for bedside tables. There are several tones to pick from, each of which adds a rich color and texture to your space. Wood also complements any aesthetic, so you are guaranteed to discover a look that works for you.
A mid-toned oak or rich mahogany complements a conventional bedroom, whilst a blonde wood or teak works well in a contemporary or country-style setting. A distressed finish can also lend a vintage-inspired atmosphere.
Metal
Metal bedside table sets are perfect for an industrial or modern look. These bedside tables are often simple in design, with sharper angles and cooler color selections. Combine metal bedside tables with different-colored handles for a glam or eclectic aesthetic, or leave it monochrome for a sleek, modern vibe.
For a transitional style, choose a combination of wood and metal. Consider a bedside table with a wooden body and metal legs.
Storage
Discover all of the storage options for your bedside table. These elements are intended to provide you with the storage space and functionality that you require in your bedroom. These storage elements, ranging from soft-close drawers to open shelving, offer your bedside table a distinct look.
Drawers
Bedside tables with drawers provide plenty of storage for organizing any bedtime items while keeping the tabletop clutter-free.
The number of drawers and what you want to put in them are two of the most significant factors to consider when selecting a bedside table design. Smaller goods, such as chargers, reading glasses, and medications, fit wonderfully in a shallow top drawer, while bigger items, such as books or pajamas, work well in deeper drawers below.
A bedside table's soft-close function uses a spring-based technology to gently pull the drawer closed. These features maintain your bedside table in good condition by preventing undesired loud noises.
Felt-lined drawers prevent dust from gathering at the bottom of your drawers. This liner can help protect the wood or metal nightstand drawers from being scratched or marked by metal or sharper things such as jewelry or watches.
Shelving
Bedside tables with open storage provide additional room for decorating or storing things. This form of bedside table storage, with one or more shelves, is adaptable and simple to decorate. The open shelves are ideal for displaying a stack of books or storing small items in a beautiful basket.
Bedside Table Designs
The elegance of your bedside table is just as important as its size or storage capacity. Continue reading for more fashion inspiration.
Traditional
A classic bedside table is a simple way to add to the transitional design of your home. Transitional style meets at the junction of two worlds to create a distinctive aesthetic by combining current and traditional shapes. Finish with delicate framed artwork and a few decorative books to add a curated touch to your bedside table.
Modern
Choose a bedside table that complements the clean lines and streamlined forms prevalent throughout the area for modern-style bedrooms. The clean design and minimal hardware lend a contemporary impression to this nightstand, while the natural wood finish adds an organic aspect to the bedroom.
Rustic chic
Tree stump stools are a nightstand style that is becoming increasingly fashionable in bedrooms. If you don't want to buy something new, this is a simple and cost-effective approach to repurposing tree stumps. It will give your area a natural and rustic appeal while also adding charm.
Conclusion
As we all know, a good night's sleep is essential to our health and well-being, and the bedroom serves as a sanctuary into which we can withdraw for a moment of calm, so it makes sense to design a space that is genuinely yours, especially considering how much time we spend in it.
While you should always build your bedroom design around your bed, as it is the largest item in any bedroom, the nightstand is a vital accent that you need to consider as a central part of your aesthetics.
Benefits of a Moving Company

Moving can be an exciting yet daunting task, and if you've ever relocated to a new home or office, you know that it involves more than just packing your belongings into boxes. It's a process that requires careful planning, organization, and physical effort. This is... The post Benefits of a Moving Company appeared first on […]