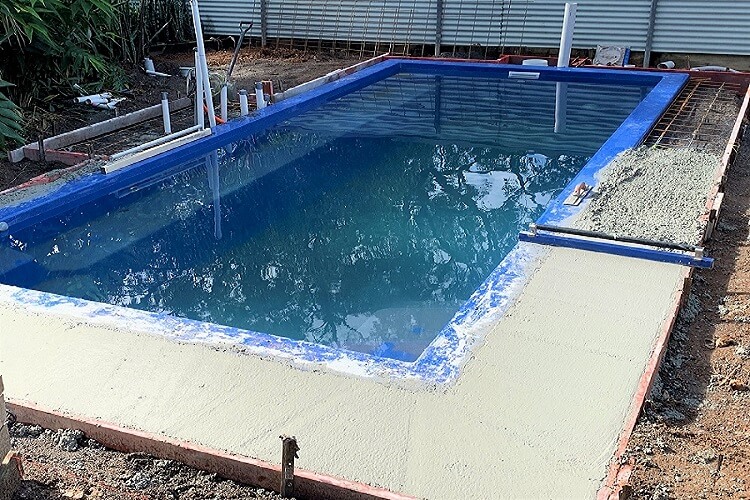 If you are about to embark on a pool-building journey or you are considering it, you likely have some questions. It's important to have all your questions answered before the construction process commences and for that reason, we've compiled some of the most common questions we get asked about our fibreglass pool installations.
How soon can my pool be built?
When it comes to the wait time to have your fibreglass pool installed, you could be waiting several months depending on your local contractor's availability. Fibreglass pools are often installed far more quickly than concrete pools as the shell is preselected and premade before arriving at your home to be installed. This cuts down on the installation time drastically. Typically, our fibreglass pools can be installed in as a little as few weeks however, several variables can affect how long it takes to have your new pool installed. Factors such as the weather, how much work needs to be done to prepare the site before installing your pool, the time it takes to get permit approvals, and the complexity of the pool design you choose can all influence the duration of your pool installation.
There is limited access at my property, can I still have a pool?
The short answer is yes. We are well-versed in installing swimming pools in a variety of challenging settings. Whether that's limited access or challenging terrain, know that our team are equipped with the necessary skills and equipment to install pools practically anywhere.
To get your pool to its location, your pool-building team might use more than one kind of transportation. All of this will be outlined in your quote. Just because your property has limited access or the site is challenging, doesn't mean you have to miss out on owning a swimming pool. Our team are confident we can come up with an effective solution to the proposed problem.
What if my backyard isn't very big, is a pool still an option for me?
The size of backyards is rapidly decreasing making this a common concern. If you have a small to modest-sized backyard, you may be wondering if having a swimming pool is even an option for you. Rest assured that at Barrier Reef Pools Sydney South, we have swimming pools for the smallest of backyards. However, if a swimming pool won't fit, one of our swim or plunge spas likely will. When room in your backyard is lacking, know that we have an array of swimming pool options that can fit in the smallest or narrowest of spots.
Does my new pool need to have a pool fence?
Put simply, yes. All new pools must have a compliant pool fence surrounding the pool and prohibiting access from the home. Pool fencing is highly effective at preventing drownings and this is the primary reason that they are enforced.
Is it better to have extras such as lighting, spa jets etc installed at the same time as the pool or after?
If there are extras you'd like to integrate into your swimming pool design such as lighting, heating or spa jets, it's better if these are fitted when the pool is installed. It's much easier for them to be added at this time, and it can save you a considerable amount of money too. The electrical work and plumbing can be included in the construction phase and it saves the labour-intensive process that is often involved when installing these at later date.
Can I install my pool partially above ground or above ground?
Absolutely! Our fibreglass pools are constructed to the absolute highest standards and are of exceptional quality. They can be installed inground, partially above ground and above ground. Sometimes an above-ground installation or one that is partially above-ground is more appropriate for the layout of some backyards. When your Pool Builders Sydney comes out for their on-site quote, they can provide you with advice regarding your selections.
Can you give me a basic rundown of what to expect when installing a fibreglass pool?
The process of installing a fibreglass pool goes as follows:
An onsite quote will be done
Obtaining a quote is the first step in purchasing a pool. Your pool builder will visit your house at a convenient time to assess the site's condition, yard access, and your pool needs.
Choosing your pool
There are many factors to be considered when deciding on the right pool for you, some of which are:
The shape
The colour
Extra inclusions (if any)
Landscaping
Tiling and pool fencing
The size
Your pool builder will provide helpful advice regarding which design and type of pool is most appropriate for your house and swimming requirements if you aren't sure what you want.
Council Approvals
The documentation needed to install your swimming pool will be organised by your pool builder, who will also file it on your behalf. When the installation day comes along, they will have all the necessary council permits approved and ready to go.
Installation
The moment has come to start installing your new pool. To mimic the shape of the pool, a template is first laid out where your pool will be placed. When everything is precisely where it has to be, the dimensions are squared up and confirmed. Next, the earth where the pool will go will be dug up using specialised machinery. This area will be precisely measured for depth and size, as well as the locations of the pool fencing and landscaping. For the pool to be set on the ground, base material is laid and levelled first.
Your pool will be lifted into the desired location by the crane. The crane is typically used to hoist the pool over the house, into the backyard, and then into place. Before the crane departs, the pool is measured to make sure it is level. The machinery will be removed and the pool's electrical and plumbing work can commence.
By using a technique known as pencil compaction, the ground surrounding the pool is compacted. The concrete will be poured to make way for your tile choice. Your pool's water is balanced, and your outside flooring will be installed. Additionally, your pool fencing and pool landscaping will be completed after a careful quality check. Every aspect of your new pool is examined before it's all yours to swim in and enjoy!
Homeowners Guide to Black Mold Removal in Toronto

Learning that you may need black mold removal can be outright scary for many homeowners. Black mold is also known as toxic mold, which has been portrayed in the media as a threat to people, animals, and children. The truth about black mold is a... The post Homeowners Guide to Black Mold Removal in Toronto […]