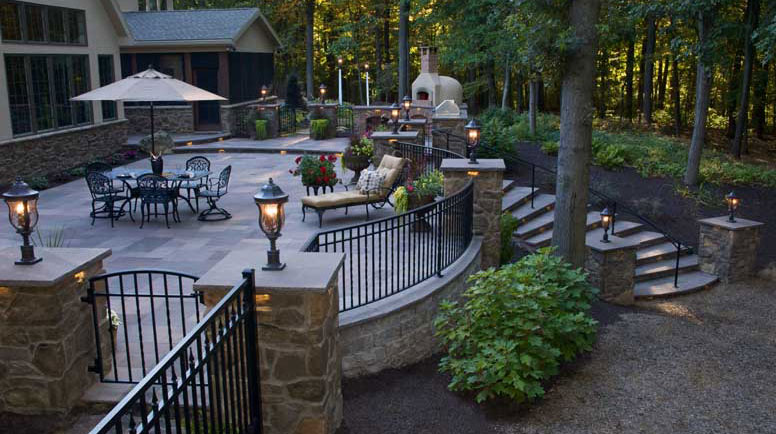 If you have a spacious backyard that seems a little empty, that's most likely because it needs a little something to spice up your outdoor lifestyle. It has been proven that spending enough time outdoors can have its mental and physical benefits on your health and wellness. So, to incentivize you and your household to go outside, there are certain installations you can make that will allow you to enjoy your landscape in comfort, and don't forget to keep a watch on it with nest cameras.
One of these outdoor living spaces is the deck and there are plenty of reasons why your backyard could use one. Any of these on their own are reason enough to build or purchase a backyard deck but keep in mind, that once you have an outdoor living area, all of these possibilities are in your hands. The first and most important step is to make sure that you hire a competent deck builder. If you live around Chicago, you should definitely check out Hxhome, one of the most reliable Chicago deck builders.
Cookouts
What's better than eating your favorite food with great company? Doing it outside, in the fresh air, where you don't have to worry about being cramped inside a tiny dining room. But those foldable picnic tables and chairs don't make for the most comfortable dining experience. They are too unbalanced and wobble all over the place, you won't be able to enjoy your movie either.
But if you have an attached or detached deck in your backyard, you can easily place a perfectly functioning dining room table and chairs that won't wobble, are solid and will give you the most perfect outdoor dining experience one could ask for. This is perfect for any celebration, cookout, picnic, or just about anything else you had in mind for your household or your guests. Just make sure you don't have any unwanted guests hiding under the deck, waiting for the perfect chance to get their hands on an unguarded chicken leg.
Outdoor Relaxation Area
It's the simplest, most uncomplicated things in life that make us appreciate everything that we have. There is nothing more simple than setting up a sofa set on your deck, with a small coffee table or cabinet, getting your favorite beverage, a good book, and enjoying yourself for hours on end. It's a simple comfort that you can enjoy outdoors for the added health benefits and natural light.
The deck makes for an amazing outdoor relaxation area, as the flooring is solid enough to support a heavy sofa set as well as something like a coffee table. Bring your guests over there for a cup of coffee, enjoy your mornings by eating breakfast outside, or even huddle around in the evenings as you and your household enjoy each other's company in the comfortable embrace of the outdoors.
Yoga and Exercise
Exercising indoors can be a pain. First, you have to move furniture around. Then make sure that you don't have anything fragile in the vicinity so you don't accidentally knock it over and break it. Then there's the whole issue of bothering the rest of the household as your exercise is taking up too much space or vice versa in that the household gets in your way. Regardless of what problems you have indoors, the outdoors is certainly a much better option for your yoga or exercise routine.
The main benefit of exercising outdoors is the added benefit of natural light and clean air, neither of which are as abundant indoors. But you need even flooring under your feet for your yoga or exercise, which is not available outside, where the ground is uneven. Fortunately, the deck is the perfect place to exercise outdoors, without having to worry about doing it on uneven ground or cold, hard asphalt. This way you can exercise outside, without getting hurt, dirtying up your clothes, and at the same time, enjoy all the amenities that come with being outside.
Entertainment
Yard games are a lot of fun, but what isn't fun is all that dirt, stones, and who knows what else that might trip you, causing you to hurt yourself. This isn't to say that your backyard is a mess or is harsh, but it's not always convenient for games and other pastimes. Fortunately, the deck is the perfect middle ground between the indoors and the outdoors. While you're still outside in the fresh air, you do have flooring under your feet, making it safer for kids to play games without having to go inside.
Set up table tennis, a little fort for your kids, or simply bring out their favorite toys and let them enjoy themselves in the comfort of their backyard deck. On the other hand, if you're looking for a little fun for the whole family, bring out a few board games and enjoy competing against one another. While all of this is possible on soil, it is nowhere near as comfortable or as convenient as the deck. So, if you happen to have a deck or are thinking about building one in your backyard, you can potentially open up limitless entertainment opportunities.
The Energy-Efficiency Advantages of Vinyl Window Replacement

Windows are more than just portals to the outside world; they play a significant role in determining the comfort and energy efficiency of your home. If you're looking to improve your home's energy efficiency, consider the advantages of vinyl window replacement. In this article, we'll... The post The Energy-Efficiency Advantages of Vinyl Window Replacement appeared […]