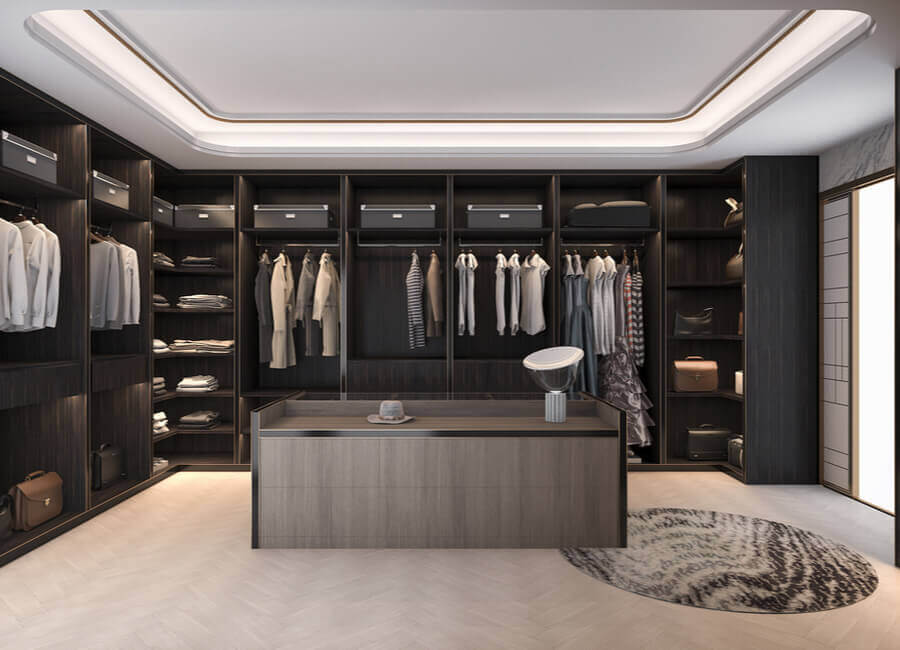 Modern life leads us to increasingly active rhythms, where organisation and maximum use of space become vital factors.
Bespoke walk-in wardrobes are rapidly gaining popularity. The demand for such corners is due not only to prestige and aristocracy but also to convenience, expressed in a large area for storing things. All wardrobe elements are in one place; mirrored walls or doors serve to choose the appropriate outfit—many shelves for accessories and saturated lighting – the main characteristics of a room for storing things. Custom-made wardrobes will help free up space from cabinets and dilute the house's interior with new, comfortable, functional solutions.
Features and options of bespoke walk-in wardrobes
Proper use of space and zoning of the room allows you to compactly place clothes, shoes, details, and objects that need to be hidden. A bespoke walk-in wardrobe can be made in the following variations:
radial;
angular;
built in.
In addition to differences in design, the models differ in design style. A bespoke walk-in wardrobe can be made in such styles as:
classic;
modern;
hi-tech.
The bespoke walk-in wardrobe from the manufacturer can be equipped with various accessories, niches, shelves, and cabinets for storing shoes and clothes.
They can be disbanded by seasons or by belonging to family members. Each part of the room will be a place to store certain wardrobe items, among which it will be easy to choose the best outfit. And the presence of a single closed space will allow you to fit all the things that are not needed daily in one place.
Advantages of the bespoke walk-in wardrobe
When arranging a house, owners usually choose to buy several classic wardrobes or a bespoke walk-in wardrobe. A separate bespoke walk-in wardrobe has several advantages:
allows you to fit much more clothes and shoes;
zones the area so each thing lies in its place, and there is no need to spend time searching for it;
promotes more careful storage of things;
frees the space of living rooms from bulky furniture;
allows you to place additional items such as an ironing board or a dressing table.
Of course, only some houses or apartments have the opportunity to set aside a separate room for storing clothes. If you do not have much space, you can allocate a bespoke walk-in wardrobe at the end of any room. You can order functional furniture for furnishing a bespoke walk-in wardrobe in a small space. A wide range of compact systems, including many drawers, hangers, and shelves, allow you to store things in a limited area as conveniently as possible.
Useful tips for choosing a bespoke walk-in wardrobe
Before buying can be equipped with various accessories, you need to define the purpose of use clearly. To begin with, you need to consider the size of the room. The next step is determining how many people will use the wardrobe and how many shelves and drawers are required. The wardrobe system can have different lengths and depths of shelves. Also, wardrobe systems can be built-in or open:
Built-in. Such a design is often installed in a niche or occupies an entire wall, which allows you to use the living space wisely.
Open. This option does not include a door. It looks light and airy. But so the room feels clear, you should arrange everything in the wardrobe neatly.
Completing bespoke walk-in wardrobe systems includes drawers, shelves, baskets, and small compartments for small accessories. It will be appropriate to place a mirror near the wardrobe.
The choice of materials is diverse and can give inspiration for creating a unique bespoke walk-in wardrobe:
wood;
glass;
metal;
fabric.
Each material has its characteristics that can emphasise your style. It is essential to consider that the choice of materials also affects the service life of the system and its ease of use.
Regardless of the size and shape of the room, designers can optimise a bespoke walk-in wardrobe for you. It can become a harmonious addition to even the most complex architectural solutions. Whether a large open area or a small built-in alcove, a custom-made wardrobe system will help you use the space efficiently and comfortably.
A bespoke walk-in wardrobe doesn't just store your clothes and accessories. They imprint your style and personality, carefully considered at every stage of their creation. Individuality, functionality, and harmony make these systems indispensable parts of modern life.
Bespoke walk-in wardrobe: Functionality and aesthetics in one
Bespoke walk-in wardrobes are ideal for those seeking to combine practicality and beauty. Convenient drawers, ergonomic hangers, and intelligently located built-in shelves help rationally organise space, saving time searching for necessary things. The choice of materials and design is up to you – it can be a stunning art object or an invisible integrated element that will emphasise your interior. As a result, a harmonious combination of functionality and aesthetics will help create a space where all your things will find their place, and the design will express your uniqueness.
The Energy-Efficiency Advantages of Vinyl Window Replacement

Windows are more than just portals to the outside world; they play a significant role in determining the comfort and energy efficiency of your home. If you're looking to improve your home's energy efficiency, consider the advantages of vinyl window replacement. In this article, we'll... The post The Energy-Efficiency Advantages of Vinyl Window Replacement appeared […]