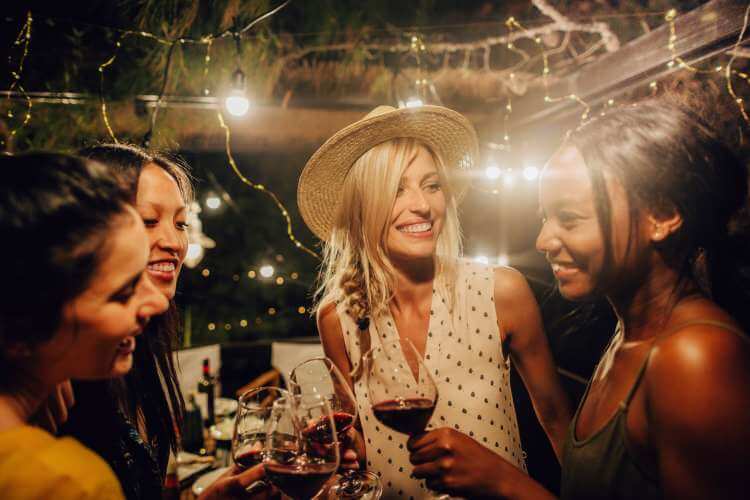 One of the best parts about owning a home is working on interior design. When you fill your home with furniture and decor, not to mention the right lighting and sound systems, it's easy to want to entertain often. From birthday parties, garden parties, and even a girl's night in. Whether young or young at heart, having a night with just your girlfriends to hang out, relax and catch up is sometimes just what we need for our emotional well-being. If you've already got a girl's night coming up or are just starting to plan, some things will make sure it'll be a hit. Keep reading all the essentials and inspiration to ensure you and your ladies have the best night ever.
Relaxing Atmosphere
A typical girl's night in for adults is all about amping up the coziness, putting on your favorite loungewear, and relaxing (with or without wine). Make sure you curate a relaxing atmosphere, with the main space feeling like an oasis. Soft lighting and candles scented in relaxing fragrances are a given. If you don't have a sound system in your house, have a Bluetooth speaker handy to play mood-setting music. Floor pillows are a great way to affordably add extra seating and create an intimate and cozy vibe. No one knows your girl group like you, so make the finishing touches personal and things that you know they'll love.
Accessible Snacks
You'll likely spend most of your girl's night catching up and making new memories together. Food is needed to sustain the party all night, even if you've planned activities like games or dancing. Having accessible snacks already spread out for everyone keeps people's mood and energy up and allows them to enjoy the night longer. Not to mention, if you're serving alcohol at your gathering, food helps people to absorb the alcohol and not get too tipsy. Don't worry about keeping things too sophisticated for your night in; charcuterie boards are an easy go-to, as well as two-bite cupcakes.
Pampering Products
When surveyed, most adult women feel like they're burning the candle at both ends all too often. Help everyone relax and unwind with plenty of products to help them feel luxurious and pampered. From face masks followed by a retinol night cream to giving each other pedicures, there's plenty to choose from regarding how you want to pamper the party. You can also create little goodie bags for the girls to take home the next day filled with all your holy grail cosmetics. There's also no denying it's easy to connect and have great conversations in a mini-spa environment, so this activity is guaranteed to be a great memory for everyone on your guest list.
Fun Flicks
Who sometimes doesn't want to feel like the lead girl in a romantic comedy? Whether your dating life looks like your favorite romance movie or you're single, a perfect girl's night in needs a fun movie for everyone to enjoy together. Even if you're all having so much fun that the movie turns into background noise while you're laughing and talking, it's a good idea to have a movie lined up for everyone to watch. Additionally, towards the end of the night, having a planned activity like a movie for everyone to unwind is a welcome reprieve by most guests.
Dress to Impress
Let your friends know the dress code in their invitation, whether by snail mail or text message. Women work hard, so the perfect girl's night to most will be one spent in loungewear. If you want something more put together, make sure you let that be known when you invite them. Additionally, if you've picked a theme for your party and want everyone to show up in a specific style of dress or color, don't leave these details out.
Hosting a girl's night is a fantastic way to reconnect with your friends and introduce your friends to each other and expand your friend group. If you've never hosted one before, don't be intimidated; the fun and laughs far outweigh any stress of planning and throwing one together. By including the above essentials in your planning, you're sure to knock your girl's party out of the park! Have fun!
Benefits of a Moving Company

Moving can be an exciting yet daunting task, and if you've ever relocated to a new home or office, you know that it involves more than just packing your belongings into boxes. It's a process that requires careful planning, organization, and physical effort. This is... The post Benefits of a Moving Company appeared first on […]