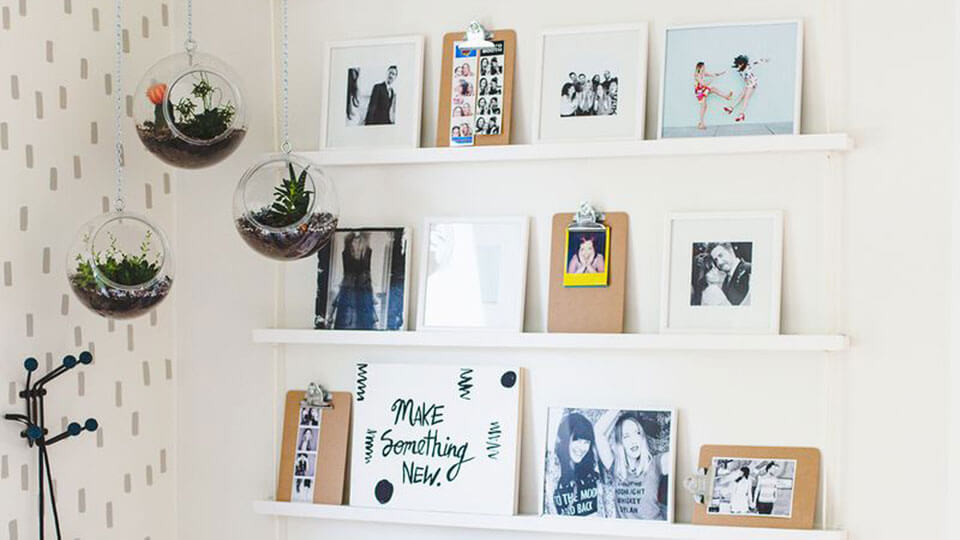 A blank wall can feel like it stretches into eternity when you are deciding how to fill it. In just the same way that creating art requires an understanding of balance and proportion, so too does hanging it. But there are easy and creative ways of ensuring your art is displayed at its most sublime. We have handpicked some of the most stylish, and of course fool proof, ways to guarantee you will enjoy gallery style finesse in your own home.
Understand the space
Whether you have spent an extortionate amount on your painting or sourced an inexpensive canvas print to adorn your wall, if not hung with an understanding of how to create a pleasing arrangement, the impact will be reduced along with teh impact of the aesthetic neon lights.
Make sure the room space and the piece are going to complement one another. A substantially sized piece of art can take over a room in the same way a modest piece can be lost in a larger interior.
Determine what impact you are intending to achieve. One piece of art as the focal point? A gallery wall of canvas pictures dominating a feature wall? A subtle scattering of pictures in places where they can be viewed easily? Answering these questions will help you decide where each piece belongs.
Know your style. The world of art is almost infinite. Understanding what you like and what you appreciate now and in the future is important. Exploring websites, galleries, exhibitions and magazines are the perfect places to start your love affair with art. Try this online quiz to help you match your art style to your personality.
Choose your look
Hanging systems
Art hanging systems are one of the easiest and most fuss-free ways to hang art in your interior spaces. Vertical cables suspend the artwork naturally and without the need to bang any nails into walls. Because the cables are attached to suspenders on the wall, you can determine the height of each piece easily, re-arranging effortlessly, if needed. The gallery rails are secure enough to hold even heavier pieces of art. And it comes with the added bonus that when you fancy a move around, your walls aren't covered in holes.
Gallery of assorted frames
Ideal for thriftier art lovers, the assorted frames can be picked up from markets, car boot sales and bargain-basement shops. Depending on the look you are going for, these old frames can be filled with bright, bold prints and hung in a cluster. Frames can be painted to blend with the wall colours of your home or, of course, to clash.
Gallery walls in odd numbers
This gallery wall concept works in the same way as the assorted gallery wall. Design has a natural tendency to look effective when odd numbers are used, especially groups of three. Employ this method to create a stylish and fresh look in sitting rooms, dining rooms or studies.
Picture ledges
Picture ledges are a sleek and stylish way to organise the art you want to display. For art lovers who can't stop collecting, this is a way to rotate your beloved pieces regularly. You may choose to put up several ledges to accentuate the look. These simple ledges also enable you to complement your art with sculptures, plants and other important display items.
The grid look
If you are looking to brighten up a shady spot in your living space, this style is going to work for you. Displaying a collection of art in a tight grid above a dining table, sofa or sideboard draws the eye instantly to whatever it is you are showcasing. Posters and prints look particularly effective in this instance.
Art is sometimes controversial and will always be entirely subjective. What can be found hanging proudly over the mantelpiece in one home would not make it over the threshold of another. Of course, that is what makes art so exhilarating. Finding a piece that communicates with you, enables you to see and understand something new is a gift from the artist. How that message is relayed to others depends on how well you showcase it. This is your gift to potential viewers.
The Energy-Efficiency Advantages of Vinyl Window Replacement

Windows are more than just portals to the outside world; they play a significant role in determining the comfort and energy efficiency of your home. If you're looking to improve your home's energy efficiency, consider the advantages of vinyl window replacement. In this article, we'll... The post The Energy-Efficiency Advantages of Vinyl Window Replacement appeared […]