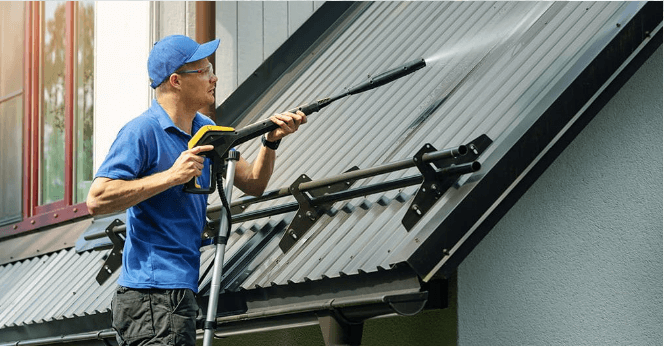 Pressure washing or pressure cleaning when performed by a competent professional is the safest, most effective and far and away the most efficient method used for all small and larger scale exterior cleaning tasks.
Perfectly suited to clean driveways, fencing and retaining walls, timber decking and paved areas, exterior staircases, roof and gutters, eaves and awnings, shade sails, brick cleaning, graffiti removal, solar panel cleaning, building entrances and access pathway cleaning, house and building exterior soft washing, pool paving and tennis court cleaning, and much more.
Traditional cleaning methods where brooms, brushes and chemicals may be used with hose down simply cannot achieve the same level of robust cleaning that is achieved with the use of professional pressure cleaners. Professional pressure cleaning operators use specially designed nozzles, rotary surface cleaners and lances suited for different tasks meaning they are able to adjust their approach to each cleaning task required.
Often homeowners and property owners will require more than one surface to be cleaned, for example; roof and gutter cleaning, soft wash of the building exterior, and driveway cleaning all of which require different equipment and varying pressures to be performed safely and effectively. Engaging a professional pressure cleaner who is able to adjust the output pressure on their machine is best, not all pressure cleaners are capable of adjusting the output pressure, ask them if they can lower the pressure on their machine if you require various tasks to be performed.


Pressure washing and pressure cleaning can be extremely dangerous and hazardous. Some dangers and hazards include having to safely climbing onto roofs and navigate your way around the roof whilst its wet and slippery, having to deal with airborne debris, ensuring the safety of others in and around the vicinity the work is being performed, working on fragile or delicate surfaces, ensuring you do not pollute stormwater whether it's a roof clean or driveway clean (heavy fines apply) to name only a few. Pressure washing and pressure cleaning should only be performed by competent professionals, especially where the risk of any of the above is high.
Before engaging in a professional pressure cleaner, do your research, ask for before and after images of their work, look at their social media accounts, their reviews and don't hesitate to take a look at their website. A proud operator will have all these including a website, a website can tell you a lot about an operator, any operator who has invested in a modern interactive and engaging website is usually a very good at what they do and proud operator at that. Remember also, any professional pressure cleaner would not hesitate to give you references of clients they've worked with in the past, don't be afraid to ask them for references also.
Any individual or company providing pressure washing and pressure cleaning services should know how important the work they perform is. They should also know the difference their work will make to their customers' personal and professional lives so be sure to look for their complete understanding of the issues you're facing, their level of engagement is important as it shows they understand your needs.
It's equally as important to make sure that professional pressure cleaners have relevant insurances, certificates and local council approvals to perform the work intended. As them whether they are performing their work using cold water only, or hot water, ask if they intend to use chemicals and if so, what chemicals and what are the potential affects these chemicals may have on the surfaces being cleaned, pets, gardens beds, lawn and how they intend to ensure these chemicals do not enter nearby stormwater system.
Power Up Your Home: How Electricians Can Transform Your Living Space

The modern home is a complex system of electrical components and devices that provide us with the energy we need to live our lives. However, your home's electrical system is not something you should take for granted. It can not only endanger your safety if... The post Power Up Your Home: How Electricians Can Transform […]