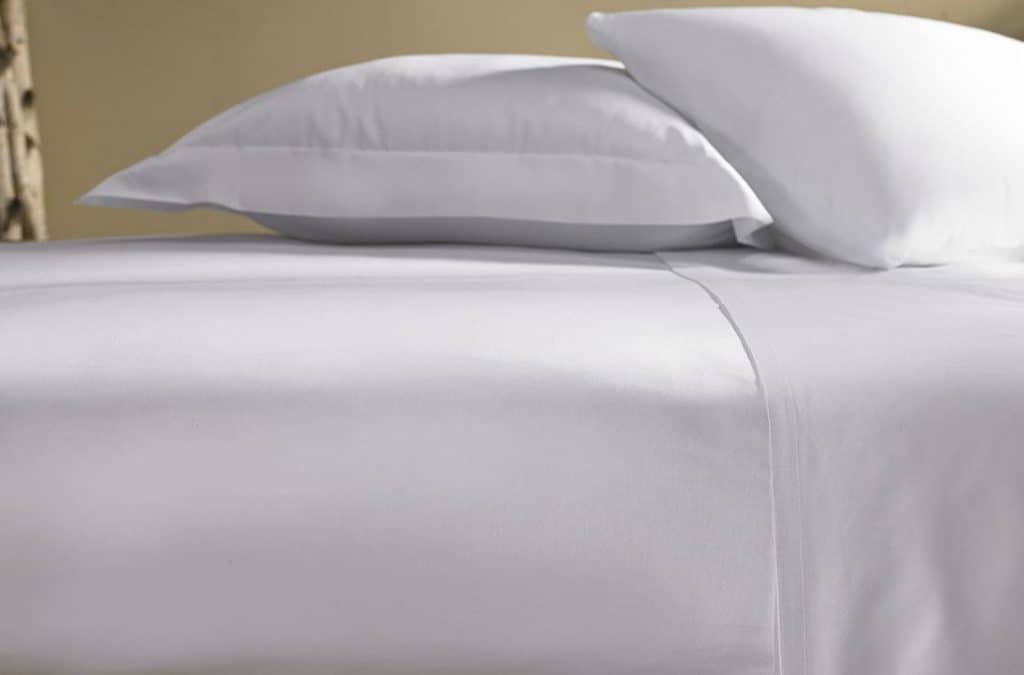 As homeowners or even renters, people spend countless amounts of money to stylize their homes to be the outward reflection of those living there. From the decor we choose, how we upkeep our lawns, and even installing solar panels in the name of sustainability, we make conscious efforts to improve our home's appearance, curb appeal, and value. We also spend money to make our homes the perfect place to relax and unwind at the end of a busy day, specifically our living and bedrooms.
There are countless ways to make your bedroom more comfortable, but one often overlooked area is your bed linens, and you may be surprised to know that what you dress your bed with can affect the quality of sleep you receive. We all know we spend one-third of our lives sleeping, so if you want to invest in bed linens that promote deeper, more restorative sleep, keep reading about different linen types and their benefits.
Cotton
We all know the jingle, "the touch, the feel, the fabric of our lives." Everyone is familiar with cotton, and most of their clothing is made from it. Cotton is also a popular choice for sheets and bedding because of its durability and softening over time. However, not all cotton is created equal – Egyptian cotton is durable and the highest quality you can find. If you go with cotton for its durability, go Egyptian or go home.
Linen
When the weather outside is stifling, you may find yourself reaching for linen tops, pants, and dresses because of their breathability, and it's no different when it comes to getting a good night's sleep during the warmer months. Consider swapping out your winter flannels for beautiful airy linen sheets which are naturally cooling. If you're a "hot sleeper," linen is a great choice for deep sleep year-round; it's also a good option for those with allergies, as linen is a naturally hypoallergenic material.
Eucalyptus
If you're looking for a bedding option that is soft, breathable, and sustainable, eucalyptus sheets are the front runner. We've all heard of bamboo products from bath tissues, paper towels, and even sheets over the last year, but Eucalyptus has come to dethrone bamboo in a big way. Whether you go with Buffy eucalyptus sheets or another brand, do your research and invest in Eucalyptus sheets made from high-quality and dye-free materials. Eucalyptus is not only ridiculously soft, it's breathable, which is great for warm sleepers or summer months, and it's also incredibly durable.
Microfiber
Suppose natural fibers aren't a big deal to you, and you're looking for an affordable bed linen option. In that case, microfiber sheets are a great choice and popular for children's bedding in particular. Microfiber is a tight woven polyester but much softer than conventional polyester. While it's durable, it's not breathable, so most adult sleepers will find it uncomfortable unless the weather outside is quite cold. Again, this is a great bed linen choice for children or people on a budget.
Silk
Synonymous with opulence and indulgence, silk has been renowned as a fine textile for centuries, and sleeping on it is an experience worth having at least once. Silkworms naturally produce silk, and because of this, it comes with a high price tag. Silk sheets are not only cooling, which promotes deep sleep; they are a great addition to bedrooms to add a touch of romance. Silk pillowcases are also fantastic for preventing fine lines and wrinkles and reducing frizz in hair. If you want to get your "beauty rest," then silk is a solid choice.
Satin
If you're looking for the feel of silk bed linens but can't afford to splurge, the synthetic option of satin is a great runner-up. They are a luxurious feeling if you go with the right type of satin – woven satin is smoother, while knit satin has a bit of roughness to it.
When choosing new bed sheets for your bedroom, it's important to consider the position you sleep in if you run hot or cold, and of course, the season. But one thing is for sure, the type of bed linens you choose 100% impact not only how easily you fall asleep but the quality of sleep you get each night, and with sleep being paramount to good health, it's a choice worth researching and investing in.
Benefits of a Moving Company

Moving can be an exciting yet daunting task, and if you've ever relocated to a new home or office, you know that it involves more than just packing your belongings into boxes. It's a process that requires careful planning, organization, and physical effort. This is... The post Benefits of a Moving Company appeared first on […]