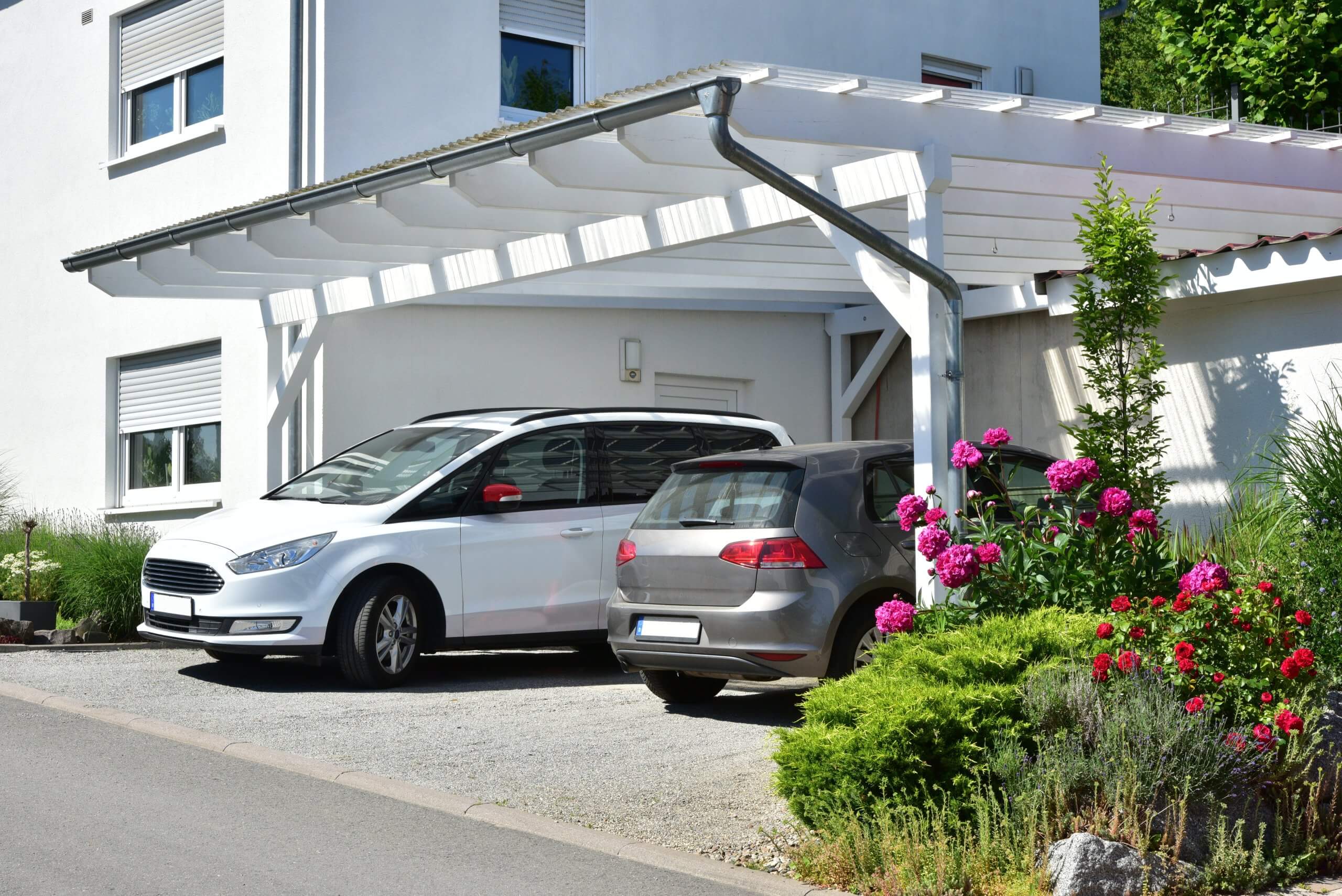 Building a carport is a great way to add value and functionality to your home. This structure can protect your car from the elements and provide storage for other outdoor items, like lawn mowers, bicycles, and patio furniture. But, a carport can also be much more than just a functional space. It can become a unique and inviting part of your home's landscaping.
To help you get started, here are five creative carport ideas to help you make the most of your space:
1. Attached Carport
An attached carport could be your best choice to maximize your space. As the name suggests, this carport idea connects to your home, garage, or another outbuilding, and can be customized to match the style of your home. Since it's attached, you won't have to worry about it taking up too much space in your yard. You can also use the space beneath the carport for other purposes, such as storage, a workshop, or a play area for your kids. On top of that, an attached carport provides easy access to your home, making it convenient for unloading items or bringing in other things from the car.
You can find various materials and kits to build an attached carport from scratch or work with a contractor to have one custom-built. Aluminum, steel, and metal carports, in which companies like Metal Carports specialize, carports, in which companies like Metal Care all excellent options as they're durable and low-maintenance. Just be sure to check with your local building codes to see if there are any restrictions on attached carports in your area.
2. Detached Carport
A detached carport is a great option if you have the space for it and want more freedom with the design. Since it's not attached to your home, you can position it wherever you want in your yard. You can also make it as large or small as you need, depending on how many cars you want to shelter. A detached carport can be a standalone structure or part of a larger garage or shed. It can be a perfect addition to your landscaping and used as a covered patio or outdoor entertainment space.
Wood, vinyl, and metal are all excellent choices for constructing a detached carport. Select a material that'll complement the style of your home and yard. If you want a more permanent structure, opt for wood or metal. If you're looking for something more temporary or easy to install, vinyl might be your best option.
Don't forget the maintenance that comes with each material as well. For instance, metal and vinyl carports are low-maintenance, while wood carports require more upkeep, such as staining or painting.
3. Screened Carport
If you live in an area with lots of insects, a screened carport could be the perfect solution to keep them out of your car. This type of carport typically has walls made of screen material that you can easily remove if you need to access the vehicle. The roof is usually made of metal or another solid material.
Consider a screened carport that doubles as an outdoor living area to make the most of your space. You can add furniture, ceiling fans, and other amenities to make it a comfortable place to relax, dine, or entertain guests. Just be sure to choose furniture and décor pieces that can withstand the elements since a screened carport offers little protection from the sun, wind, and rain.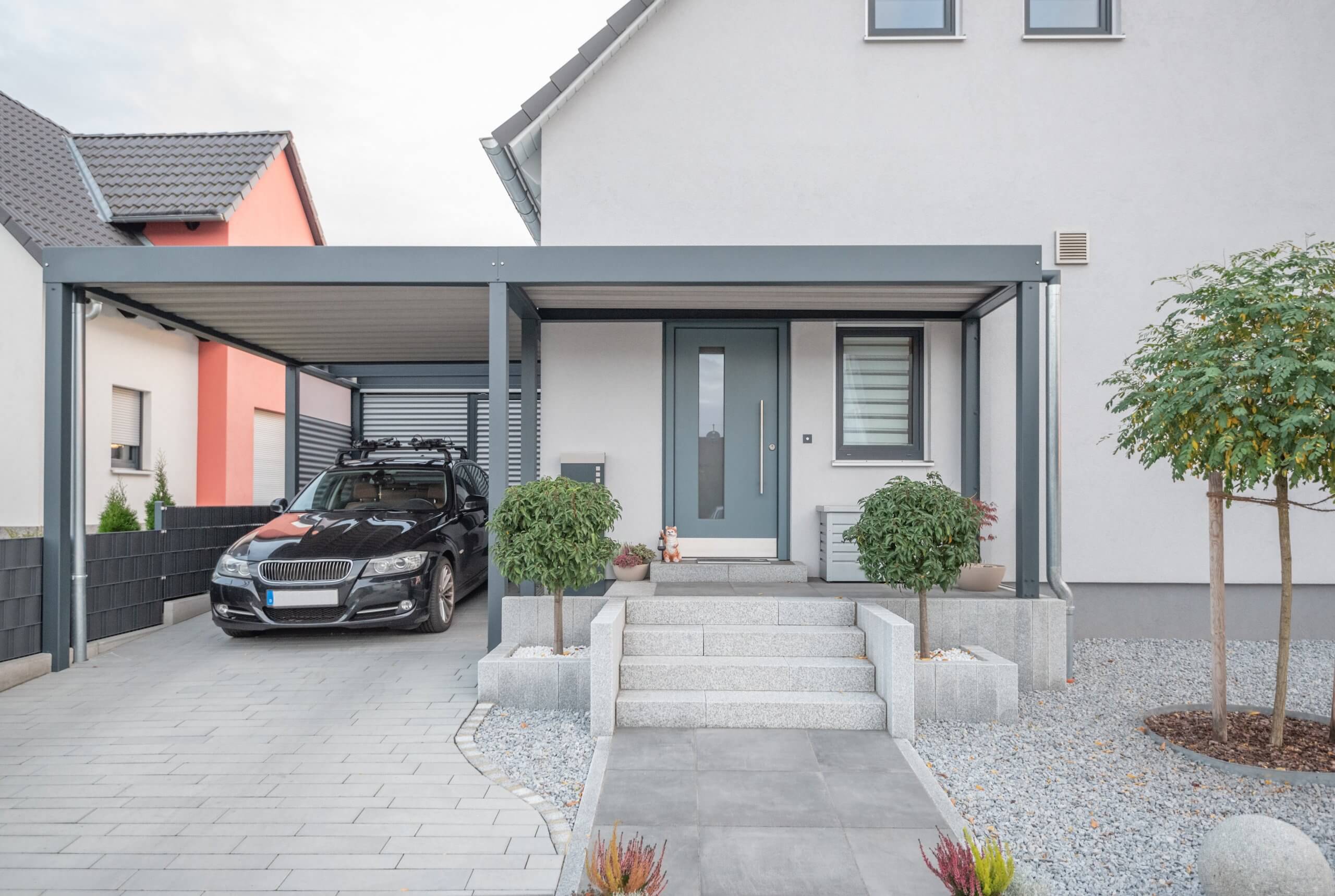 4. Awning Carport
An awning carport is one of the popular options for those who want to add a stylish design to their carport. This structure features an awning-style roof that extends over the driveway or parking area, protecting them from the sun and rain.
Awning carports are available in various styles, sizes, and colors to suit any home's aesthetic. Considering this idea can significantly maximize your outdoor living space. You can use this type of carport as an outdoor dining area, seating area, or simply a shady spot to relax. Just add a few plants around it to make it more inviting.
When choosing an awning carport, pick a durable and weather-resistant material for the roof. Aluminum, steel, and polycarbonate are all excellent choices. Also, ensure the posts and frames are made of sturdy materials, like powder-coated steel or aluminum, to withstand strong winds.
5. Pop-Up Carport
A pop-up or portable carport is another great option for those who need shelter on the go. This is typically made from polyester or nylon, and features metal or plastic frames. It's easy to set up and take down, making it ideal for RVs, campers, and boats. In other words, this type of carport is perfect for those who don't have a lot of storage space or need a temporary shelter. This carport can also be an extra storage space for garden tools, outdoor furniture, air vents and more.
It's also essential to note that setting up a pop-up carport requires few to no tools. Make sure to choose a level spot to set it up and anchor it down with heavy-duty stakes or sandbags. More importantly, read the instructions carefully to avoid any mishaps.
Takeaway
There you have it—five carport ideas that you can use to maximize your space. There are plenty of designs to choose from, but it's all a matter of finding the right one that suits your needs and budget. Make the ideas outlined here your starting point in searching for the perfect carport. It's also best to consider the carport's size, material, and design before making your final decision. This way, you can be sure to get the most out of your investment.
Benefits of a Moving Company

Moving can be an exciting yet daunting task, and if you've ever relocated to a new home or office, you know that it involves more than just packing your belongings into boxes. It's a process that requires careful planning, organization, and physical effort. This is... The post Benefits of a Moving Company appeared first on […]