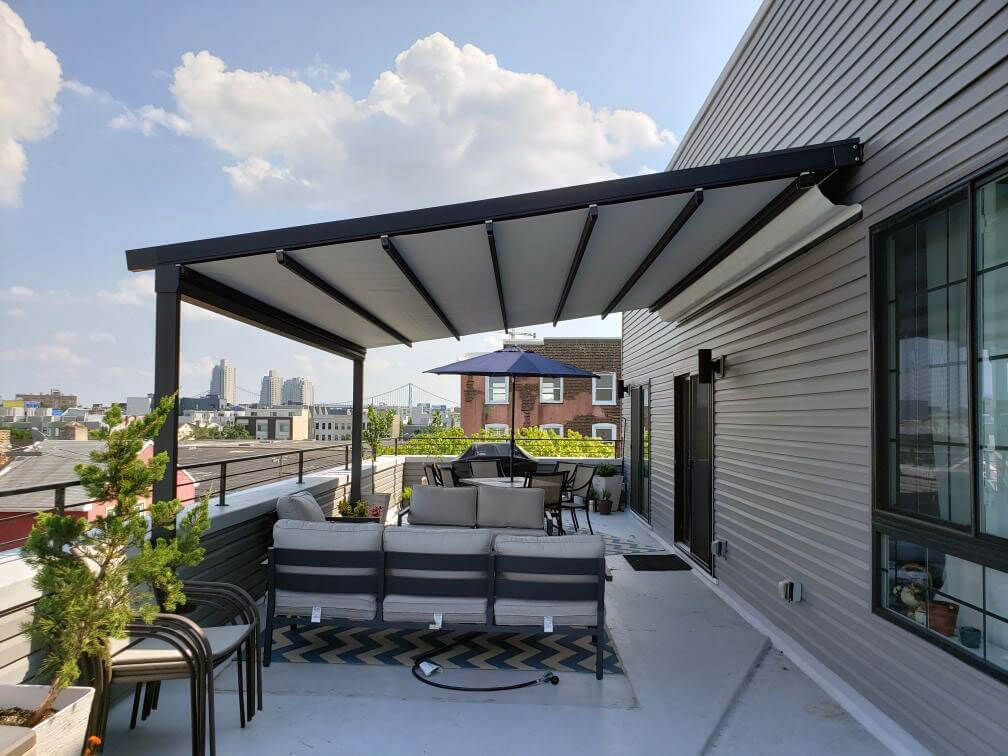 When it comes to home upgrades, you may primarily think of things like a kitchen or bathroom remodel. While indoor remodeling is certainly beneficial and worthwhile, investing in your home's exterior can be equally as advantageous to both the equity and functionality of your home.
Research shows that prospective buyers are more likely to purchase homes that have outdoor spaces for entertaining already established as part of the home's existing features. While instinctively we all know that these types of features can be added later, there is nothing quite like purchasing a home where the hard work has already been done for you. It is only human nature to be attracted to properties that look great, leading to higher sales prices and a faster sale.
You may be reading this thinking, no way would I sell my home! In this case, the only question you need to ask yourself is why wouldn't I upgrade my outdoor living area!? Just because you intend to keep living in your home, doesn't mean you and yours don't deserve all the benefits of adding an outdoor living area. Continue reading below to consider the practical benefits, expanded living space, and aesthetics that a retractable awning can add to your home!
1) Outdoor Living Space: The first reason why you need a retractable awning is for the additional living space they create. If you live in a city with limited space, having an extra room outside to enjoy the weather is always a welcome addition.
Not only does it allow you to enjoy the outdoors, but also provides a place to entertain guests or just relax on those hot summer days. A covered, outdoor area also provides a safe place for children to hang out when the indoors feel a bit too cramped, during those long summers off from school. This can easily be accomplished when you add a retractable awning, all without the cost of adding an addition on to your home.
Covering your deck/patio, with a retractable awning can provide a seamless transition from your home's existing floor plan to your outdoor living space, providing unparalleled function.
2) Practical Benefits: The second reason to consider a retractable Denver awning is for the many practical benefits they offer. Within the scope of these practical benefits, some of the most sought-after ones, include UV/heat protection for skin, increased comfort outdoors, energy savings, and protection for outdoor furniture, as well as indoor furnishings that would otherwise be assaulted by the powerful impact of the sun.
Customers love the idea of investing in something that helps cut down on ever increasing cooling costs, all the while also providing protection from heat and UV rays so they can safely enjoy more time spent outdoors.
With the positive association between time spent outdoors and improved mental health, it is little wonder that the protective properties of awnings remain one of their biggest selling points. Moreover, when you tally up all the savings over the course of the years on home/porch furnishings, lower electric bills, and better health, adding a retractable awning becomes a no-brainer!
3) Enhance Your Home's Existing Aesthetic: If more space to relax and practical benefits aren't enough to convince you of your need for an outdoor shade structure, consider how adding a retractable awning could enhance the overall aesthetic of your home.
Many homeowners find themselves torn between wanting to make improvements to their home and not wanting to detract from its original design. However, if you're looking to improve upon what you've got, with a minimally invasive, yet deeply impactful upgrade, a retractable awning is the perfect choice.
By covering your patio or deck, you can transform your home into a welcoming retreat, without taking away from its beauty. This is one upgrade that your family is sure to love or that will leave potential buyers feeling at ease if your goal is to sell your property in the near future.
Moving Forward
After considering the aforementioned benefits, if you are still on the fence or have questions you would like answered, contact a trusted local retailer to have all your questions/concerns addressed. The professionals will also be able to help you choose from the large variety of designs, colors, fabric options, and features to create the perfect outdoor space for your unique home and lifestyle. They will also be able to provide the most accurate estimate of the total cost of installing your new shade structure.
It is also important to note that when shopping around for a retractable awning, that you seek out retailers who specialize in this type of product. This means that they should carry a wide range of products and services that are related to retractable awnings. It is imperative that you feel comfortable with the company you select so you have peace of mind and confidence in the product you select. If you are unsure of how to find a retailer you can trust, consider the tips below:
1) Ask friends and neighbors for recommendations. Word of mouth referrals are often the best way to find someone who is trustworthy, as people within your direct circle are willing to vouch for the company.
2) Check online reviews. In the age of the internet, you can almost always find reviews of different companies. While you may not know the reviewers personally, you can get an idea of the reputation of the company and how it compares to other similar businesses in the area.
3) Look for companies that have been in business for a long period of time. A company that has been around for a while has more experience, more reviews, and is more likely to be reputable than a company that has popped up overnight and may be gone the next day.
4) Consider asking about warranties. Warranties are a good indication of the quality of workmanship and materials used by the contractor. Companies that offer warranties typically utilize reputable contractors and products.
5) Avoid any company that requires you to sign contracts without first getting a written quote. Contracts are fine, but you want to avoid any situation where you don't know exactly what you are paying until after you pay.
Ultimately, go with a company that you feel good about. Investing in a retractable awning should be a positive experience that enhances your property and life. Consider taking the plunge today, so you can start enjoying the many benefits of adding a retractable awning to your home!
The Energy-Efficiency Advantages of Vinyl Window Replacement

Windows are more than just portals to the outside world; they play a significant role in determining the comfort and energy efficiency of your home. If you're looking to improve your home's energy efficiency, consider the advantages of vinyl window replacement. In this article, we'll... The post The Energy-Efficiency Advantages of Vinyl Window Replacement appeared […]