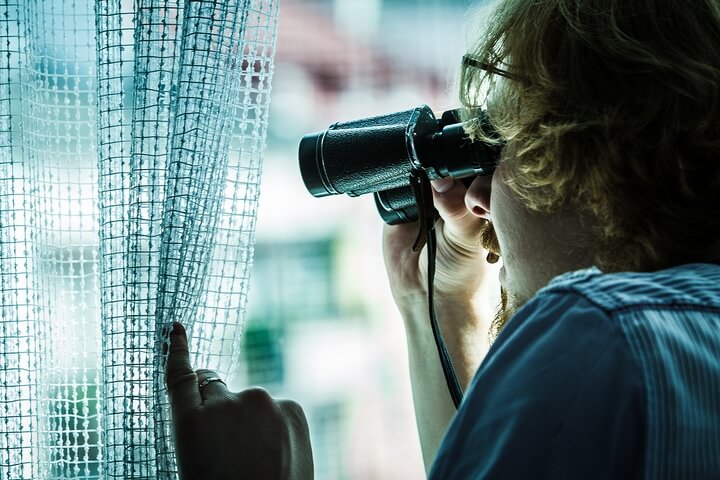 It can be a great let down when you finally settle in your dream home only to discover your neighbours have a great view into your everyday life. Many may not deliberately pry into their neighbours' lives. It is quite natural to direct your eyes towards any movement nearby. So, if someone has a good view into your kitchen from their decorated home office they'd likely look over whenever you walk in to fetch a drink.
Of course, this is not a scenario anyone wants to live with day by day, and no one would like to offer free shows to any real nosy neighbours. This is where increasing the privacy of your home will come in. Each form will come at a cost so you may have to consider what your budget will allow.
Making your home more private will not only make you feel more at ease in your home, but it may even increase your property value. If you plan to sell or rent your property in the future, the new occupants would greatly appreciate your effort in increasing the property's privacy. We property valuation speaking to a valuation company to help determine the purpose of your valuation for the best way to increase the value and what type of valuation you need depending on the requirements.
Increasing home privacy ideas:
1. Privacy screen
This could be as simple as a small screen you place inside of your home right by the window for a little added privacy. Alternatively, you can install a large home privacy screen outdoors. This screen is available in different forms and is available in a variety of materials. A common external privacy screen is a slatted fence panel.
2. Windows Tinting
The first option that comes to the minds of many when wanting to keep away prying eyes but still welcome natural light. Home privacy window tint options can be found at your local hardware store for the D.I.Y. enthusiast. However, to ensure good quality work and to avoid potentially losing property value consider a professional window tinter.
3. Privacy Glass
Glass has always been a very versatile material. For the longest time, people have used stained glass, patterned, or smoked glass as a design element and to offer some privacy. In recent years more options have become available. Home privacy glass nowadays can be mirrored or opaque/fogged glass. A smart option is also available in the form of glass that switches between clear and opaque unless you have nest cameras blinking.
4. Trellis
Similar to a privacy screen, a trellis can be installed outside for added privacy. It is a more affordable option and can be more attractive. A simple trellis is commonly a lattice design, but many come with more creative designs. For anybody with a green thumb, a trellis can be decorated with natural vines.
5. Privacy Trees and Hedges
A very green option for anyone who wants to increase the privacy of their home. Well placed trees can keep away prying eyes while adding shade and an attractive view. Upkeep and maintenance should be considered when opting for privacy trees or hedges as most require trimming from time to time. Examples of privacy trees and hedges include cypress pine trees(multiple) and the appropriately named "goodbye neighbours" Lilly Pilly (Acmena smithii minor).
These were just a few ideas on how you can increase your home privacy. There will be some cost, but you will be investing in your own quality of life and potentially increasing the value of your property for future investments whether you decide to sell or rent. As a homeowner or buyer keep in mind that property will be one of the biggest assets you will own so it's important to do your research and seek professional advice before you decide on doing any major changes to your home.
Author's Bio
Adam Webster is one of the top property valuers in Victoria, with over 25 years of industry experience within the state, He has appeared as a guest lecturer at numerous universities in Melbourne and has run career development seminars. Adam has extensive knowledge of the Melbourne property market, gained through his years valuing commercial, industrial and residential properties throughout the metro and greater suburban area.
The Energy-Efficiency Advantages of Vinyl Window Replacement

Windows are more than just portals to the outside world; they play a significant role in determining the comfort and energy efficiency of your home. If you're looking to improve your home's energy efficiency, consider the advantages of vinyl window replacement. In this article, we'll... The post The Energy-Efficiency Advantages of Vinyl Window Replacement appeared […]