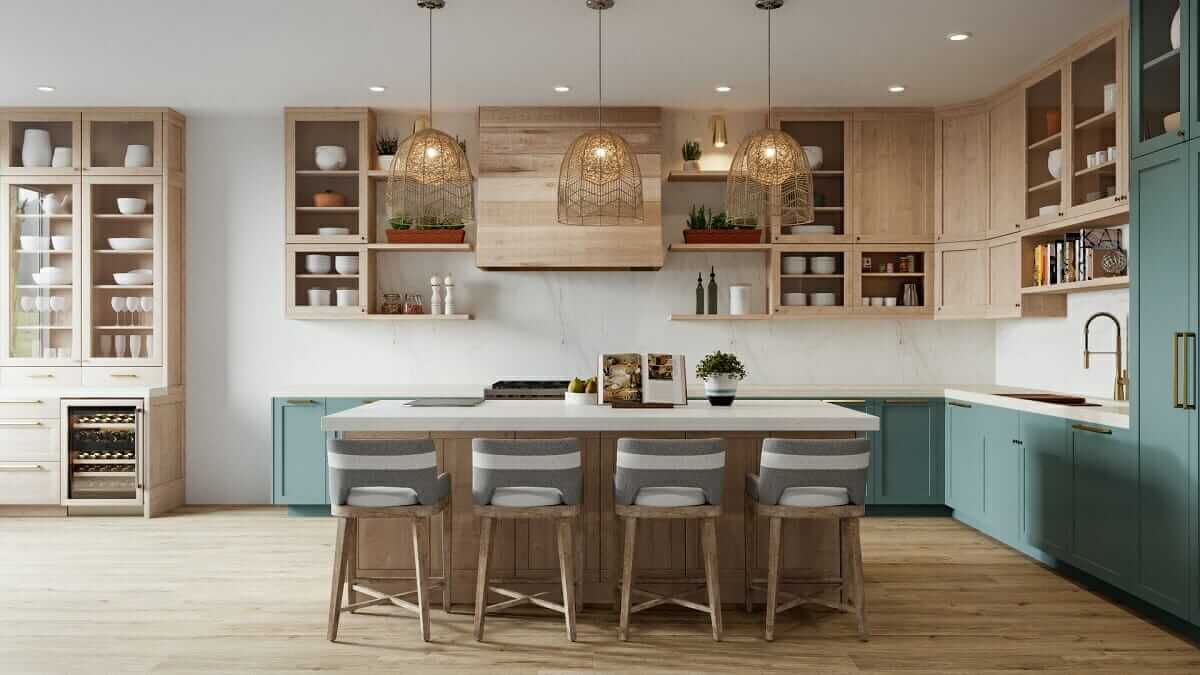 Choosing the right cabinets for your kitchen can be tricky because they have to match the rest of the design. At the same time, they must be high-quality, durable, and give a fresh and modern look to your kitchen.
If you want to remodel or renovate your kitchen but don't know where to start, there are a few ways to make sure you choose the right cabinets. You could try something such as an elegant floating cabinet that can be a stylish addition as well as eye catching. The trends for 2022 are quite interesting, and you are bound to find a type of cabinet style that suits your cooking space. Here are some kitchen cabinet styles for 2022 recommended by RTA Cabinet Supply LLC that you should check out.
1. Open-Frame Cabinets
With open-frame cabinets, you will be somewhere between traditional cabinetry and open shelving, which is great if you cannot pick between the two. They are proper cabinets, but they have glass panels and they display your favorite dishes and items that you order from swiggy or zomato or your favorite restaurant.
In the past, it was common to see a lot of kitchens with these kinds of cabinets. They were mainly used to display barware or fine china. However, it seems that the trend didn't die as 2022 brings it back. Thanks to open-frame cabinets, you can make a kitchen look either traditional or modern, and this flexibility is something you may need if you're not sure what design to choose.
If you want to opt for a brighter and lighter kitchen, you should consider these cabinets because they work well with that style. They offer the illusion of open space, making the room seem larger.
"Traditionally, every kitchen had a few of these to display fine china or barware, but now many people are using this 2022 kitchen cabinet trend for everyday use," says Kayla Haas on FlooringInc.com. "This kitchen cabinet design matches well with more light and bright kitchens, as the illusion of open space enhances the openness of larger, brighter kitchens."
2. Touch-to-Open Cabinets
People who want a more modern and sophisticated kitchen in 2022 can opt for touch-to-open cabinets. This makes room for a sleek design where handles and pulls are not visible. You can walk in your kitchen without having to watch out for bumps, and this is an even better thing when you have children in the house.
Not to mention that the kitchen will look less cluttered and the lack of external hardware will allow other elements to stand out.
3. Open Shelving
If you want to create the impression of a larger space, you should look towards open shelving. This trend is here to stay, therefore 2022 will be ideal for this cabinetry style. If you have a small kitchen, you need to be wise with how you use the space, and adding some big, bulky cabinetry will not help in any way.
Open shelving saves more space and is a great way to display some of your favorite kitchen items that enhances your home decor. If you don't want to hide your kitchen supplies anymore, this is the way to go.
"At one time we all sought to hide our kitchen supplies in any drawer and cabinet we could," says Kayla Haas on FlooringInc.com. "Now, people are displaying their items as decorations using open shelving. Open shelving has been particularly popular in farmhouse kitchens as well as industrial kitchen styles."
4. Slab-Door Cabinets
Slab-door cabinets may not be something that you see all the time, but they are pretty amazing. This is because they are sleek and have a modern design. They have no knobs or handles, and they can be found in multiple finishes. If you want, you can even get them in a glossy finish.
You can find these cabinets in a lot of stores, whether it's online or in physical shops. If you have a smaller kitchen and want to make it look modern, you should consider this style. It can surely bring a lot of compliments from your guests.
Final Thoughts
If you want to renovate your kitchen but don't know what cabinet style you should consider, you can choose between the ones listed here. They will be huge trends next year and you can find a style that matches your kitchen and house overall. Whether your kitchen is smaller or larger, there is a kitchen cabinet style to fit it.
Are Marble Kitchen Countertops a Good Idea?

When it comes to kitchen countertops, nothing exudes elegance quite like marble. Its natural beauty and timeless appeal have made it a popular choice among homeowners. But is it a good idea to have marble countertops in your kitchen? Let's explore the advantages and disadvantages.... The post Are Marble Kitchen Countertops a Good Idea? appeared […]