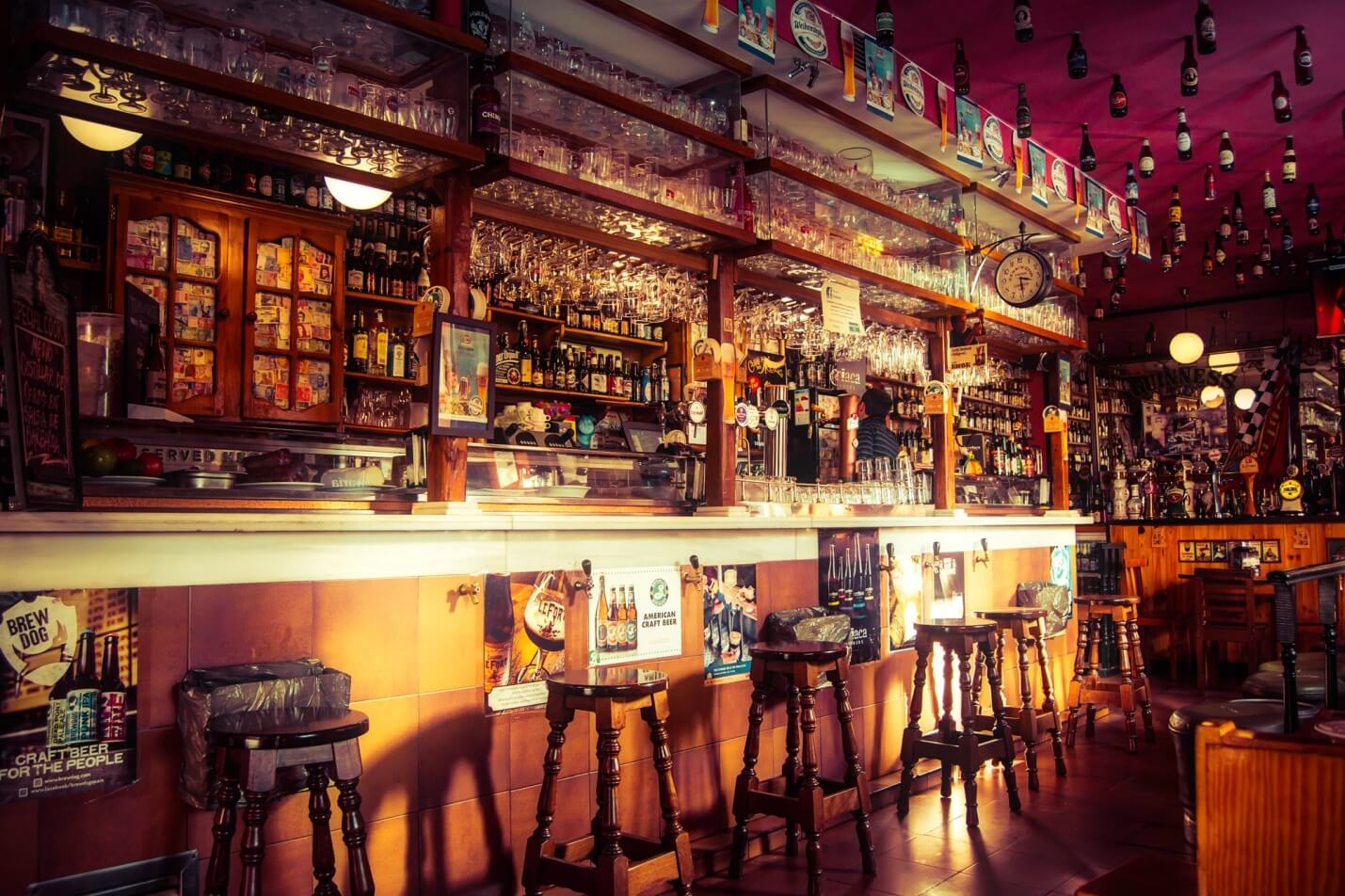 There's no denying that a home bar can bring a living room, basement, or garage to life.
In England, Brits spent over £2 billion on building home bars during their numerous Covid-19 lockdowns. A home bar can elevate your living area, giving you a place to relax on a quiet night-in (a lockdown, for example) or to entertain during parties.
Designing a home bar is one of the most enjoyable renovations you can make, but there's nothing easy about creating a bar space that looks and feels the part. You need a keen eye for design, from the decor to the bar furniture.
Today, we're going to help you design your dream bar by giving you some tips for selecting home bar furniture. Your home bar furnishings can make your space feel welcoming and warm, but if you do it wrong, it'll feel stiff and forced. Keep reading and let us give you 12 inspiring furniture ideas.
1. Solid Wood Elegance
If you walk into a really nice English-style pub, the first thing you notice is the character of the place. Part of this may have to do with the history of the bar, but most of it comes from the all-wood decor.
There's a certain elegance to a nice wood bartop with matching stools, cabinets, and the like. If you want to take this project seriously, choose a wood you really like and deck your bar out with it.
2. Barstools With Backs
When you spend a long time sitting at the bar, you want to make sure you and your guests are comfortable. For that reason, the quality of your bar stools is of utmost importance.
Check out these bar stools with backs from moderndigsfurniture.com. You don't have to sacrifice vibe for comfort when it comes to choosing barstools. All of the stools on that website are both attractive and conducive to long sessions at the bar.
3. TV Behind the Bar
What America really perfected is the sports bar. If you want to be able to watch the game while sitting in your bar area, then you're going to need to install a television behind the bar.
A simple 32″ TV mounted behind the bar won't detract from your bar's ambiance. You'll still be able to talk and drink, but you'll also have the option of watching sports, films, or whatever else you desire at the same time.
4. Plenty of Shelving
You can't have a great bar without plenty of shelving to hold all of your alcohol bottles, lowball glasses, beer mugs, and the like. You can give your bar a really neat look if you've got a nice shelving unit installed.
This is where you can start to have a lot of fun as well. Choose between open shelves, closed cabinets, or glass ones. Let your personality shine through in the way you organize your bar equipment.
5. Treated Bartop
No matter how careful you are with using coasters and putting bottle openers and knives away, the bar is going to see some wear and tear. Instead of leaving your bartop vulnerable to your guests' behavior, have it treated with polyurethane, resin, or stain.
Coating your bartop will prolong it and help you maintain its natural beauty for years.
6. Wine Racks
If you're a bit of an oenophile, then you need to keep your wine stored properly. Of course, having a wine cellar is the best option, but failing that, install a nice wine rack in your bar area.
A wine rack will allow you to store your wine horizontally, which will keep the corks wet, preventing drying out and crumbling. There are plenty of beautiful wine racks out there, but if you're going all out, have one built that matches the motif of your bar.
7. To Plumb or Not to Plumb
DIY plumbing might not fall under the category of "furnishings", but whether or not to do it in your home bar is an important decision. Having a small prep sink or a dishwasher makes the setup and cleanup for a party much easier.
That said, it's certainly going to add some cost and time to your home bar construction. It's not a necessity, but a luxury.
8. Sizeable Refrigerator
Craft beer has been all the rage for almost a decade now. For those that are beer lovers or have beer-loving friends, you're going to need a good-sized refrigerator at the bar to house all of the IPAs, pilsners, sours, and various types of ales that people will surely be drinking.
9. Surround Sound
The ambiance of a bar comes from two main sources: the way it looks and how it sounds. Having a good sound system in your bar will prepare you for any situation.
If you're having a small get-together with a few friends, some light jazz could be in order. When you're having huge parties, you'll need your sound system to rise to the occasion.
10. Artistic Ambiance
In terms of decor, it's important to let your home bar be a reflection of you, your family, and your interests. People who are really into Irish bar culture, for instance, might want some vintage Guinness or Jameson's merchandise hung behind the bar.
Those that are into family histories might have old photos hung up of family members past and present. Whatever you decide your ambiance should be, commit to it and let the personality out.
11. Match What You Can
Some bars can pull off mismatched furniture, but when it's a small bar in your home, it's better to keep things uniform. Try to match your barstools up with your bartop and the hardware on the bar with the handles on your cabinets.
Giving it a cohesive look will show your guests that you really meant business when you designed your bar. Before you know it, it'll be the hottest bar in the neighborhood.
Bar Furniture Makes or Breaks It
Use these bar furniture tips to make your home bar a place where you can both sit quietly for a drink and go all-out with your family and friends. Having cool bar furniture takes it from being a small home project and turns it into something thoughtful and unique to your home. Now it's time to start designing.
Did you enjoy this post? Visit us again for more great real estate and home tips.
Benefits of a Moving Company

Moving can be an exciting yet daunting task, and if you've ever relocated to a new home or office, you know that it involves more than just packing your belongings into boxes. It's a process that requires careful planning, organization, and physical effort. This is... The post Benefits of a Moving Company appeared first on […]